Prepares the Barcelona Yoga Day 2019
Barcelona Yoga Day is a meeting point, meeting and celebration of practitioners and professionals of yoga where to share and celebrate from the principles of respect, cooperation, ecology, sustainability, and non-violence. Sunday 16 June 2019, from 10:00 to 20:30 h. Parc de l' Estació del Nord, Barcelona.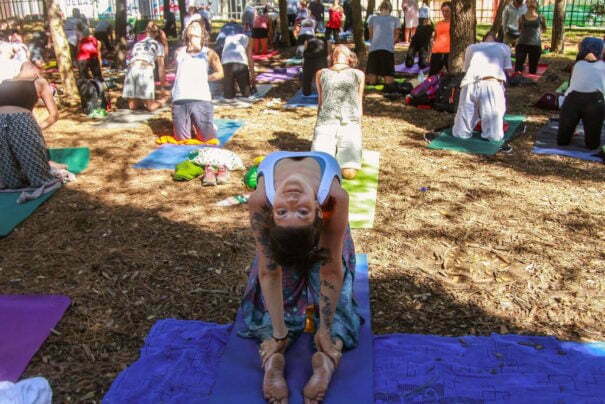 BYD 2018 Edition was a great success of participation, explain the organizers, and figures thus confirm it: an estimated attendance of 5,000 visitors, hundreds of participants to the 40 activities in the spaces of conferences, workshops, meditation, Asana and music; more than 70 booths, the contribution of expertise of 40 teachers and artists of the sector, and the support of more than 50 volunteers, all coupled with the added value of being an event local, free and open to all over the world, organized by volunteers and non-profit.
In the present edition 2019 organization maintains the same philosophy that originated this event - we are told-, that this event coupled with the experience of previous years, the implementation of organizational improvements and greater distribution to reach the largest number of participants, is expected to be a great success in attendance, participation and media coverage.
Who are?
The Organising Committee of the Barcelona Yoga Day is composed of some of the major schools and teachers of Barcelona, United in the Associació Barcelona Yoga Day to be able to co - creating one of the major events of the year Yoga in our city, with more than 40 activities outdoors in one of the most central of Barcelona parks and widely disseminated among schools, teachers and practitioners.
"As an association, we are 100% transparent and non-profit, so all proceeds goes directly to the Organization of the event and any teacher, school, partner or member of the Organizing Committee cobra nothing for their work. This helps create a very special atmosphere of committed and selfless people who revert in a 100% free and participatory event."
How is the BYD?
100% free: It does not charge entry and all activities are free of charge.
100% non-profit: None of the teachers, collaborators, or organizers charged nothing for his volunteer work.
100% made by Yogis: The staff of the Organization are people dedicated to the practice of yoga and to live their daily lives according to the same principles.
100% collaborative and diverse: It is intended that participants know the Yoga in all its richness and diversity, so that the organization is composed by major schools from Yogis.
Five spaces
The day of the event the participants will meet with five spaces where enjoy a multitude of activities:
-Yoga classes of the main styles (kundalini, ashtanga, hatha, vinyasa, etc.) throughout the day.
-Dynamic and guided meditations for beginners throughout the event combined with spaces of silence and relaxation.
-Lectures given by great masters who will help you to resolve your doubts about various topics: mode of life, major roads, approaches, etc.
-Live music, with participation of major groups and devotional singers both at local and national levels.
-Vegan food: throughout the event there will be tasting vegan snacks and lunchtime a large communal meal.
-Conscious Theatre: artists dedicated to the practice of yoga and meditation offer reflective and philosophical high works to raise our consciousness.
-Workshops: dance chant of mantras, pranayama, etc.
-Craft fair and yoga schools: hundreds of products related with healthy and eco-friendly lifestyle that promotes yoga and yoga (mats, blocks, burbots, deities, clothing, etc.).
-Also you can find the proposals of local schools of yoga and its various activities.
-Provisional agenda: we are in the phase of definition of philosophy and criteria for selection of proposals for the 2019 Edition. We will receive proposals from 16 April 2019.
If you are a professional and you offer information, products or services in accordance with the philosophy of yoga, it is a great opportunity to contact hundreds of practitioners that surely will be interested in your proposal.

You can contact with the Organizing Committee Barcelona Yoga Day:
www.barcelonayogaday.org
www.facebook.com/BarcelonaYogaDay