Vegetarian recipes / Quinoa and amaranth with pumpkin
The best and most healthy is to cook your own food. Cooking is a meditative Act, requires concentration. For a full dish, with 30 minutes you can have a healthy, quick and light meal. Type and kitchen Gauri, Professor of vegetarian cuisine of the Sivananda Centre of Madrid and the affiliated Centre Sivananda Vedanta of Granada.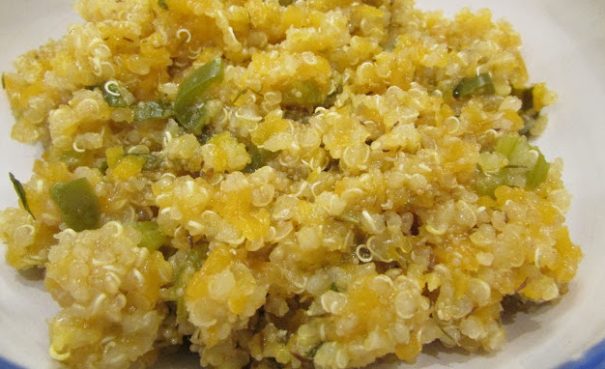 No more than 30 minutes is what it takes to cook a dish of cereals and vegetables, or a plate of vegetables of quick-cooking with vegetables.
Cereals in general require 20 minutes of cooking. There are some exceptions that require more time, such as brown rice, which requires a minimum 45 minutes of cooking. But other grains like pasta, couscous or bulgur only need between seven and eight minutes.
If you choose legumes: mung beans, lentils (put in soak) and the dhales (split, skinless Indian vegetables) need only to Cook 20 to 30 minutes.
While the grains are cooked vegetables, they need between fifteen and twenty minutes can be prepared. That Yes, you have to have a bit of technical expertise by cutting vegetables and cooking several things at the same time. But like everything in this life, that ability is acquired with practice: the more you cook, more skilled you will be.
Recipe for Quinoa and amaranth with pumpkin
This is a recipe that is easy and quick to prepare, as the majority of recipes of this blog eat to live. It is a good recipe for children by the sweetness of the pumpkin. You can delete the pepper if you think it has a slightly stronger flavor.

Ingredients (serves 4-6)
1 stalk of celery chopped fine
½ green pepper cut into small squares
1 piece of fresh ginger, grated
400 g of grated pumpkin
1 cup of tea of quinoa
4 tablespoons of amaranth
½ teaspoon Sage
2 Tablespoons extra virgin olive oil
600 ml hot vegetable stock
Salt and pepper
Preparation:
Rinse the quinoa in water and let drain.
Heat the oil in a pan and sauté, ginger, celery and peppers a few minutes, then grated squash and saute all together 5 minutes. Add the quinoa and amaranth, and Sage, mixing all the ingredients very well.
Finally the hot vegetable broth and a teaspoon of salt. Bring to a boil over heat medium-high and when it starts to boil, lower the heat to minimum and cook for about 20 minutes until the quinoa is done.
Leles Gauri It is formed in the Yoga Sivananda Vedanta school teacher and teaches at the Center Yoga Sivananda Vedanta Granada-afiliado. T 660-288-571. She is creator of the blog We eat to live.