Benefits of doing yoga on the beach
The holidays are approaching and... If something fear is having to stop practicing yoga. But does not have to be so. In fact, some of the possibilities most rewarding and beneficial in those days so desired is the possibility doing yoga on the beach, facing the sea... Yes, you've discovered Holiday disconnects.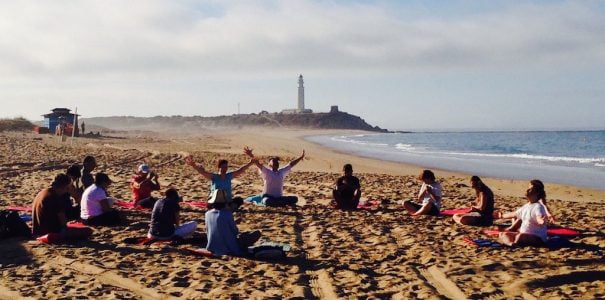 We suggest that you choose for your holiday beaches without overcrowding, so you can take advantage of peace in the morning, when there were almost no one around, to do a meditation facing the sea to the soft light of the Sun. This extraordinary experience you also predisposes to practice asanas with greater concentration and peace of mind.
Practice your sequences of yoga with the sound of the sea, connects with its rhythm to create a harmony between your breathing, your body and the sea.
Many are the benefits that will bring you this experience to the open air, by combining the increased production of vitamin D produced by contact with direct sunlight with your oxygenation improving breathing fresh air. Advantage to breathe deeply during the practice and clean your lungs with fresh air from the sea.
It is true that in the arena cost more practice some positions, and that it will force you to work the muscle part to find stability and balance. This makes the yoga on the sand more intense and at the same time an excellent physical exercise.
Also sand is perfect to practice inverted postures, overcoming the fear of falling. And as regards balance of foot positions, the beach is an ideal place to practice them.
So on vacation does not have why do we break our habits, but quite the opposite: enjoy them even more practice Yoga accompanied by the sound of the waves, airand fresh and sharing it with new friendships, in an environment that invite you to relax, will bring you vitality, disconnecting from the rush and worries.
It is what offers Holiday disconnected, with complete and care programs that for years held, in the endless beaches of the Costa de La Luz, name aptly given to this area. Specifically, their activities are located in Caños de Meca, Zahora and Conil. It is true that it is possibly the area more fashionable today, where everyone wants to go, on their own, alternative character, and the beauty of its beaches, but still - and more specifically where holiday off has its facilities - enjoy from beaches without the crowds.
If you know the area, it does not lack that you say nothing, and if you still don't know it, will be for you a great discovery, and closer than you could imagine, without aircraft, without going any further.
Beautiful facilities just in front of the Sea you can enjoy a wide range of activities included in the price (to high): facing the sea, meditations, massages, yoga concert aware gatherings, workshops, excursions, food bowls, Biodanza, healthy Mediterranean, etc. And all this making new friendships and creating interior space, in contact with nature, charging us with positive energy, and taking care of our body. Of course, the activities included in program are optional, because above all this your freedom of those that actually do you desire. They are holiday... but much more!
www.vacionesdesconecta.com
More information: info@vacionesdesconecta.com