National meeting of Yoga, celebrating the world day of Yoga
Organizado por el colegio internacional de profesores de yug yoga yoghismo de la Escuela Yug Yoga de la RedGFU, para conmemorar al más alto nivel el Día Mundial del Yoga, como colofón de todos los actos que se celebrarán en las distintas provincias, avalados por la Embajada de la India. También es la culminación de la gira europea del Gurú Yoghi Armando Navarro.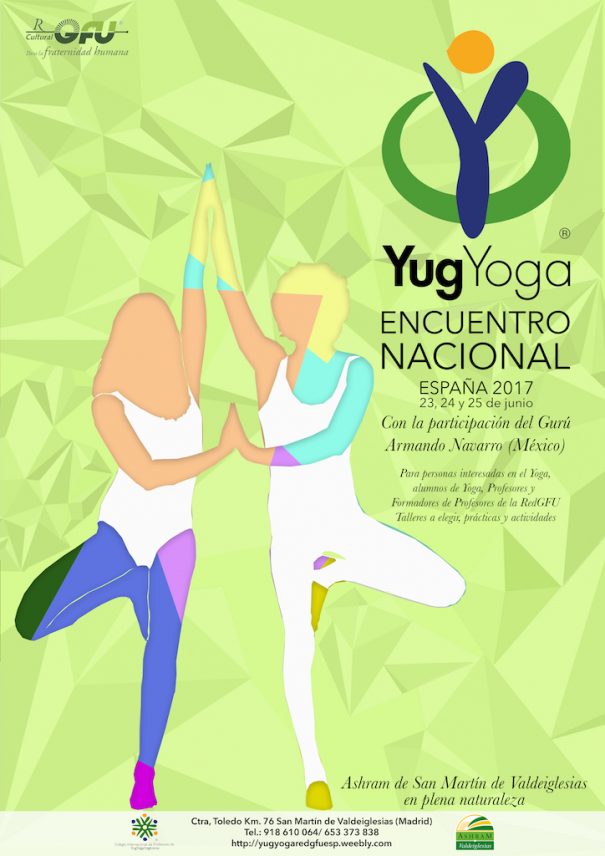 The National meeting of Yug Yoga tendrá lugar en el Ashram of San Martin de Valdeiglesias (Madrid) de la RedGFU, en pleno bosque, durante el fin de semana del 23 al 25 de junio, como parte de los actos de celebración del Día Mundial del Yoga. Abierto a todos, sean principiantes o avanzados, con atenciones especiales para jóvenes y familias.
Colabora activamente en los actos de celebración el Gurú Armando Navarro, de México, que también participará en el Día Mundial del Yoga el 21 de junio que organiza la embajada India en Madrid, así como el tantrista italiano Nello Tonetto, among others.
Centre education, culture and peace, Member of the Spanish Federation of UNESCO centres, supports the celebration of the world day of Yoga through the Association International of professors of Yug Yoga Yoghismo.
Sobre el Gurú Armando Navarro
El Gurú Armando Navarro Gutiérrez vendrá a España como parte de su gira mundial, desde el 26 de mayo al 26 de junio. Nació en Guanajuato, México, hace 65 años. Formado en Medicina y Salud Holística a nivel de licenciatura y maestría, ha dedicado 40 años de su vida a trabajar profesionalmente en sanación y terapia en distintas áreas:
Investigación, curación.

​ ​Capacitación, difusión de herramientas para la salud y el desarrollo del ser humano en el nivel personal y trascendental.

Con adultos, jóvenes y niños, así como con parejas y grupos en terapia, adicciones y desarrollo .

En consultorios, instituciones, clínicas, hospitales, presidios, empresas, centros de desarrollo humano, transpersonal y trascendental, universidades…

Con especial enfoque desde la óptica de las neurociencias y la visión de los grandes sabios de todas las culturas de la historia de la humanidad.

Director general de la Fundación Nebadón para el Desarrollo Humano y Transpersonal para personas con escasos recursos.

Iniciado en la Suprema Orden del Acuario, en el Cuarto Grado como Gurú o Instructor de Iniciación Real.
Pero el Guru Armando Navarro dice que lo importante es que se considera simplemente un ser al servicio de los demás, intentando dar lo mejor de sí para bien de los otros y de la vida.
More information: http://yugyogaredgfuesp.weebly.com/proacuteximas-actividades.html

Ver este vídeo sobre del ashram central de la Red cultural para la fraternidad humana RedGFU en México: