Light on Hinduism, Barcelona
Public presentation of the Hindu Federation of Spain (EHF) will be held in the city of Barcelona on April 1. The event will be attended by prominent members of the Organization, authorities and people interested in the hindu spiritual tradition.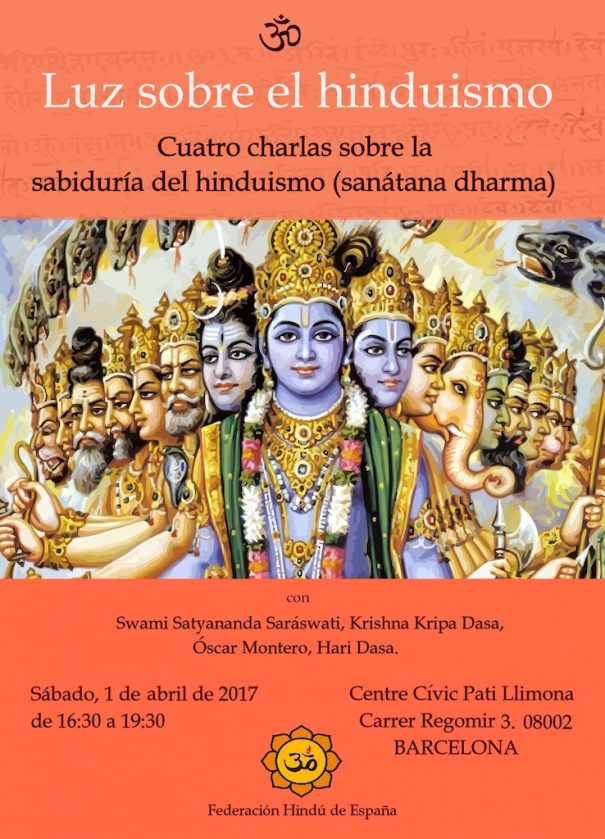 The institutional Act are invited authorities of the Generalitat of Catalonia, Embassy of the India, Foundation pluralism and coexistence, as well as a representation of writers, academics, yoga teachers related to the hindu spiritual tradition. They have also been invited representatives of communities sikh and Buddhist in Barcelona.
The event will begin with an invocation with mantras and a few words of welcome from the President of the EHF, the hindu priest Juan Carlos Ramchandani (Krishna Kripa) as well as the general director of religious affairs of Catalonia, Enric Vendrell. There will be a talk about the influence of Hinduism in the West in charge of the doctor of philosophy Javier Ruiz Calderón, and a recital of hindu devotional poetry, in charge of Jesus Aguado (author of several books on the subject), then there will be a musical recital of Bhakti Das and end with a vegetarian appetizer to all attendees.
In the afternoon there will be a seminar entitled 'Light on Hinduism': four talks about the wisdom of Hinduism (sanatana dharma). It will feature presentations on the following topics:
-"Life goals and bases of the hindu society. Puruṣārtha, varna and ashrama", in charge of Oscar Montero (Yatish) disciple of Swami Dayananda Saraswati, teacher of Vedanta and Yoga.
-"Hindu iconography: spiritual life through art". In charge of Hari Dasa, Professor of classical yoga and Vedanta, as well as being an expert in Indian classical art and iconography.
-"Puja, homa and samskara vidhi. Introduction to the rituals and worship in the Vedic tradition,"in charge of Juan Carlos Ramchandani (Krishna Kripa Dasa), hindu priest, writer and lecturer.
-"Yoga, hindu spirituality and their ways", in charge of Swami Satyananda Saraswati, hindu monk, teacher of Advaita Vedanta and writer.
A great interest in this seminar, has awakened since Barcelona is one of the main places in Spain where practiced yoga and there are numerous groups and associations related to hindu spirituality. The event will have a national character as speakers and attendees come from different parts of the Spanish geography.
The collection of entries to the seminar will go integrates with the Hindu Federation of Spain to finance the institutional event, since the speakers are not going to charge for sharing his wisdom and the organizing team consists of Hindu volunteers from across Spain.
This event is intended to give to know more and better the sanatana dharma (Hinduism original name) and create bridges of union and cooperation between the different associations and Hindu communities, as well as increase the institutional presence of the Hindu spiritual leaders in the Spanish social reality.