Being One Forum, personal growth
'Being One Forum' is the biggest event of personal growth in Europe. Madrid will receive the 12,13 and 14 may at most prestigious best international, leading sellers of thinking and personal development, that will make city the European capital of personal growth.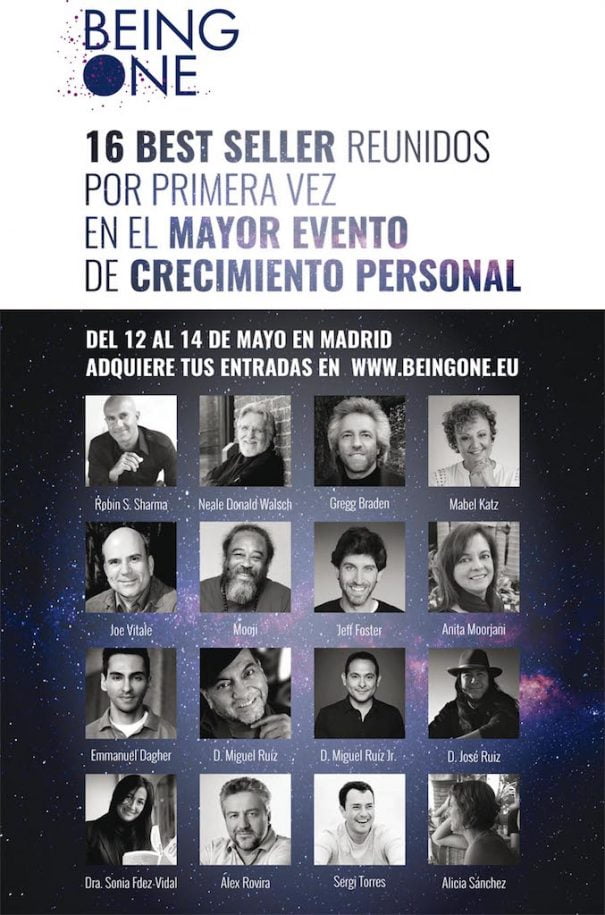 ' Being one' It is a forum for free and plural dialogue about what or who we are and our relationship with the universe. During the Friday 12, Saturday 13 and Sunday 14 may 2017, will take place at the Madrid Arena, the first edition of the 'Being One Forum'. A unique experience in Europe; more than 12 conferences and workshops with 15 national and international bestseller.
It will feature the latest technology so that you don't lose detail, as well as simultaneous translation into 6 languages (Spanish, English, French, Italian, Portuguese and German) and sign language; area exhibition, bookshop and live music.
You can meet people with similar interests, chat and experience a different weekend in a friendly and respectful environment for all and everyone.
Being One Forum is the first event on personal growth in Europe.
It shall meet for the first time at Madrid 16 authors best-sellers such as Robin Sharma, author of The man who sold his Ferrari; Neale Donald Walsch, author of Conversations with God, Gregg Braden, Alex Rovira or Mooji.
More than 10,000 people around the world will gather in the Recinto Ferial Casa de Campo to hear and meet their spiritual leaders.
Three days Madrid will host thousands of people from all over the world, which will be a great investment for the capital.
The conferences will have simultaneous translation into six languages, language signs and broadcast live via streaming.
In addition to the conferences, there will be discussions, workshops, live music and much more.
Personal development has become a trend consolidated around the world that will continue to grow at an accelerated pace.
Speakers
Being One Forum He has managed that, for the first time in Europe, top leaders of thought and personal growth shared his wisdom from different perspectives: science, quantum physics, consciousness, positive thinking, the law of attraction and spirituality.
Robin Sharma: It is one of the most widely read authors in the world by best sellers such as The monk who sold his Ferrari translated into 46 languages, or The leader who had no charge. Robin Sharma, is also considered to be one of the five most prestigious motivational speakers on the planet.
Neale Donald Walsch: Author of three volumes of the best-selling American novelist Conversations with God, translated into 37 languages, with millions of copies sold worldwide and adapted to the big screen in 2006. His books are not bound to any religious doctrine, they invite the readers to relate with God from a modern perspective.
Regg Braden: Scientific and metaphysical American physicist, who, after a successful career as a geologist in different multinational has focused his career and research unite science and spirituality. He is currently considered a world authority on spiritual philosophy of ancient cultures such as the Egyptian, Essene, Native American and Tibetan.
Mabel Katz: Speaker, author and seminar leader, recognized as a leading authority of Ho' Ho'oponopono, an ancient art of Hawaiian to achieve greater clarity in objectives, attracting more happiness and peace and to live and work more effectively. Specialist conferences for corporations, businesses and individuals, including seminars for children.
Dr. Joe Vitale: Writer best seller, humanist, philanthropist, teacher and inspiration for thousands of people and undisputed protagonist of the work The secret. Its conferences, seminars and audio on sales and marketing programs have helped thousands of people around the world to promote their businesses successfully thanks to the power of attraction.
Mooji: It is a spiritual teacher originally from Jamaica. For many years he worked in London as an artist and teacher. In 1987, an unexpected encounter with a young Mystic transformed his life completely. He left his job and his home and began a life without resources dedicated to internal transformation, which led to a profound awakening of consciousness.
Jeff Foster: Degree in Astrophysics from the University of Cambridge. After a long period of depression and disease, he became obsessed with the idea of "spiritual enlightenment", and embarked on an intense search of the existence. Thanks to this quest, he discovered the extraordinary in the ordinary and life again as it had always been: spontaneous, pristine, gladly and fully alive.
Anita Moorjani: Due to a serious process after a period of extreme degradation and cancer (Hodgkin's Lymphoma), Anita Moorjani went through a near-death (ECM) experience. This fact serves to return to his body and recover against all odds, understanding that one of the reasons for his return and recovery was to publicize their experience to help and bring light and hope to people who were going through similar circumstances.
Emmanuel Dagher: Of Lebanese descent, he currently resides in the United States, where he collaborates as a humanitarian expert to the United Nations and other international organizations. Grow during the war helped him to develop a level of compassion and conscience that shares with thousands of staff. Specialist in transformation, healer and teacher, his best efforts is to help refugees will show you how to heal their wounds to create a more healthy and happy life.
D. Miguel Ruiz: He is the author of the international bestseller The four agreements, lists of best-selling books in the New York Times. Teacher and shaman, was a surgeon until a near death experience approached the ancestral traditions of the Toltec, following in the footsteps of their ancestors. From three decades ago, shares its ancient wisdom and modern awareness through conferences all over the world with her children.
D. Miguel Ruiz, Jr.: It is a spiritual teacher descendant of the ancient toltecs, son of Don Miguel Ruiz, author of the best seller The four agreements. Combining the Toltec family tradition with the knowledge acquired throughout his life, Miguel Ruiz Jr., helps others to take their own path to freedom. He is the author of The five levels of attachment and Toltec meditations for every day, among other books.
D. José Ruiz: Like his father and his brother, Don José Ruíz dedicates his life to share the ancient Toltec wisdom, translating it into practical and everyday concepts that promote the transformation through truth, love and common sense. Don José taught and lectured in the United States and around the world. He has collaborated with his father Don Miguel Ruiz in The fifth agreement, a new perspective on the best seller The four agreements.
Sonia Fernández-Vidal: It is one of the researchers and most prestigious scientific disseminators of Spain. PhD in quantum physics at the Autonomous University of Barcelona, has worked in some of the most leading research centers in the world, such as CERN, in Switzerland, the of Los Alamos National Laboratory, in the United States, or the Institute of Photonic Sciences, Barcelona. She is the author of the great publishing success The door of the three bolts.
Alex Rovira: Entrepreneur, writer, Economist, international lecturer and consultant Spanish degree in business administration and MBA from ESADE, where he conducts seminars on innovation, change management, talent management, people management and creative thinking for senior management of companies and NGOs. He is the author of the best seller Good luck.
Sergi Torres: He is an international lecturer, author of the books Jump vacuum and A bridge to reality. At age 21 he experiences a deep life transformation that will take you, years later, to leave his profession as a physical therapist and share their experience. Sergi offers a monthly meeting at the teatro Barcelona Villarroel, works as a teacher at the University of Almeria and participates in radio program L'ofici de viure, Catalunya radio
Alicia Sanchez: Being One presenter Forum. She is the author of the book Your desires are waiting for you, a manual of creative visualization to achieve objectives using the imagination. Alicia Sánchez also provides lectures, workshops and retreats, all of them focused on facilitating tools of self-knowledge, emotional management and clarification of objectives.
Being One Forum It will take place in the Pavilion sand of the Recinto Ferial of the Casa de Campo, a modern facility which boasts 30,000 m2 of space on three floors. In addition to the main forum where will be held the Conference also will be enabled the satellite Pavilion, reserved mainly for the exhibition area and the alternative forum, where all kinds of workshops and additional talks will be held.

This Pavilion is located just 15 minutes on public transport from the Centre of Madrid within one of the green areas most important green areas of the capital, the Casa de Campo.

More information: https://www.beingone.eu/es/event.php