Questions and simple answers about the official formation of Yoga
Accreditations, certificates, titles... official, private. They serve, they are useless, what and for what? We try to respond to all these issues surrounding the regulation of Yoga that almost everyone wants to know. Write Happy Yoga equipment.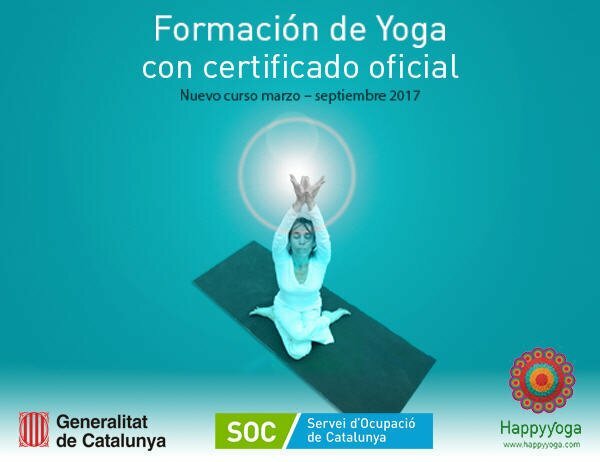 1 is really it necessary to have the official certificate to teach yoga?
In Catalonia from 2017, to teach yoga professionally, i.e. charging, should have the official certificate (certificate of professionalism in instruction in Yoga) and with the register in the official register of professions of sport.
The situation in the rest of Spain is different. Some autonomous communities have now begun to demand the inscription on their records of sports professions, but still it is not mandatory to have this degree and be entered in a register in all the communities.
The tendency is to regulate all sport professions throughout the territory of the State, as it is considered that a malpractice may cause accidents or other damage to the practitioners.
Then, if I have a private certificate not me does nothing?
Yes it serves. Have a private informal training allows you to give free lessons, and of course know in greater depth a particular type of yoga. Some private titles enjoy much prestige in our sector and will always be well considered and even essential to those who value them. In addition, if the training is more than 400 hours, it will serve to meet one of the requirements that required the Administration when it convenes an extraordinary accreditation, which is equivalent to the official certificate of professionalism. Private titles also allow you to work in any country in the world where an official title is not necessary.
In the autonomous communities where sport, without any title or with a private title professions are not regulated may be the activity without any problem.
What is clear is that no private title can supplement the official certificate. Sonly the official certificate or special accreditation allow devote himself to this profession in Catalonia and progressively throughout Spain.
Are calls for extraordinary accreditation intended for all teachers of yoga?
Not really. It is to accredit and regulate teachers years ago that are professionally engaged by what priority is given to them the.
What can I happen if I teach yoga in Catalonia without the official certificate?
At this moment we are in a phase of adaptation of the new regulation, which is not implemented in all sectors of the sport. On the other hand, there are no mechanisms to pursue this activity when done without being registered in the registry.
On the other hand It is assumed that increasingly will be a decisive factor when it comes to hiring, especially in gymnasiums or official centres.
It could also be a problem, if little probable but possible, a complaint by a user who considers that a teacher hurt him during the session of yoga. In this case, no insurance company would cover compensation.
Has been good for Yoga this regulation of the sector?
There are different opinions. Yoga is or is not a physical activity? It is clear that the Bhakti-yoga, for example, it isn't. But it was predictable that sooner or more administration us control to avoid some people not prepared suitably exercising as professionals. But unfortunately this control can cause also the opposite, that some excellent teachers are with insurmountable obstacles.
Perhaps you would all agree that requirements requiring the Administration to consider a school of yoga as official school are so strict and away from the real task of a formation of yoga casico which prevents forming private schools can become officers and that it affects the expansion of Yoga.
Why are there so few yoga schools that offer the certificate?
Yes. We are at a moment of transition, i.e. professionalism certificate appeared at the end of the year 2012 and still not have been implemented in the sector. In addition, as mentioned earlier, the characteristics of space, material and qualification of trainers are difficult to meet for most schools that were teaching yoga teacher training courses. In this sense there is much to say, as Professionalism certificate regulation was carried out in a manner far removed from the reality of the sector, demanding requirements difficult to meet for most forming schools. Therefore, schools affected by this regulation are joined into the FEDEFY from where you are trying to check the conditions, but we will have to wait for legislators to hear us and check with the rules, something apparently difficult to achieve.
I choose the official certificate even if you have no experience?
Now let's talk about the training course Yoga teacher official delivered Happy Yoga. Our school has been approved as a collaborating centre of public employment in Catalonia, the SOC, services and It is authorized to teach the official Yoga training. He is a training equivalent to academic and vocational training, access to this course requirements are academic type, no Yoga experience is necessary, but yes having the title of Bachelor's degree or similar, as they are a professionality certificate of level 3, equivalent to a title of senior technician.
For those who do not have the title of high school can access the course through a test of skills for access to courses of Certi, El of professionalism that are made in our own school.
If I made a yoga teacher course but I don't have the official certification some subjects are can validate me?
If you have a title private school not could validate, unless you acudieras to accreditation tests and consiguieras accredited a training module. If you have any accredited module, that you could validate equivalent module in this training and any other that has this module. For example, if you had accredited first aid module you could take the rest of the modules without having to take it again.
How is the formation of Happy Yoga on a practical level?
It is a training course that obviously follow the modules schedule determined by law, where there is lots of practice and much teaching experience, by which prepares very well to be able to practise yoga teacher. It consists of four training modules and one of professional practices. The training modules are specific techniques of very practical yoga, a general program of activities of yoga module, where they develop techniques adapted to design various yoga activities and specific, and a module of methodology in teaching, where students begin to prepare to confront a complete yoga session adapted to the needs of practitioners. That Hatha Yoga and Kundalini Yoga teachers we are by what we dump all our taste for yoga and experience in the official program for many years.
There are two types, one intensive that starts in March and September and lasts for approximately six months, and another weekend that will begin in October and lasting approximately one year. Both formations are for a small group of 15 people, so it is a very exclusive and nearby students. It has 430 hours of instruction and 120 hours of practice, a total 550 hours. Intensive mode that have started in September and is about to end, has left us very satisfied, because it has awakened something deep and motivation in students, and it has been an intense experience that us has transformed both students and instructors. And although at first seemed the official formation boundary, after the first experience we are happy and even believe that this is going to change the way we raise the formations of all school teachers.
What Happy Yoga?
It is a school of lineage, which wanted to be consistent with the vision that lineage masters Aquarian and been open to different ways of approach Yoga with capital letters, trying to be one really transformative activity of human beings. It is a school that has a long experience in formations, which has trained hundreds of teachers in different kinds of Yoga. So what It aims to be a school of life, where we practice a transcendent vision of human life in all its dimensions.
Our idea is to offer to students who want to become all the possibilities and all the necessary so that they can develop their own practice and his professional activity. We understand the formal training as a good basis for then complemented by advanced Hatha Yoga, Kundalini Yoga, Yoga for pregnant women and families, and other proposals and variants of Yoga offered by the school.
If you have further questions, call us at 93 318 11 07 hola@happyyoga.com or see the website through this link: http://www.happyyoga.com/formacion-oficial/