Seminar of meditation consciousness nude
Danilo Hernandez us guide to perform a work that distills the essence of the practice of the meditation. Has by purpose develop a understanding total of the process of meditation and that the meditator learn to adjust the practice to their own reality and to their real needs. In Madrid, 15 and 16 of October, school of Yoga of the tables.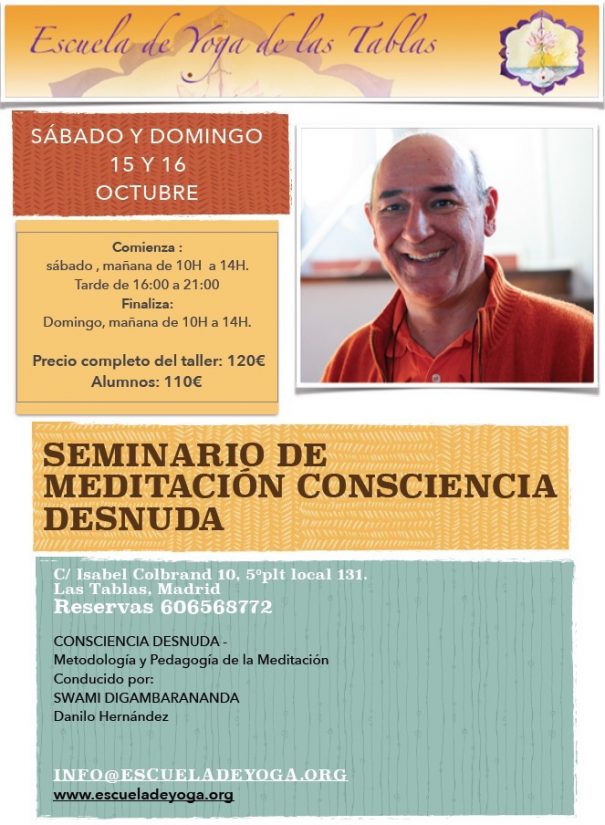 Naked awareness meditation It is a method that synthesizes the quintessence of the traditional techniques of meditation, such as Antar Mouna, Ajapa Japa, Zazen, Vipassana, Shine, etc...
The teachings will be supplemented by practice of Asanas and Yoga Nidra.
This seminar is aimed at all persons who wish to enter or deepen the fundamental aspects of the bare consciousness meditation, term that expresses the nature of the completion of the process of meditation.
Is the experience of the being, of our essence last. Is get to know what really are more beyond of our references usual, that are the body, the breathing, the information that capture the senses, them thoughts...
In this seminar we will learn to go progressively releasing references, stripping us of our IDs, Finally as we approach the experience of pure consciousness.
Danilo Hernandez (Swami Digambarananda)
He began the practice of yoga self-taught at age 16. Disciple of SW. Satyananda and SW. Niranjanananda. Dedicated to the teaching of yoga since 1975. He currently directs Bindu, Yoga school in Chamartín, in Madrid.
Is Professor of yoga entitled by the Sivananda Yoga Vedanta Forest Academy of Quebec (Canada) in 1975, and by the AEPY in 1982. Since 1984 remains linked to the Bihar School of Yoga of Munger, India. In 1993 was known as Yogacharya (master of yoga) by the Bihar School of Yoga and the International Yoga Fellowship Movement.
For years, regularly directs courses and seminars of yoga in different Spanish cities and in South America. Is author of the book Keys of Yoga, work of great interest by offering a complete synthesis of the teachings of yoga, exposed systematically, objective and clear. SW. Digambar stands out by its great precision, depth and sense of the humor. The realistic approach that offers about yoga allows that the practice of yoga can reflect in our daily life, projecting in everything we do and live.
Contribution to the seminar and form of payment

Where: School of Yoga of Las Tablas, C/ Isabel Colbrand 10 - 5ª planta local 131. Madrid

Opening hours: Saturday, from 10.00 to 14.00 and 16.00 to 21.00 / Sunday, from 10.00 to 14.00

Price: €120 (€110 tables deYoga school students).

To confirm the reservation contact Hiria Bernal or Carlos Daza to confirm square, indicating your name and surname, in emails to hiria@escueladeyoga.org or om.carlosdaza@gmail.com piazzas are limited. TB can make your booking through our website.