Teacher training Yoga Sivananda: talking with Lakshmi
Yoga in network interview to Lakshmi, Professor in the cUrso of teacher training Yoga Sivananda in Spain, which will take place in The Casa Toya, Madrid, Zaragoza. of the 15 of August to the 11 of September of the 2016.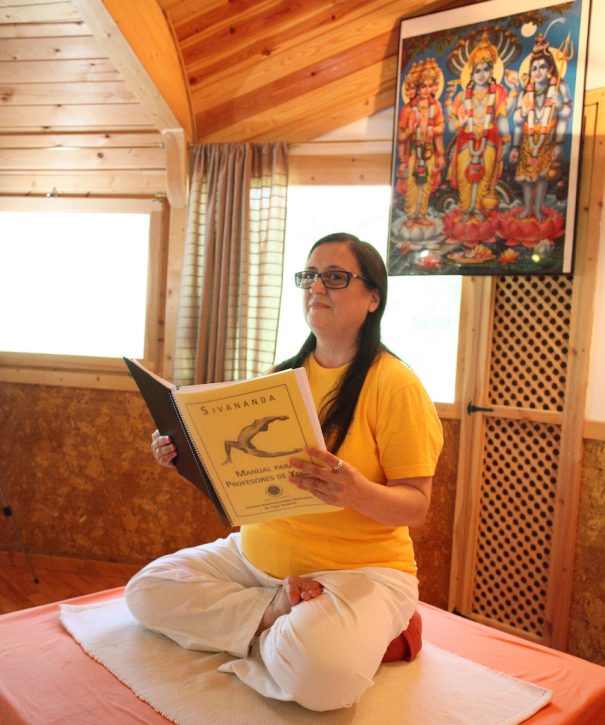 The Sivananda Vedanta international Yoga centers were the first to provide training courses for teachers of Yoga in the West. Swami Vishnudevananda it retained the traditional Indian system for the formation of the Gurukula, in which the teacher and the student live together in the ashram. Through contact with the teacher, the pupil opens physically and mentally and acquires a great experience of Yoga, which will later forward to others, in his capacity as Professor. In order to create favorable conditions, initial and advanced training is carried out exclusively through intensive courses in the ashrams.
This summer, like the previous ones, the Sivananda Yoga teacher training ashram moves for almost a full month to La Casa Toya, in Madrid, Zaragoza.
Yoga network want to introduce the teachers and teachers of this veteran course.
Lakshmi is Professor of the Bhagavad Guita in the course of training for teachers of yoga Sivananda.
Question: What is your "special" contribution as a teacher to the TTC (Teachers Trainning Course?
I think that "special thing" that I can contribute is rewarding that turns out to be a whole month with students, see his transformation, his effort and his confidence in achieving the objective, in the right grade for each.
Also touches me to talk about the teaching of the Bhagavad Guita. Something that I am passionate about and that each year I learn. As say me "is very noticeable that I like", in the sense that I am not bored in class and attempt to anyone pass. I'm studying the Bhagavad Guita and I think that is something that does not have never end. The study of the book is the own purpose of the book.
What is the main thing that you expect to be able to transmit to the students of this course?
He liked by the reading of the books sacred of the Yoga, that are essential in the life. Be aware of the responsibility that you buy at the time of birth, grow your mind, your intellect, so when the discovery you'll recognize it and make that leap beyond your mind, your intellect.
Books take you and guide you, as a teacher, but then have to jump and that faith is a gift. They are books that lead you outside your own experience, that you do not move away from yourself, they are books that you focus, bringing wealth to your being. When you open a book of bringing wisdom, sense of isolation vanishes. You realize of that "feel only" or "lost" is a matter of ego; sure that there are many people in that time reading that book. I sometimes wonder how many people will be reading the Bhagavad Guita at this time. Pure connection.
I think the real luxury today is the concept of time. Take a book and open it with a mind willing to learn is a true luxury. And it is within reach.
Your experienced teacher of the Sivananda Yoga training courses, what you value most?
The change. I always thought that people never change, until I did the course of teacher training. The transformation occurs because there is will and certainty. Is spectacular for some the great change that is produces in their lives, so that is just tell that there is a before and an after.
When I took the course many years ago, we had a very creative partner and gave us all a wonderful t-shirt which was how the course began it worms that were transformed into butterflies. I loved it and I still keep it.
Of course that all students leave the course with a capacity to give a yoga class complete, safely in what you are teaching. But this presupposes a training course; What explained in the previous paragraph is what occurs only in an intensive course.
Do you think that this type of intensive course of other training courses the difference?
Course: the experience of 'living Yoga'. Set aside your life everyday and change the perspective of observation.
I speak from my experience and for me it was a gift. For a month I didn't have to worry about anything other than learn. Out was my job, my house, my family, the shopping, the costume list I'd to go to work (which break!, loved the uniform). During a month me it gave all made, I fed physical and spiritually, I cared and not even I raised if was well what was doing there.
My subject more difficult was the coexistence (then have seen that is it of the most) and all the limitations that could overcome and all what learned of me same in a month of coexistence.
A remember, a story that treasure especially of some of those courses last in Madrid.
Not is a story actually. I am always "played" with people who are going to do the course and carry large "suitcases", large loads with them. Sometimes are diseases, other external or self-imposed limitations, etc. There is a day at the course where the students show their talents, the day of the "talent show" (well enjoyed by everyone) and the richness of students and their talent is amazing. We are many and each one different. The point that we have all in common is the love by the Yoga.
I remember a guy who had seizures and taught me how be more effective to help you. I still remember how from the stretcher in the ambulance told me: "Please, let me finish the course". And he could finish their course.
I also remember a 63-year-old woman that he was going for his ninth cancer there who would stop it, wanted to do the activities and, although we agreed with her that should have more rest time than others, did not want to hear about the Pact.
I also remember a guy with 17 years, in full adolescence, making the course with a discipline and incredible maturity and which helped everyone... sure that delivery was to bring it another life.
During a TTC I fell walking and ended up with one leg stretched, bandaged and an arm in a Sling. I had to give the last class of the Bhagavad Guita and he had recently arrived from the hospital, but I had so much energy that when the students, seeing me in that manner, lamenting and wanted me to console, came out to me: "No, please, I'm well. "Is only my body which it has fallen, but I'm great". We have just the class and I had to come to Madrid for an ultrasound.
Always, always, with each group of prospective teachers comes a teacher to teach me something. So I am waiting to see the lesson for this summer.
Would you like to see pictures of the experience of the teacher training course?

More information and reservations at: http://www.sivananda.es/curso-de-formacion-de-profesores-de-yoga-en-espana

Centre international de Yoga Sivananda Vedanta of Madrid. T 913615150 www.sivananda.es

https://www.facebook.com/yoga.sivananda.madrid

https://twitter.com/yoga_sivananda