Seen on a blog / 7 Essentials of Yoga that you will not learn on YouTube
For your interest, reproduce this blog article Insayoga, written by Noelia Insa Satorre, which begins: "the Yoga It has come to Westespecially for fine, but occasionally also for evil. The ancient science of Yoga, which has remained unchanged for centuries, came to the United States and Europe at the beginning of the last century. Obviously, has been affected by the Western capitalist system, a completely different culture and the development of the new technologies".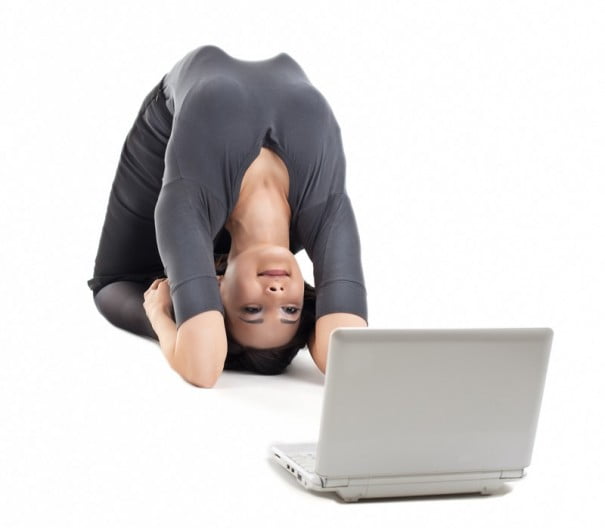 He spoke Umberto Eco of 'integrated and apocalyptic' to distinguish between those who accept and defend absolutely reject them news reporting (integrated) cultural progress and those others that instead. I will say that before the changes that is experiencing Yoga I don't feel either apocalyptic or integrated. Not I condemn them crossly, as many do, but not me place in '' anything goes '' of others.
We live in the era of the Instagram Yogawhere some Yoga teachers are at the same time characters media and measure its prestige by the number of followers in Twitter, or followers in Facebook. Leaving aside considerations about the "ego" of these people, I sometimes think that it is not so bad as it serves to spread Yoga. The problem is when people begin to practice through videos of YouTube, and are intended to Learn sirsasana with a tutorial. This not only is not appropriate, but that it can be very dangerous.
Most of the time, these videos do not explain some aspects of yoga, since they try to conform to a limited duration to capture audience. Does not address important physical aspects, such as care, the exploration of the limits... And also the psychological aspects are ignored.
Between the physical aspects of Yoga that you will not learn on YouTube let me highlight these seven:
1. the relative importance of the Yoga technique:
Yoga involves learning and refining the technique of asanas. The technique allows you to work your body more deeply and keeps you alert. Obviously you can learn the technique from a stance through a video. But it is important to bear in mind that the technique is only a means for transformation, not an end in itself.
2. the focus and attention:
Focus and attention are the essence of Yoga: attention to breath, to the messages of the body, to the power, even to the quality of our care. Deepening your practice means not so much learning new positions how to increase your understanding of how to do yoga. Become a witness of yourself while you are on your mat: this is the real challenge. This self-observation can be very complicated if we have to cater to a computer screen.
3 - breathing:
Breathing is the fuel of life (traditionally called "prana"). Yoga, breathing serves as a bridge between the body and the mind, since it operates automatically, but it can also be consciously controlled. Breathing is the cornerstone of the technique. Learn how to use it effectively is the key to deepen your practice, since it increases flexibility, strength, resistance and balance.
4 explore your limits:
Another important dimension of Yoga is to learn to explore our limits. And it is here where learning from Youtube can become particularly dangerous: many videos show athletic men and women carrying out sophisticated asanas in 15 seconds (maximum time duration of a video on Instagram). Obviously, nothing is said that this is not for everyone, that these people have years practicing, and that each body has its limits in terms of strength, flexibility, strength and balance. To avoid injury, it is crucial to identify and respect these limits. But it must be taken into account that the boundary is situated just before the pain, and moving day day and breathing in breathing. Essential part of learning Yoga is to recognize this point and move to his around, avoiding staying in our "threshold" as much as "maximum limit".
5. the pain as feedback:
As stated by Joel Kramer in his article Yoga as Self-Transformation (Yoga as self-transformation): "It is vital to know the difference between pain and intensity". This author warns that fear and greed are two factors that can make us confuse pain and intensity. If we are afraid, the intensity of a position may be interpreted by pain. If instead blind us ambition we can disregard the pain in order to reach beyond our limits. "The majority of injuries in Yoga is due to ambition or lack of attention, usually both," says Kramer. The pain should be used as a "feedback", such as information provided to us by our body: If you ignore it you can do you harm.
6. the power lines:
Kramer explains the importance of channelling our energy when we practice Yoga to different parts of our body, creating what are called "energy lines". These lines are vibratory currents that move in different directions in each posture. If you pay attention you may notice these subtle trends moving in the body, which is not surprising if we take into account that the human body has a hydraulic system (circulatory) and other electrical (nervous).
7. understand the position:
Much more important to try to achieve the final position, it is to understand how that position. I tell my students that the asana should always prioritize function over form. It doesn't matter that the final form of a position does not conform to Kino Mcgregor in Instagram photo. How crucial is that we understand the function of the asana, what it is, and to adapt it to our own body. "Understanding posture is not with the mind only know how to position the body. Lunderstanding occurs when the muscles and nerves, even cells themselves, know how to work in the position." (J. Kramer)
Credits: Yoga as Self-Transformation, by Joel Kramer.
Noelia Insa Satorre is editor of the blog of Insayoga.com. Original article with your editing and illustrations: http://insayoga.com/7-aspectos-esenciales-del-yoga-que-no-aprenderas-en-youtube/