Yoga in the tradition of Krishnamacharya - Sarvānga Sādhana
Yoga is a holistic practice that provides balance and good health in the physical, mental, emotional and spiritual dimension. For this reason, yoga is known as sarvānga sadhana: a discipline that takes into account all aspects of the individual. Sadhana means 'practical' and sarvānga It can be translated as 'all parties'. (Sarva= all; Anga= parts). Writes Luisa rope.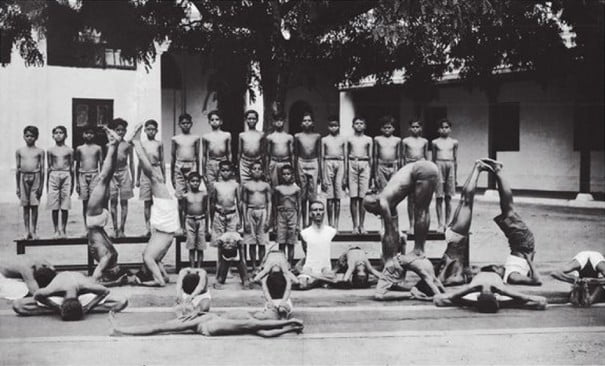 The intensive seminar that will be held from April 30 to May 3, 2015 in Madrid, it will include practice sessions of āsana, prāṇāyāma and meditation, that will provide self-awareness and harmony to the body and the mind, as well as theoretical aspects of the philosophy of yoga, classical texts, Vedic chant, which is one of the most powerful tools of yoga. Classes will be taught by experienced yoga practitioners trained as teachers in the tradition of Krishnamacharya in Chennai, India, who share their knowledge with students, presenting the essence of this tradition that integrates body, mind and spirit.
This seminar will be, for starters, an excellent opportunity to learn the different aspects of yoga, and for teachers, a chance to improve their skills the authentic tradition of Krishnamacharya whose originality is based on the selection of the most appropriate tools that offers yoga and its application to the characteristics of each individual.
Krishnamacharya, who has been called 'father of contemporary yoga', was one of the most influential yoga teacher of the 20th century. When yoga was considered only as the way of life of the Yogis and spiritual teachers of ancient India, he revived this ancient art and transmitted it to focus it towards the individual capabilities of each person. His son, T.K.V. Desikachar helped spread these teachings and presented to the world the term 'viniyoga' in the sense of 'individual approach' in the context of health. The tradition of Krishnamacharya yoga is widely known especially in this area for its adaptations and individualized modifications that make it ideal for anyone regardless of age, social status, beliefs or gender.
Details of the seminar
Of the 30 April 2015 to 18:00 may 3, 2015 at 15:00
Teachers: Mrs. Radha Sundarajan and Ms Anupama Das
Place: Center Mariapolis Luminosa, Las Rozas de Madrid
Cost: €240.
Translation into Spanish by Luisa Cuerda (Coordinator)
Contact: Luisa rope. T + 34 649 801 025 luisacuerda@yahoo.es
The teachers
Radha Sundararajan (Yogaterapeuta, yoga teachers and teachers of Vedic chant), with more than 25 years of experience in Vedic singing and yoga it is direct student of T.K. V. Desikachar, son and pupil of the legendary yogācarya, Sri T. Krishnamacharya. It has organized many Vedic chant teacher training courses both in India and the rest of the world, and has toured various countries to teach Yoga and Vedic chant. Radha is specialized in teaching the philosophy of yoga, such as the Yogasūtra and the Bhagavadgītā, and meditative practices. He has been Director of Vedavani, Department of Vedic chant on KYM (Krishnamacharya Yoga Mandiram), and SKY-‐Yoga.
He currently directs a charity dedicated to the promotion of women and the education of girls need in Chennai. Expert interpreter of veena (an Indian musical instrument), is also an involved activist on behalf of good treatment of animals.
Anupama Das (Yogaterapeuta, teacher of yoga and Vedic vanto), completed with the highest ratings the Post-‐graduate diploma in Yoga of KYM. In the past 12 years has worked in several organizations as KYM (Professor / research assistant), SKY-‐Yoga (teacher / curriculum development manager / assistant director), etc., ocupandos of administrative affairs as well as conducting seminars, training programs and individual therapeutic yoga classes. As well as imparting theoretical sessions of yoga and practices, it has specialized in teaching yoga to children.
Apart from his work as a teacher, he is an enthusiastic supporter of the painting and other creative activities. He has a Post graduate degree in Economics, and during his tenure with the University reached the highest qualifications in academic subjects (Statistics & Research Methodology) and sports. Before devoting himself to yoga was professional publicist and Professor of child care.