Documentary / Sadhaka, the path of yoga
This documentary aims to treat the true yoga, its purposes and its effects through figures recognized as Ramiro Street in Spain, or Surinder Sing, Swami Veda Bharati, inter alia, in India. Nicolas Gauthier directs it.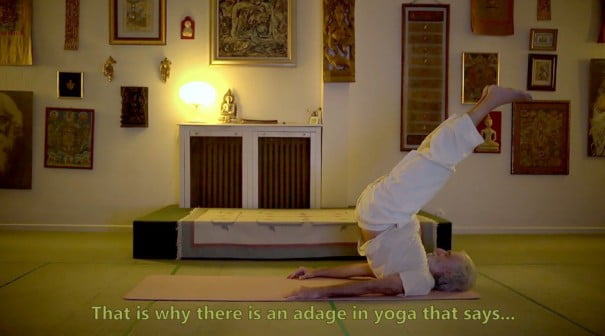 "In 2010, age 66, Ramiro Calle, pioneer in introducing yoga in Spain, contracted listeriosis in Sri Lanka. Entered in Madrid and against the odds that granted him four hours of life, recovered embarrassing to the medical corps. A few months continued teaching at its Center, the Shadak, which have seen more than three hundred thousand people since 1971." So begins the film.
The questions arise, and the role of the Narrator, played by the director Nicolas Gauthier, It is precisely to incarnate, from the outside, the problems that appear on a topic so broad and complex: your doubts, your basic questions about an age-old practice and deeper issues about the mistico-esotericas claims of that tradition. Thus, establishing a dialogue between the thoughts of the narrator and the responses of the different protagonists.
The motivations of the film
We asked Nicolas Gauthier on its claims to direct this film. "To treat the question of the true yoga or yoga genuine, must at the same time defining what is and what is not yoga. You have to be fair and lucid as to all forms of practices that exist today, and would be a lack of sincerity towards the public suggest efficiency, cultural and anthropological validity of all those forms."
"The Narrator, without being a yoga specialist, has no prejudice. Just to guide you to your common sense and your intuition. In addition, the protagonists, known to continue spreading the traditional path of yoga, have been chosen for not having a language stereotyped on the subject. All not worth, and prospects for an exponential business at a low of spirituality and wellness society, motivates many fallacies, to sell an 'exotic' activity. Many pseudoyogas or denatured ' yogas' which have nothing to do with true hatha yoga and that have become a neurotic cult body and ego have emerged. Therefore it is necessary more than ever, to clarify the subject".
The trailer here:
Address: Nicolas Gauthier
Music: Luis Camino
Planned release: March 2015
Facebook: Sadhaka, the path of Yoga
Twitter: @FilmSadhaka