Appointments for a round weekend
This weekend won't be easy to choose between so many attractive proposals. Some, as the Festival "Get yourself", it contains everything: practices, lectures, music, meditation... Others invite us to go deeper into yoga. And also retreats, outings to the mountains, training in Thai massage... and a tempting concert with Ido Segal.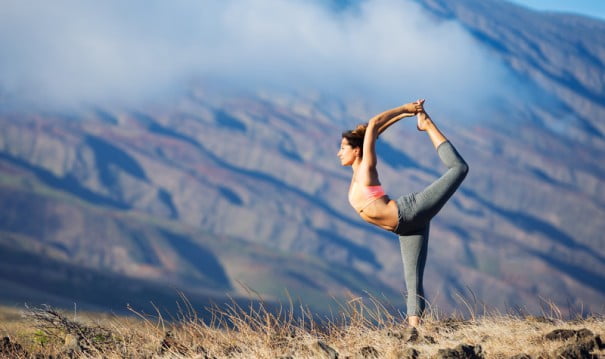 Friday, November 21
Autumn, delving into yoga retreat
This retiro-seminario is aimed at those practitioners of yoga who already have some experience in its practice and want to delve into this ancient and universal philosophy of personal growth and spiritual realization. In it we will be developing progressively and systematically the most relevant aspects of the various practices and techniques that integrate the yoga.
We delve and desmenuzaremos practices to find the true dimension of yoga, approaching it from different angles and from different levels of perception. We leave less worked aspects of the most common and basic techniques to get later into a more global and unitary of yoga, conception what could be called Integral Yoga.
It teaches: Swami Tirthananda Sarasvati, a direct disciple of Paramahansa Satyananda of the Bihar School of Yoga of Munger (India). Yoga Teacher Diploma from the AEPY in 1983. Degree in medicine and surgery by the University of Zaragoza in 1989. Expert in Indology and yoga. President and trainer of teachers from the National Association of Yoga teachers and experts on Indology (ANPYEI.) Member of the Board of Directors of the FEDEFY.
Where: House of spirituality Santa Elena de Solius (Girona)
More information: http://centroluna.es/retiro-de-otono-profundizando-en-yoga-sw-tirthananda/
Saturday 22 November
A morning to delve into yoga
A workshop is an opportunity to investigate the motivations that have brought us to the practice of yoga; If these reasons are compatible with the aims pursued by the yoga, it is a good time to learn new practices. Concept: Sat - Chit - Ananda. Happiness.
Method: Dynamic Yoga session / guided meditation / practice of Maitri or Karuna: share. Song of the Moolamatra
It teaches: Isabel Ward, authorized by the Spanish Association of practitioners of Yoga and by the European Union of Yoga. Practitioner of meditation, and founder of the Anandamaya Yoga school.
Opening hours: 10.00 to 14.00
Contribution: €20
Where: Yoga Anandamaya. C / Alcalá 68. Madrid
Reservations: Anandamaya. 647 51 22 78 T - 91 504 44 29
More information: http://www.retiroanandamaya.com/2014/10/30/taller-de-yoga-dinamico-y-meditacion/#more-1926
Beginning course of initiation to the Yogasutra of Patanjali
22 and 23 November. Few books as resounding as the Yogasutra Patanjali, the small "aleph" that holds in its 195 aphorisms infinite universes. And, in the field of what is known as yoga in the West, few books as mentioned, so venerable, so glossed... and so little understood, where 'understanding' does not refer to the correct interpretation and learning concepts but passionate research of its message and their enthusiastic integration into life itself.
It teaches: Luisa rope
Dates:
1º.-22 and November 23, 2014
2.-31 January and 1 February 2015
3º.-21 and March 22, 2015
4th-30 and may 31, 2015
5th meeting summary, Saturday 27 of June 2015, from 10:00 to 14:30 and 17:00 to 21:00
Opening hours: Saturday from 10:00 to 14:30 and from 17:00 to 21:00; Sunday from 08:00 to 12:00
Where: Fundació La Plana. Arts, Barcelona
Price:Workshop, €110 - Pension, €50 (lunch, dinner, sleep, breakfast)
Information and registration: arjunaperagon@gmail.com 650 221 551 T / luisacuerda@yahoo.es
Festival get ahead yourself
22 and 23 November. Two days of open workshops and conferences on the practice of yoga to overcome yourself. Special guests: Jorge Carvajal and Fernando Díez. On 22 and 23 November, 12.00 to 21.00 hours at the Centre de Yoga Sivananda de Madrid.
With a varied program:
Saturday
12.00 h. yoga class: "Exceeds your ability to stretch in the asana". With Swami Sivadasananda and Lakshmi.
14.00 h. vegetarian food.
15.30 h. Conference - Colloquium: "outside the yoga Yoga. Instrument for the overcoming of difficulties". Participating teachers and students who share the yoga in nursing homes, prisons, hospitals and environments stressful professions.
17.00 h. yoga class: "Increases your capacity and muscle tone in the asana". With Gopala and Yashoda.
19.00 h. Satsang, silent group meditation, chant mantras.
Conference for peace and from Sitar with our special guest concert Fernando Diez.
Sunday, November 23:
12.00 h. yoga class: "Increases your level of prana pranayama exercises". With Vishnu and Manuel.
12.00. Workshop for yoga teachers, with Swami Sivadasananda: "How to teach breathing techniques to improve the balance of the nervous system".
14.00 h. vegetarian food
15.00 h. Conference with our special guest Jorge Carvajal: "Overcome yourself!".
17.00 h. yoga class: "mental strength through concentration: Yes you can". With Gopala and Jyoti.
19.00 h. Satsang. Silent meditation group and singing of mantras for peace.
Conference with Swami Sivadasananda: "The power of thought: instrument for overcoming".
Suggested donation: €25 per day. Including the activities of the day and vegetarian food. Possibility of simple accommodation in the Center for teachers and students from outside of Madrid.
Reservations: T 913615150. C/Eraso, 4. Madrid
More information: http://www.sivananda.org/madrid/festival.htm
Kundalini yoga retreat
22 and 23 November.We will practice Kundalini yoga: kriyas (series) of Kundalini yoga and meditation to balance and harmonize the body and the mind. There will be free time to be in contact with the nature of this privileged setting of the Baix Empordà, to walk by bike or on foot, or simply to enjoy the House or being in the garden of the restaurant, located in the medieval village of Cruïlles near La Bisbal.
The food served will also help to rediscover a physical balance, is a vegetarian diet balanced, ecological and proximity.
Price: €130 per course and full Board
El retiro es apto para todos los niveles Más información sobre el programa del retiro y sobre la casa en la web de YogaCuentos: www.yogacuentos.com
Where: Espai de Harmonia, Cruïlles, Girona
More information: http://yogacuentos.blogspot.com.es/
Formación: Técnicas de yoga en la educación
22 y 23 de noviembre. Esta formación consta de cuatro fines de semana de 15 horas cada uno, obteniendo el Certificado TYE (Técnicas de Yoga en la Escuela) emitido por el RYE España. La formación TYE es reconocida anualmente por el Departament d'Educació de la Generalitat de Catalunya, dentro del plan de Formación permanente del profesorado.
2º Seminario: Aprender y convivir en armonía. Dolors Garcia Debesa- 22-23/11/2014

3rd seminar: give pain to the emotions and develop creativity. Eulalia Muñoz Bárcena-24-25/01/2015
4th seminar: the sound, the voice and the presence of the word. Montserrat Weaver Nadal-7-8/03/2015
Schedules: Saturday, from 10 h to 14 h and from 15.30 to 18.30; Sunday, from 10 to 14 h
Contact: 627 23 16 67 T / 606 08 04 81
Prices: 1 seminar: €140 / 4 seminars: €500 (training)
Where: Central Anahata. C/España, 20. L'Hospitalet de Llobregat, Barcelona
More information: http://rye-yoga-educacion.es/
Sadhana with Narayani
Narayani, author of best-seller The new book of Yoga, fue discípula de Swami Vishnudevananda. Es profesora de diferentes métodos de Yoga: Hatha, Bhakti, Raja Yoga, y comunicadora de excepción. Su enseñanza es como traer toda la tradición del yoga a nuestros días y viajar por la luz de su conocimiento para transformar el cuerpo, la mente y el espíritu. Por su amplia experiencia en el mundo del yoga, Narayani es hoy en día referente para todos aquellos que practican esta milenaria disciplina.
Contact: 91 575 1913 / info@yogacenter.es / www.yogacenter.es
Where: Yoga Center Madrid (calle Serrano, 6, bajo 4, Madrid)
More information: http://www.yogacentersc.es/eventos/42-sadhana
Yoga flow + Masaje Thailandés
The Thai massage is a holistic therapy combining massage and yoga asanas (postures) to balance the vital energy that flows through the body. Therapy is rhythmic, dynamic and meditative, marked by the 'Metta' meditation, which translates into love and kindness. With gentle pressure and effective stretching relieving stress, restores balance and releases the energy roads that run through the body. It is a whole body therapy and adapts to each individual, being the minimum time for a full two hours treatment.
Opening hours: 17-21, 00 h approx.
Price: €35 (couples 10% discount)
Objectives of the workshop:
Understanding the benefits and procedures of the Thai massage.

Entender los principios básicos del Masaje Thailandés: Meditación Metta, Técnicas de respiración, movimiento fluido y postura adecuada.

Aprender parte del tratamiento (sobre todo estiramientos) tumbado boca arriba.
It teaches: Genoveva Conde, profesora de yoga y profesional completamente cualificada de terapias manuales del cuerpo, y especialmente masaje Thailandés. Su aprendizaje de esta terapia ha tenido lugar mayoritariamente en Inglaterra, con la organización de masaje Thailandés, Sunshine Network.
Contact: Veva. vevapuig@gmail.com T 683298479
More information: http://www.yogaartstudio.com/
Salida a la montaña: Yoga y Naturaleza en Gredos
22 and 23 November. Yoga y Naturaleza vuelve a salir a la montaña el próximo fin de semana a disfrutar de la práctica de yoga y el paisaje del otoño. Nuestra intención es que disfrutes de los múltiples beneficios que la práctica de yoga genera en la salud procurando el mejor desarrollo de nuestras condiciones, tanto físicas como psíquicas, pero también –y no menos importantes–, espirituales y afectivas.
Un fin de semana para todos, no es necesaria experiencia, un yoga desde la sencillez y la consciencia.
Where: Casa Rural el Pagano, en Candeleda (Ávila), habitaciones dobles compartidas, comida ovoláctea vegetariana y un paisaje espectacular.
Contact: ayur.carmen@gmail.com / T 609 581 913
More information: http://yogaynaturaleza.wordpress.com/
UNO Festival de Cultura Consciente
Una divertida y consciente exploración de ti mism@ a través del movimiento, la danza, la meditación, el juego y la música. Habrá dos salas de actividades para adultos y una sala exclusiva para niños, un espacio creado exclusivamente para la expresión y diversión de los más pequeños, y del niño que todos llevamos dentro. Más de 15 actividades que invitarán al canto, la danza, la meditación, la expresión y el movimiento. En esta edición proponemos dos actividades realmente exóticas: Haka Maorí y Diker Sufí… Y para finalizar, Ecstatic Dance y Concierto de Vibra.
Opening hours: Desde las 9.30hs hasta las 22.30hs.
Puedes comprar tu entrada en:
Almazen. C/ de Alcalá, 78, 28009, Madrid

Mandala Center. C / head, 15, 2º D, 28012, Madrid;
Ecocenter. C / de Esquilache, 2, 28003, Madrid;
The silk route. C / Toledo, 13, 28005, Madrid;
Yogaes. C / buen Suceso, 15-28008 Madrid
Price: € 35, also will be able refuel the delicacies Ecocenter vegetarian restaurant and market different products of fair trade and conscious production.
Where: Royal Academy of dance "Mariemma", Soria street 2, Madrid
More information: unofestival.com
Face-to-face biodynamics
From 23 to 28 November. La Presencia Biodinámica es un terapia en la que no se ejerce ningún tipo de manipulación, presión o intención y se entra en un estado de quietud que es donde reside la salud original. Lo más suave, hermoso y profundo de la Osteopatía.
Un círculo de escucha en el que se muestra una forma de terapia y se va compartiendo la experiencia con los asistentes, y esto es parte del trabajo. Nos reunimos durante cinco días un grupo de personas que no necesariamente tienen que ser terapeutas, ni tienen por qué dedicarse a ello después. Se hablará de los conceptos útiles de la Presencia Biodinámica sin un orden establecido; más bien iremos fluyendo con las necesidades del grupo y haremos trabajo en camillas.
También existe la posibilidad de hacer esta formación en tres fines de semana. L
It teaches: Carles Compañ. Se dedica desde hace 25 años a aprender, practicar y enseñar la parte más espiritual de la Osteopatía, desarrollando su camino cada vez más hacia la quietud, hacia un nivel de presencia donde el contacto es con el ser, no con el hacer; esto es a lo que llama Presencia Biodinámica.
Price: todo el curso, estancia y pensión completa, 480€
Contact: www.centrozen.es // T 630 35 65 05
More information: centrocalima.com
Domingo 23 de noviembre
Concierto Dúo Aine, música de la India y Persa
La música de la India y de Persia tienen raíces comunes y siempre se han influenciado mutuamente. Ambas se enseñaban de maestro a discípulo y ambas se basan en sistemas melódicos complejos y en improvisación.
Músicos: Ido Segal (Israel) y Kaveh Sarvarian (Irán)
Input: €10
Where: Ecocentro. C/Esquilache 2 al 22. Madrid
More information: http://www.ecocentro.es/content/news_images/Aine%20Nov14.jpg
Yoga Day con Beshanga
El 23 de noviembre se celebra la 4ª edición de Yoga Day. Besangha Yoga se ocupa de llevar a cabo este evento en Impact Hub Madrid. La práctica de yoga es un excelente motivo para que la población haga un homenaje y trabaje por la justicia y dignidad de los derechos de las niñas y mujeres en todo el mundo, y así lo ha entendido y lo promueve Amnistía Internacional desde Yoga Day.
Si quieres formar parte de este evento solidario y gratuito, reserva tu invitación.
Opening hours: desde las 10:00 horas y hasta las 14:30 (aforo limitado).
Where: Impact Hub Madrid, c/ Alameda 22. Madrid
More information: http://besangha.com/