Integral Yoga Hatha (3rd Edition)
Eva Espeita (Swamini Radhananda Saraswati) continúa llenando un vacío con la enseñanza del Hatha Yoga Integral, ahondando en las raíces del Tantra para un redescubrimiento de esta práctica como camino completo de meditación que abarca desde lo denso a lo sutil. El curso ofrece la orientación para crear una sadhana o práctica diaria de Hatha Yoga Integral así como la información teórica necesaria. Del 30 de noviembre de 2014 al 1 de marzo de 2015 en Aushadhi Escuela de Yoga, Madrid.
.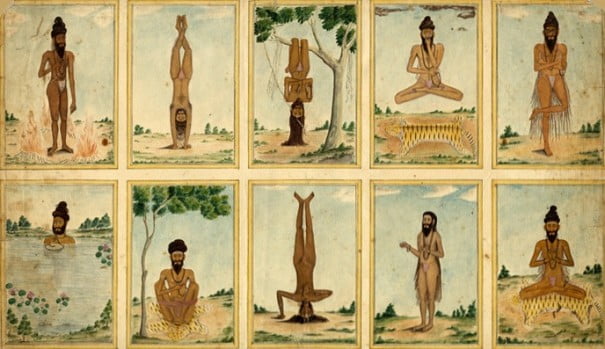 "When [prana] power moves, the mind [chitta] moves.
When the power stops, stops the mind.
Thus, the Yogi achieves the stillness"
Yogi Swatmarama, Hatha Yoga Pradipika
The human being is body, physical body: the most obvious aspect of existence to oneself and the world that, however, is usually still a great unknown and, therefore, a great misunderstood.
Until today has come the ancestral legacy of Yoga in relation to the body, implying this step by the time, cultures and individuals a transformation of it in ways that may differ completely from one another, enriched or impoverished dramatically its essence. In any case, in its original formulation Hatha Yoga is a system of integral development of the human being that encompasses all aspects of existence, from the most dense to the more subtle.
This course aims to retrieve and transmit most ancient teachings called Hatha Yoga, the Yoga of the inner balance, through the classical texts literature of Hatha Yoga in harmony with more recent contributions from the different schools of Yoga today and biomechanics, adapting practices to the needs of each practitioner and looking for a language common to all and everyone.
In the past, Hatha Yoga consisted only of techniques for cleaning and purification of the body external and internal calls Shatkarmas. It was later, refining and perfecting until it appeared its four pillars: Yoga postures or Asana (so famous that they have eclipsed the rest of Yoga practices for the general public), whose objective is to bring the body to a State of optimal physical and energy; the breathing exercises or Pranayamathat balance and expand the level of energy; energy keys or Bandhawhich stimulates specific areas of your body and maintain energy in and between them and, finally, gestures or Mudrapractices of variable complexity which may include, at the same time, postures, breathing techniques, energy keys, visualizations and psychic gestures that channeled energy into certain areas. Hatha Yoga is also linked from its origins to Ayurveda (one of the world oldest medical sciences), in such a way that both systems are fed each other, being Yoga tool par excellence to the Ayurveda It advocates for self-maintenance of health and balance.
The idea of the course is to offer students the necessary guidance to create a sadhana, or practice of Integral Yoga Hatha it to include all the aforementioned aspects of traditional Hatha Yoga. Also, in the case of teachers who attend the course, tools will be provided them so that they can teach their students these techniques from personal experience.
Program
Theoretical and practical study of the traditional texts on Hatha Yoga: Hatha Yoga Pradipika, Gueranda Samhita and Shiva Samhita.
Study and practice of the Asana or postures of the Hatha Yoga Pradipika, other asana classic and modern from the biomechanics.
Study and practice of the shatkarma or cleaning techniques or purification of the body: neti, dhauti, nauli, basti, kapalbhati, trataka.
Nutrition: General theories, alternative systems and useful proposals.
Study and practice basic and intermediate of breathing, kumbhaka or retention practices respiratory and pranayama: ujjayi, kapalbhati, bastrika, nadi shodhana pranayama and bhramari.
Theory and practice of the mudras or gestures hands (up), head (mana), perineal (adhara) and postural (kaya).
Theory and practice of the three bandhas or energy muscular keys (some of them currently called gymnastics hipopresiva) and application of the same during the practice of asana and pranayama: mula bandha, uddiyana bandha and jalandhara bandha.
Theory and practice of the chakras or energy centres/vortices.
The tantric sexuality from Hatha Yoga.
Theory and practice of the Nada Yoga meditation or Yoga of the sound.
Schedules
From 9:00 to 14:00.
It will come in fasting or having ingested food at least two hours before.
The punctuality It is necessary for the organisation of teaching. The indicated time is the time from the beginning of the sessionthen you must come to school with enough time in advance (about 15 minutes).
Once started the practice, the door will not open, since this will affect the proper development of it; for this reason it is important that if the practitioner is the door closed do not call the same out of respect for their peers and colleagues.
Structure of sessions
9:00 / 11:30 Practice of Integral Yoga Hatha.
11:30 / 12:00 lunch break.
12:00 / 13:30 Theory, questions and answers.
13:30 / 14:00 Final practice.
Who this course is aimed
Hatha Yoga practitioners with experience (Aushadhi practitioners who have at least completed level II of Hatha Yoga. External practitioners should consult with the facilitator in the email from the school indicating school or schools and years of previous practice) wishing to further study of this tradition, as well as teachers or instructors that you want to develop a genuine and complete practice.
We propose a Sadhanawhich means to develop a daily personal practicefollowing the indications during the sessions, which are given all the necessary explanations and clarification of doubts, next to the own guided sessions that serve as reference.
An extensive orientation will be held a three-weekly Sunday morning, but the rest of the time the practitioner will have to practice being your own guide, which expresses the spirit of Yoga of "learn to recognize our inner teacher".
There are several questions that you can ask yourself:
-If you're willing @ to commit with you mism @ and adopt the discipline of practicing every day at least 30 minutes to 1 hour.
– Si estás dispuest@ a asistir a todas las sesiones del curso, procurando no faltar a ninguna de ellas para no perder la formación imprescindible para una práctica correcta.
-If you're willing @ to consider the immersion in this course as a step further on your path of personal evolution.
If it is so, you hope.
Where: In Aushadhi Yoga school. Paseo de las Delicias 47-51 (pedestrian passage) Madrid (underground Palos de la Frontera, Renfe Atocha and delights)
Dates: Sundays November 30, December 21, 2014, January 18, February 8, March 1, 2015
Duration: 25 hours
Contribution: €235 for students of Aushadhi who are attending school today or that have attended less than a year ago. And €250 for external students.
Very important: The indicated input allows students and pupils enjoy of the whole course.
The non-attendance sessions not exempt from full payment of the same and these they may not recover other courses offered by the school.
More information and reservations: contacto@aushadhiyoga.com T 915 391 669 / http://www.aushadhiyoga.com/
Professor
Eva Espeita (Swni. Radhananda) is dedicated to the teaching of the Integral Yoga since 2003. He has practiced, studied and researched the traditional Hatha Yoga (theory and practical) for over twelve years, including its development in Kundalini Yoga and Kriya Yoga lineage of Swami Satyananda Saraswati. It has also included in its formation most of the most important schools of Hatha Yoga of today in order to contrast this practice from all angles, including the richness of the past and the present as well.