8 OnLine Yoga classes: Practice for opening the hips
We are pleased to present the eighth class of Yoga OnLine, produced by the international school of Yoga that Yoga network It offers like exclusive gift to his readers. It's a kind of Hatha Yoga, guided by Professor Rebeca Carretero.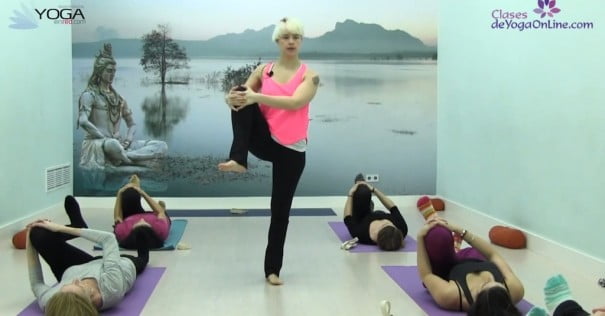 It is a Hatha Yoga practice where We will work the opening of hips first in download, belted, and later standing, with a gentle Vinyasa, until you get to the position that will be our goal, a variant of Rajakapotasana bending forward.
We will finish with a restorative posture that passively continue the opening of hips.
Recommended material: a belt, two pillows and a blanket.
Rebecca Carter
He is coordinator of the international school of Yoga.
Yoga teacher titled at the international school of Yoga and certified by Yoga Alliance, the European Yoga Federation and the Spanish Federation of Yoga professional. It has finished his training with the Master of dynamic Yoga taught by the international school of Yoga as well as the residential Master (Precision, integration and awareness) also Impatica by international school of Yoga in their residential mode. Currently continues his training as a trainer of the training of teachers of Yoga in the international school of Yoga.
Practitioner of Hatha Yoga and dynamic Yoga, Asthanga. Their classes are full of sensitivity, characterized by attention in the conscious connection between movement and the breath of the student, creating an active meditation in each class.
Rebecca is a Naturopath and Reflexóloga Podal. His passion for Ayurveda has led her to train as masseuse and perform many courses on feeding treatments, Ayurvedic Ayurvedic and Indian cuisine.
He studied administration and management at the Universidad Carlos III de Madrid.
This kinds of Yoga platform has been created recently by the international school of Yoga to get the learning and practice of the Yoga wherever you are.
Each week it incorporates classes of different styles with different objectives, so that you can move into your practice.
You can choose practices short of 30 minutes and complete more than one hour classes, as well as several levels that adapt to your practice. Also you can practice meditation and Mantras.
Sign up for free to get access to complete various kinds of welcome. Click on: Free registration