Deepens in the yoga with Swami Sivadasananda
Dos jornadas muy especiales con Swami Sivadasananda, el sábado 4 y el domingo 5 de octubre, en el Centro Sivananda de Madrid.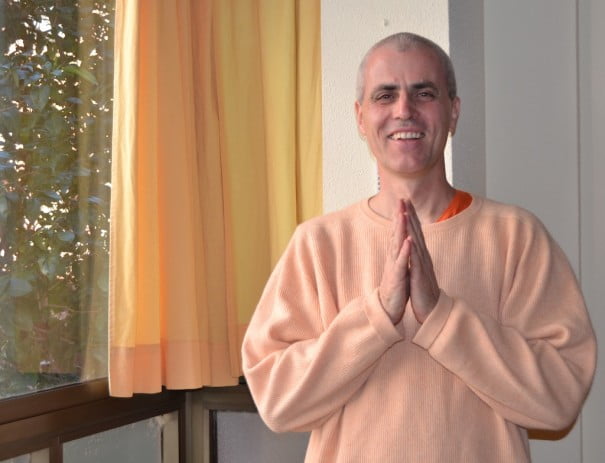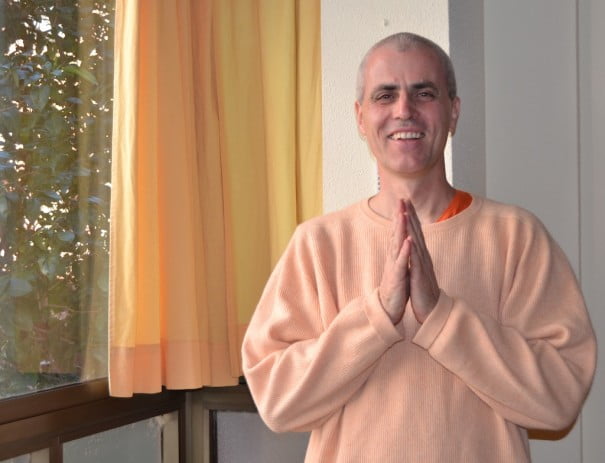 El sábado 4 de octubre:
–a las 16:30, Taller de asanas y pranayama: Profundizar las variaciones asimétricas
–a las 19:00, Meditación en grupo (Satsang): Claves prácticas para la Meditación
El domingo 5 octubre:
–a las 16:30, Clase de asanas y pranayama: La expansión del aliento
–a las 19:00, Meditación y conferencia: Historias inspiradoras de las Escrituras
Swami Sivadasanana, Yoga Acharya, discípulo de Swami Vishnudevananda. Enseña con sencillez, humor y experiencia en el Centro Sivananda de Madrid desde hace 30 años.
Recordemos sus declaraciones en la entrevista publicada en mayo en Yoga en Red:
You know your fee the evolution of yoga in different parts of the world. What stresses it?
Yoga went from the India to North America, especially California; from there to the East Coast; and from there to Europe. But in Europe it has reached all countries simultaneously. The development of yoga at the European level is very, very balanced. What we see in Spain, Germany, France, England is very similar, but all tend to be a reflection of what is happening in North America. And then, of course, there are traditional schools that have direct ties to the India. We also.
Do you think that the evolution in Europe is very similar?
It is very massive in certain countries such as United Kingdom, Germany, France (somewhat less), whereupon a type of very diverse yoga market was created. It also happens here in Spain, but I see it very positive because there are many open doors for many people from many places and many levels of training.
What the essence of the Sivananda Yoga?
Almost paying us to the word "Sivananda yoga", but basically we don't like. Swami Sivananda said: "do not make me a religion, do not make me a system. I am not a system; yoga is the system."
What sets us apart from other approaches is the synthesis of yoga, the four paths from asanas, pranayama, relaxation and diet to meditation, philosophy and hindu culture as an element to see the tradition of yoga rooted in society. Although the society today in the West has nothing to do with the ancient society of the India, abstract philosophical system of yoga, in the Scriptures, has survived for hundreds of years, and this is something interesting to know.
El yoga empezó a enseñarse en Occidente hace solo 50 años, así que podríamos decir que es casi un adolescente. Hay mucha improvisación porque intentamos adaptar la enseñanza a nuestras sociedades. Primero hay que entender la evolución del yoga en la India, luego la inmensa diferencia entre la India y Occidente, y por fin los valores auténticos del yoga adaptados aquí. No está acabado el proceso.
What would fail, to complete it?
Nunca se acaba, el yoga siempre está en desarrollo. En la India siempre está en desarrollo. Un dato interesante: en Europa se están creando federaciones de yoga, y en algunos casos llega a nivel gubernamental, como en España, que es el primer país donde el Estado ha intervenido. En Reino Unido no funcionó. En 50 años hemos intentado crear formas, criterios fijos, y en la India nada, no hay federaciones de yoga. Allí vemos una adaptación constante, son muy adaptables al yoga. En Occidente no hay por qué crear un sistema fijo ni pensar que el proceso se va a acabar, porque eso no corresponde al yoga.
El yoga nos enseña flexibilidad a nivel de la postura, pero a nivel de las actitudes, la India siempre ha sido muy flexible. Ha tenido invasiones, como la musulmana hace 300 años. Ahora los mejores músicos del norte son musulmanes, pero tocan música hindú. En el festival de música que vamos a tener ahora en Madrid, el músico principal viene acompañado por tres músicos musulmanes; dos de ellos son musulmanes… De momento el yoga no está muy dogmatizado…
What do you think you all those new styles, all this dynamic that has much to do with marketing? How do you rate it?
It has to do with marketing, but finally in the kind people you have and what you've learned is what you can transmit. What counts is the experience of the person, and this does not experience a style, but a relationship of body, breathing, relaxation and energy. And in the same style may be different, new situations.
Los estilos son elementos artísticos y creativos, y como tal son bonitos. Pero un sistema no se crea tan fácilmente, porque primero el impulsor habrá tenido que experimentarlo, tendrá que haber llegado a un estado adecuado de yoga, de realización incluso; y luego ese sistema debe funcionar para otros. Por eso no ocurre tantas veces, quizás solo cuando es necesario. Lo más frecuente son los sistemas llamados tradicionales y muchos estilos que se mezclan con los demás. Y pienso que hay que ser muy flexibles.
Do you not believe in that which is called "authentic yoga"?
No, no. Lo que nosotros pensamos que es auténtico es lo que corresponde a nuestras necesidades. Si ves en la India qué tipo de maestros enseñan y cómo se acerca la gente al yoga, es totalmente distinto. En la India hubo una época en que el yoga casi fue olvidado, y ahora hay un maestro que se llama Ramdev, un hindú que enseña solamente en hindi, a cinco mil personas en un estadio de fútbol a las cinco de la mañana. Así es ahora el yoga en la India, lo que corresponde a una sociedad donde hay millones de personas.
If we want to use the word "authentic" do it to refer to a sincere personal experience; that it is authentic yoga, and only exists at the level of the person.
There is the idea that in workplaces Sivananda practised a yoga very closed, very devotional, when in fact it is a yoga for life, for health, for food, for mental hygiene...
When the magazine Time put on its front page for the first time the holder "Yoga", it was very commented. The report described several schools, and reference centres Sivananda said, among other things: "may require a change in lifestyle". That for some people is attractive and others not; Some want to do yoga but don't want to change, and others want yoga to change. This is so. The yoga that is taught here tries to help people to change their lifestyle, and the main change is the power.
Food?
Totalmente. No puede haber yoga sin cambiar la dieta; el efecto más o menos prolongado de una clase de yoga generalmente tiene que ver con lo que comes después. Me di cuenta de ello personalmente cuando veía que unos días los efectos del yoga se mantenían muy bien y otros no tanto, y analizando vi que había cambiado de dieta.
And what diet is suitable?
Más ligera, y poco a poco orientarse hacia el vegetarianismo, porque es la alimentación que corresponde con mantener los efectos del yoga. La carne, la comida de lata, la pizza de microondas… no tienen prana.Hay dos tipos de comida: la que te aporta prana y la que te lo gasta, la que te da vida o te la quita. En Sivananda no predicamos el vegetarianismo, pero siempre ofrecemos cursos de cocina para que las personas vayan adaptándose al cambio.
How yoga appeared in his way and how this brought it to Spain?
At the year 78, 18 saw my sister do yoga in the garden and said: "That cannot be, something that I do not know". I went to the centro Sivananda in Munich, where I grew up. Then there were many schools, everything was new. I was to fascinate me by yoga. With 20 years I did a course of teachers to be part of this organization. First one year, then another year, and another one. And in 86, when I arrived in Spain, was a key moment, because I found a society that seemed to be more balanced than in other countries. People showed great affection and had some respect towards the more formal spirituality (mantras and ceremony), which still exists.
I was in the first course of teachers which was made in Spain with Swami Vishnudevananda. And asked him if he thought that someday could be a swami, and said to me: "You call", and the next day they called me! So I started as swami in Spain, in the first course of teachers here. I was here three years in a row, but I have always been much.
How have you found Spain after a time without coming?
I have not seen so much imbalance. People go on living at the Centre, donations are minor, but all we adapt, because yoga is part of a basic idea of solidarity; the powers of yoga are not materials: need two square meters and time.
Time... And yet we are so impatient... We want everything here and now.
The good thing about yoga and what satisfies us is making us an immediate effect. And however, if you want to go further, take long time. In the tradition of the Yoga Sutras reportedly, carrying you twelve years of practice know your mind. I think it is a good deal. Get to know yourself and then accepted with own failures and limitations is already a self-control. But to get up there you should see where the conflicts are, many are outside you, but others are in your own head, and that needs time to be known. Yoga has to join us year after year.
Se dice que el yoga es como una semilla que has plantado en el jardín y que riegas cada día. Pero no puedes medir el crecimiento de las raíces cada día para ver cómo va; tienes que dejarla. Los efectos subconscientes del yoga tardan años y apenas los percibes tú mismo. Luego llega un momento en que comparas cómo estabas hace cinco o diez años y ves mucha diferencia.
Yoga must love it, but for a long time. It is a saying of Swami Sivananda: "Love little, love long". Yoga is a love story that should last a long time so it can bear fruit.
Times in which motivation decays are passed...
Todos entramos en el yoga con una luna de miel, pero se acaba y empieza la vida de pareja. Cuando el yoga te aporta equilibrio energético y mental, sabes que te funciona y la práctica mínima que necesitas para tener esas dos cosas. Hay mil razones para seguir con el yoga y ninguna para parar; solamente hay que ser muy pacientes.
Being ambitious in yoga is not smart, because that's not going to last a long time; you're going to compare with others and you will always find someone more high! If you practice by sense of duty, because you do to teach well, but neither will take you so far. And if you do yoga to stop suffering, by stress or mental imbalance, when you pass, what will you do? It is very likely let practice at that time.
Al final lo que funciona es muy simple: yo amo el yoga. Es lo único que nos puede llevar tan lejos como tenemos que ir.
Más jnformación: http://www.sivananda.org/madrid/invitados.htm
El Centro Sivananda de Madrid ofrece la posibilidad de alojamiento sencillo para los profesores de provincia. Por favor, contacta para más detalles. www.sivananda.org/madrid – T 91 361 51 50 – Eraso 4, Madrid – madrid@sivananda.net