New method of yoga made in Argentina
Method created by Yogacharya Néstor Cesarini Pranic Balance Yoga with Yoga Alliance International certification, combines different ancient techniques that help to release energy, preventing any medical, physical, emotional and mental condition.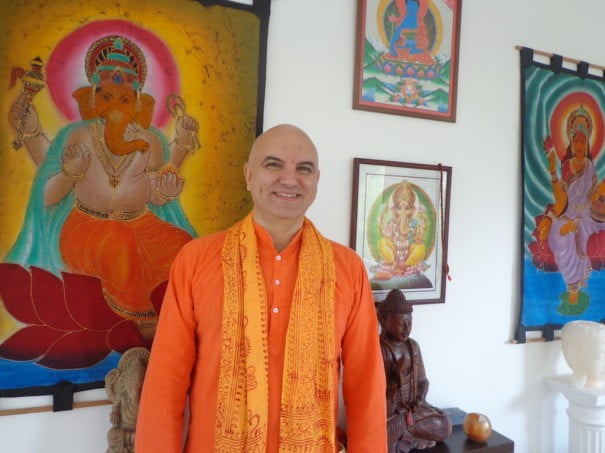 Yogacharya Nestor Cesarini (Swami Vasudeva), director of the Centro Integral de Yoga Padma Om in Buenos Aires, created the Pranic Balance Yoga, a method which aims to unlock energy, preventing future illnesses.
"For all disciplines and medicine of Eastern origin, our physical illness is manifested once previously, our energy or subtle body is blocked. Therefore, to unlock the power, we can prevent diseases", explains Cesarini, who summed up in this method all the knowledge acquired during his training at different schools of yoga, Tibetan Buddhism, and Ayurveda, both in Argentina and abroad.
Pranic Balance Yoga combines techniques of Tibetan Yoga, asanas or postures of the dynamic Hatha Yoga, pranayama (breathing exercises), Marmaterapia (digit pressure on energy points), Reiki, pranic healing, and bandhas (keys energy) resulting in a sequence that helps to prevent diseases and to find the balance of being in your physical, mental and spiritual field.
Practices of this novel method is done initial work of energetic release, then continue with a series of dynamic, from Tibetan Yoga, which helps to unlock power flow normally through their channels. Finally, a balance work is done for harmonise the chakras or energy centers, as a result, leaving a deep relaxation.
Unlike other methods, the Pranic Balance Yoga offers a total energy balance and is the man in form holistic. In addition, it's a technique that can be approached in different ways, depending on the capabilities of the student, so it is suitable for all kinds of people.
Those who want to join in classes, can do so at the headquarters of Pilar of Centro Integral de Yoga Padma Om. Meanwhile, those who already are yoga teachers and want to specialize in Pranic Balance Yoga, may register in the course of six months, which will dictate the school.
More information:
www.yogapadmaom.com.ar
(011) 15-4090-0009; 6752-2072.
Seat pillar: 45 Chubut, floor 1 of. 1, Zen Site Gallery, Villa Rosa, Pilar (a mile from the Shopping Torres del Sol).
Caba headquarters: Hidalgo 878, Caballito.
About the school
The Padma Om Integral Yoga Center is a school certified by Yoga Alliance International, of the India. In addition, it is supported by the Argentina Federation of Yogaterapia, Ayurveda and Yoga (FAYAY); the South American Federation of Yoga; and the international organization of Yogaterapia, Ayurveda and Yoga (OIYAY).
Headquartered in Pilar from October 2013, has just opened his second school in the neighborhood of Caballito, Buenos Aires city. In Padma Om Yoga is taught Yoga teacher, Superior Faculty of Ayurvedic Yogaterapia, consultant in Ayurveda, yoga of Abhyangam, several specializations for teachers of yoga, Ayurvedic food, Reiki Hindu, Reiki Usui and more workshops. In addition, they offer classes open to the public of the different methods of yoga.
Yogacharya Nestor Cesarini

He is director of the Centre de Yoga Integral Padma Om. Born in Avellaneda, Buenos Aires, he graduated in HR, and began his yogic way and training in 2002, through different methods and specializations. For his professional training in the area of human resources, developed work Yoga, offering seminars and workshops on the subject in various capitals of the world.

In 2008 made the course of Pranic Healing of the Institute for Inner Studies, Inc in the Philippines - Master Choa Kok Sui; and in 2009 he received master of Reiki, Usui method. In 2011, he traveled to India and Nepal, where participated in the International Festival of Yoga with spiritual teachers from around the world.

In 2013 it was recognized by Yogacharya (Yoga master) of the international Yoga Alliance based in New Delhi, and was elected Ambassador of the Yoga Alliance International for Argentina.

In 2014, he was appointed director of the Yoga Alliance Argentina with the purpose of certified schools, teachers and teachers that meet the highest standards of training recognised at international level, and that comply with the ethical and moral principles of Yoga. Also in 2014, he received recognition of Yogacharya by the South American Federation of Yoga and the Yoga Teachers Association.