Vegetarian recipes (27 tab / awakening)
To start the day we offer two well different breakfasts. The first, a salad of citrus fruits with their antioxidant that strengthen our immune system. The second, a cream of yoghurt with oatmeal, very nutritious and very good against constipation.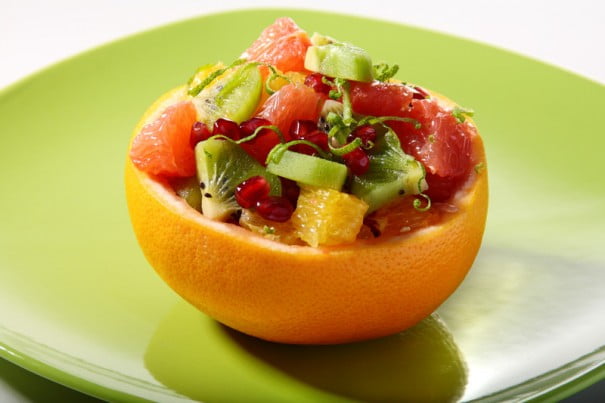 Slices of citrus fruit with pomegranate seeds
A tasty fruit salad is the best to brighten a gray morning. Granada nuggets strengthen and refresh the body and are excellent blood purifier.
Ingredients:
1 orange
1 grapefruit
1-2 kiwis (optional)
½ Pomegranate
1 tablespoon minced frosted Ginger (optional)
Preparation:
Citrus peel and slice of 6 mm thickness or gleaned them taking full of juice possible. Cut the kiwi into slices or squares, if used.
Place the fruit on a tray. Remove the seeds of the pomegranate with a spoon, along with pulp that surrounds them. Spread over fruit seeds and ginger, if using. Serve it immediately.
Cream of yoghurt with oatmeal
If you can get maple syrup it uses malted barley, rice or dates either honey syrup. 3-4 people.
Ingredients:
50 g finely chopped almonds
50 g oatmeal (not flakes)
the grated rind and juice of 1/2 lemon or orange
2 spoons of syrup of maple or other sweetening matter
300 ml of creamy yogurt
1 tablespoon chopped toasted almonds
Preparation:
Preheating the grill. Mix almonds finely chopped with oatmeal. Put them in a dish of baking and bake them in the oven for 2 minutes stirring often so they brown evenly. Allow them to cool.
Mix the grated rind and juice of lemon or orange with sweetener and yogurt. Add it to the preparation of almond. Put in Crystal glasses and set aside in the refrigerator.
Garnish on top with toasted almonds and serve.