Kichari, the full dish of the gods
Food Yogi par excellence, the kichari (also known as khichdee, khichadi, khichuri, and other names in the India) is like the paella in the Spanish levante: each region has its own Variant. Writes Agnes Perez.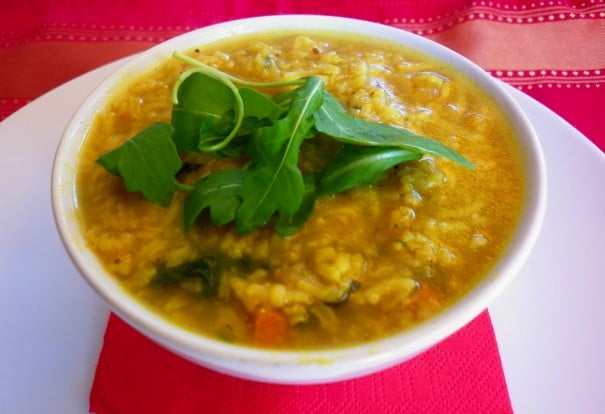 It is a full level of nutrients dish that combines carbohydrates (rice), protein (dahl or vegetables), lipids (clarified butter or ghee, or if you can't find it or use, extra virgin olive oil) and vitamins and minerals of different vegetables.
The kichari It helps to strengthen the digestive fire, to burn fat and to detoxify the body. Processed, according to the tradition of Ayurvedic, with different spices as you want to have an impact on a dosha or another to balance the three doshas.
To balance Vata, its texture should be more caldosa, the cooking time is longer (1 hour or more), by adding at the end the ghee and freshly ground pepper.
To balance Pitta, is has of reduce the amount of ginger and add more seeds of coriander and cilantro fresh chopped. The cooking time is also long.
To balance Kapha is increase the amount of ginger, black pepper and the species in general. Instead, not is advisable to add ghee and is has of limiting the use of the salt. The cooking time can be shorter (less than 1 h).
The kichari is served by general rule with another Indian dish called "kadhi" in which a small amount of chickpeas with spices and sour cream flour is cooked. The kadhi is probably first mentioned in the Bhᾱva - Prakᾱsa (treated Ayurvedic compound by Bhᾱva Misra in the year 1550). As is the case with the kichari, the variety of species and how to make the kadhi may vary a little depending on the region of the India.
Recipes
Kichari
200 g integral basmatti rice
200 grams of mung dahl (mung beans)
an onion
a leek
two carrots
a cup of cauliflower
1 Zucchini
1 fennel
1 tablespoon turmeric moka
1 tablespoon cumin moka
½ tablespoon of black pepper moka
1 tablespoon of ginger moka
fresh cilantro
sea salt
oil of Sesame or ghee
Preparation:
Washing machine and put to soak mung dahl at least 8 hrs.
Wash, Peel and cut the vegetables.
Sofreid slightly spices seconds
Add and saltead vegetables in sesame oil with sea salt to cover with plenty of water.
Bring to a boil and add the dahl. Cook until softens the dahl.
Add the previously washed rice and continue cooking, covered until it soften. It should be a creamy texture and the undone dahl.
Chop fresh cilantro and sprinkle it over the kichari.
Traditionally served also with kadhi or a tablespoon of cream cheese type "quark" to counteract spicy flavors. Who do not take milk, can substitute you soy yogurt.
Kadhi
2 cups and a half of fresh buttermilk or yogurt or soy yogurt
3 cups and a half of water
half a cup of chickpea flour
3 tablespoons melted butter or clarified butter (ghee) or sesame oil
half teaspoonful turmeric
half a tablespoon of ginger moka
a pinch of asafetida (optional)
1 tablespoon cumin moka
5 or 6 leaves of curry (optional)
3 or 4 nails
1 tablespoon of sea salt moka
half a tablespoon of green pepper moka
3 tablespoons molasses of fattened or molasses Brown rice (if the yogurt or buttermilk acids)
Preparation:
Mix the yoghurt, water and flour until you get a homogeneous mixture. Add salt, turmeric, ginger and green pepper. Bring to a boil and continue cooking over low heat for 30mn taking care that lumps do not.
If the yogurt or the whey of milk are acids, sweeten them with the molasses of barley or of rice integral.
Saltead grains of cumin, cloves and asafoetida in the ghee or butter: this is called "vaghar". Add the vaghar to your preparation. Cook a few minutes more and serve it hot.
Agnes Perez is Director of the school macrobiotic Ca L'Agnes (Cubelles-Barcelona). Certified teacher of Yoga Iyengar®.
Contact: agnesmacrobiotica@gmail.com.
http://agnesmacrobiotica.blogspot.com.es/
http://cocinamacrobioticamediterranea.blogspot.com.es/