Nada Yoga: Meditation through the Yoga of sound
Here is a great opportunity to deepen in a way which is a great unknown in the country. Rajesh David, great musician and teacher of Yoga and sound will be. The days 25 and 26 of this month at Aushadhi School of Yoga in Madrid.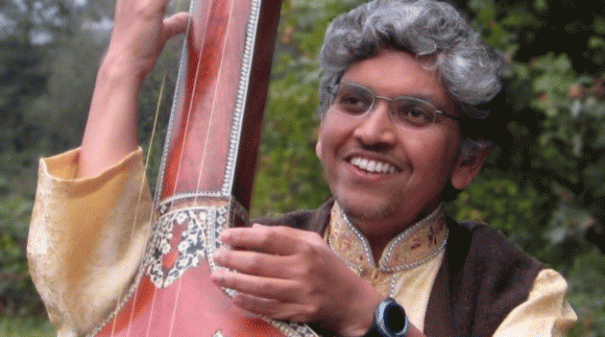 Aushadhi Yoga school invited every year to different specialists from different parts of the world to give lectures. On this occasion, from Great Britain brings to Rajesh David, experienced teacher of Nada Yoga (Yoga of the sound), who taught a seminar on 25 and 26 January. From March we will continue in the Center with an intensive course of Yoga of the sound of four months. The occasion is ideal if you want to deepen your knowledge and more effective techniques, from a perspective that appeals to the most authentic tradition.
Working with sound through awareness-raising in the listener, the emission and mantras has the quality of the immediacy, by which this practice is considered one of the most direct ways to achieve subtle and profound States of consciousness.
Teacher Rajesh David
Rajesh David studied at the Yoga Institute in Mumbai, India, where he was born. Musician and composer, sinks the roots of his work in the classical music of India. As a professional singer he is artist's popularity in his home country. It has been for several years the official musician of Mandala Yoga Ashram in Wales (Great Britain), directed by Swami Nishchalananda Saraswati, Master internationally recognized by his numerous writings published on yoga and his seminars offered by Europe and India since the 1970s. He has recently directed together with Swami Nishchalananda annual course above on Kriya Yoga.
During the years he has been living in Europe has continued directing kirtan and singing sessions, giving numerous concerts and regular courses on Nada Yoga. Its three courses on this via the Yoga of the sound: "Nada Yoga: the Yoga of sound", "the sound to silence" and "an introduction to the Mandukya Upanishad" together with "Bhakti Yoga: from the love to the self" and "An introduction to Bhaja Govindam of Adi Shakarachaya" are endorsed by the British Wheel of Yoga international organization.
His many published works include collections of devotional music as Mantra: Music for relaxation and meditation, music of Aum: Mandukya Upanishad and Kabir: Mystical poems, as well as CD's practices as Nadopasana, Nada Yoga practitioners.
Great teaching experience, his excellence as a teacher of this meditative path of sound relies on the qualities that depart from his career as a professional musician and its origins in a family of musicians steeped in tradition where he developed a deep knowledge of the technical and necessarily mystical background of this folklore. And, on the other hand, as a true meditator whose way is the sound and especially the singing, not us speaks only of music and sound, but of the very foundations of these.
From his teaching, Nada Yoga becomes a beautiful tool with which to access to knowledge and subtle experience of the self, that you know well by his own meditative experiences. The fruits of his personal practice in yoga are revealed in a heart ever open and friendly to everyone and their commitment to the transmission of this knowledge.
"In the words of Rajesh:"Nada Yoga is the Yoga of the subtle sound. Part of Tantra, consists of a series of techniques that lead to a more refined perception, a mind and a body more energized, and to a higher awareness of our chakras. Exploring the sound levels from the most dense to the more subtle gradually develop our highest potential."
Content of the seminar
Philosophical background of the concept of nothing.
Introduction to Indian classical music, including Raga and Tala.
Awareness of the Chakras using Indian musical scales.
Working with the body and the mind by incorporating concepts of Nada Yoga.
Development of the practice of meditation with sound.
Contemplation on the OM mantra.
Relationship of Nada Yoga practice with everyday life.
Information on the seminar of Nada Yoga

Dates: 25 and 26 of January 2014

Facilitator: Rajesh David (India)

Place: Aushadhi Yoga school

Address: Paseo de las Delicias 47-51 (pedestrian passage). Underground Palos de la Frontera, Renfe Atocha and delights

Schedules: From 10 to 14 and from 16 to 20 hours (Saturday and Sunday)
Contribution: 135 euros for 150 and Aushadhi students for external students.
Form of payment: Aushadhi or transfer cash to Eva Espeita, ING Direct 1465 0100 92 2019973138, indicating the student's name and name of the course.
Deadline for payment: January 21, 2014.

More information: http://www.aushadhiyoga.com/