S. N. Goenka, pioneer of Vipassana Meditation has died
On Sunday, September 29 died in his residence Bombay S. N. Goenka, age 90, no more apparent cause to his advanced age. Joaquín G. Weil writes.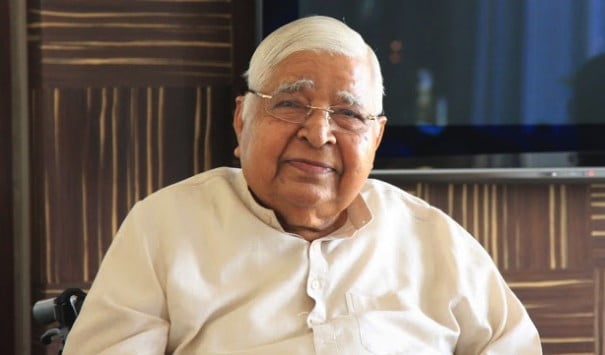 S. N. Goenka He was born in Burma in the bosom of a wealthy business family of Indian origin. A few strong migraines did find healing around the world. Within its native Burma, asked that after his master, out Sayagyi U Ba KhinIf the Vipassana could help him. "This is not a method of healing", received as a response. He also wanted to try that technique of meditation. You got to heal was a collateral benefit, in a workout that lasted years, which, in 1969, was established in India, where he began to spread the Vipassana, first among their relatives and friends and finally all over the world.
In 1976 he founded the first Center in the outskirts of Mumbai. Today there are hundreds of centres worldwide, including one in Palau Tordera, Barcelona, and soon another in Candeleda, Avila.
Among its major achievements, which could be described as historic, is the resurgence of meditation Vipassana in India after centuries of absence. And then his brilliant broadcasting all over the world.
The pioneer is a type of meditation of Buddhist origin, historically. Goenka had the right strategic of stripping it of any icon, dress or ritual. Although he kept intact the Dhamma or teaching and the sutrasmagnetic voice singing. These songs and videos (which is accompanied by his wife) have accompanied thousands or millions of meditators who have made and make their courses.
For the financing of the courses established a talented and effective procedure according to which the meditators only could offer a voluntary donation at the end of the course, not at the beginning, which, in reality, as if they were old mendicant monks, had made the course thanks to the generosity of former students, at the time that could sponsor the following meditation.
Harmony and peace
Among the objections, personally I don't understand to establish courses for executives, entrepreneurs and Government officials. Perhaps a concession to British colonial classism and Indian caste system of their culture of origin. While it is true, stood firm in not to accept anything distinctive, so typical of the sub-continent in their courses: paintings in the front, brahamanicos, etc.
Your task of recovery and dissemination of the dhamma (dharma) has been quietly and historical giant. And it has all the overtones survive him long time. In our Center of yoga and meditation Yoga room had the honor of hosting the official group of our city, Malaga, for years. And what is well unique in every time and place, which together with the main traditions of meditation under one roof: Zen, Vipassana, Gelugpa, Shambhala, Kadampa, etc. have been celebrating meditation with us often at the same time. Which, we think, it should be than usual, but as anyone with experience knows, it is something very uncommon.
As the own Goenka said, the dhamma is like rice pudding, if any of the ingredients don't like it, as the branch of cinnamon, lemon or raisin bark, you can set them aside and keep eating. We can't wait to find the perfect way to start the practice.
Goenka also joked in one of their videos on how it would be death for a meditator of Vipassana: "there he is coming, I notice such feeling in one leg or one arm, I keep me balanced, etc." Communications and news about his death that I come claim that it has been, in effect, according to his teachings. As he said many times, that all beings be happy, get the harmony and peace.
More information: http://www.neru.dhamma.org/
Who is

Joaquín García Weil graduated in philosophy, yoga teacher and Yoga room Málaga director. Practice Yoga for 20 years and teaches it since makes eleven. He is a student of Swami Rudradev (leading disciple of Iyengar), with whom he has learned in Yoga Study Center, Rishikesh, India. He has also studied with Dr. Vagish Sastri de Benarés, among other masters.