Mettacuento, tales to explain life
Mettacuento is an educational project with the aim of sharing stories about some issues that often prevent children (illness, poverty, separations), leaving them so defenseless when they burst in their life or their own. Luisa Cuerda explains it.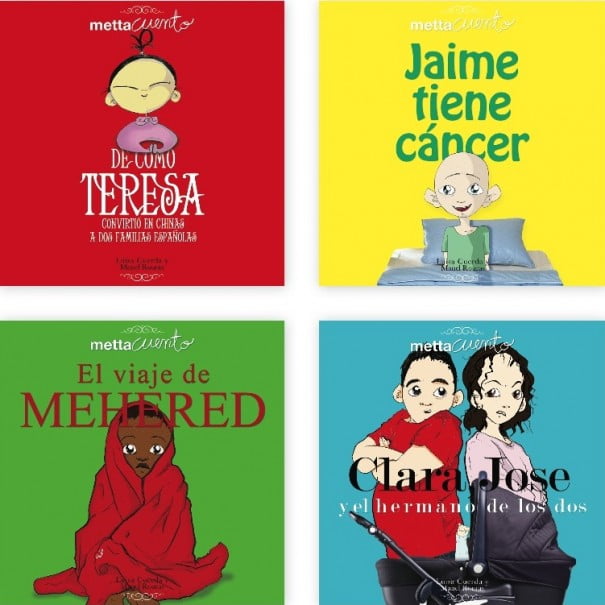 In December 2008, Manel Rouras, Illustrator (Barcelona, 1984), and Luisa Cuerda, (Madrid, 1958) writer, wrote a story tailor-made for Teresa Toral, who had just arrived from China.
That was the beginning of Mettacuento, an educational project with the aim of sharing stories about some issues that often prevent children (illness, poverty and separations) leaving them so defenseless when they burst in their life or their own. At Mettacuento we believe that everything can be approached from the empathy and compassion. And that is love and not fear, humour and not the triviality that dissolve knots and saves distances.
Our first four stories on paper are:
How Teresa became chinas two Spanish families It is the story of the evolution of two families before the arrival of an adopted girl. We build it from a real experience to serve as support to the parents of Teresa Hui-Jie when came time to explain the history of its adoption.
Jaime has cancer It is the story of the healing of a child and his family. A cure that does not reduce disease, but, above all, the fear generated by this disease and that threatens to tarnish the joy that exists among people who wish to. We have built this history without omitting or disguise the pain, suffering, anger, or death, because we know that only by accepting them as part of our weaknesses of humans can conquer health that comes from an inexhaustible confidence in life.
The journey of Mehered It is the story of a journey across the desert, sustained by faith, of a girl from Mali who arrives first to the Canary Islands and then to a school of Tarragona. We have built this story with all our respect to a situation which, as much as we have been able to document us, are not part of our closest experience. However, we have dared to do so to show the kids that do not need to migrate the story that lies behind that Yes had to do so; and with the intention of opening his conscience so that, when they grow up and are in position to do its part, carry it out from the responsibility and honesty.
Clear, Joseph and the brother of the two It is the story of two teenage sons of two divorced couples who, returning to marry their parents, are being forced to a forced relationship that apparently is complicated when it announces the arrival of a brother in common. We have built this story trying to observe, without judgments or prejudices, sometimes with humor and always with love, the evolution of some youngsters with weaknesses, fears and selfishness but also with an unconditional love to his parents and an invincible desire to be happy.
Books to share
These stories are designed to be read and discussed between adults and children, in the family and at school. That is why, in our page, after the presentation of each story, you can download reflection guidelines that allow the contents. They can be ordered in any bookstore and also they can be purchased on our website.
From October 2011 Mettacuento is online with a small periodic moral tale intended to show in a simple way the smaller values basic, common to the main philosophies and inspired especially by the yamas and niyamas of yoga. We also deal with current issues, such as evictions, citizens movements and everything around us that can arouse the curiosity of children. The tales may Download free of charge, because our idea is to have the largest possible dissemination, both in the family and in schools, etc... We also offer in our website a feuilleton of season weekly serial for young people and adults in which propose a critical view of certain aspects that seem relevant in our society.
Mettacuento It is this Facebook and Twitter where we are realizing our adventure.
The journalist Victoria Martín Niño defined the project Mettacuento as "Tales to explain life". We liked it so much that we did our motto.