Festival of Yoga Kundalini in Madrid
Would you like to practice Kundalini Yoga and celebrate life? A Kundalini Yoga Festival is celebrated in Madrid on 18 and 19 May. It is way more full, happy and powerful Yoga said.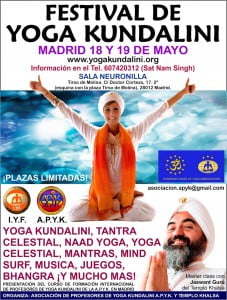 The Association of teachers of Yoga Kundalini (A.P.Y.K.) and Temple Khalsa organized the Kundalini Yoga Festival in Madrid on 18 and 19 May. It is this Festival be practiced Yoga Kundalini, Tantra heavenly, heavenly Yoga, Naad, Yoga, Mantra Yoga, Kirtan, Bhangra, games, etc.
The Festival is open to the participation of all stakeholders in the Kundalini Yoga and the practices of the awakening of the consciousness.
The concept of festival connected with the appearance of possessing the Kundalini Yoga and celebration that is so important in this new era. Spiritual development is not at odds with the joy, but that is one of the most important when it comes to connecting with the new spirituality concepts.
The Kundalini Yoga brings joy, vitality and positive energy to make us capable of celebrate life. This Festival is a unique opportunity to connect with this frequency and see the different aspects of this very comprehensive yoga.
The Festival is open to the participation of those who want to get into these practices, or deepen them through the Master class of Jaswant Guru Singh Khalsa. During the meeting, the presentation of the international of teachers of Yoga Kundalini training will take place.
http://www.yogakundalini.org/profesores/
Take charge of your destiny
Kundalini Yoga is an ancient technology designed to expand consciousness. Through continuous practice, exceed our limits and we vigorizamos us to make decisions with more courage, so that we obtain the energy required to create splendid and full lives. Kundalini Yoga consists of access to our infinite potential; within each human being is the ability to be extremely creative. With Kundalini Yoga took all aspects of our being, our mental faculties, our emotional energy and our physical structure, balance and alignment. As we do so, we open our ability to experience, to express, to share our infinite self.
Kundalini awakens our soul, our original self. Kundalini Yoga offers us the gift of being.
Early participation fee: €150
Contact: Sat Nam Singh, Tel. 607420312
asociacion.apyk@gmail.com
http://www.yogakundalini.org/Festivales/MADRID