Concentration, energy and health for young people aged 10-15
La IAM (Meditación Integrada Amrita) 10/15 está diseñada específicamente para los jóvenes de 10 a 15 años. Se basa en unos sencillos ejercicios físicos y la práctica de una meditación con visualizaciones.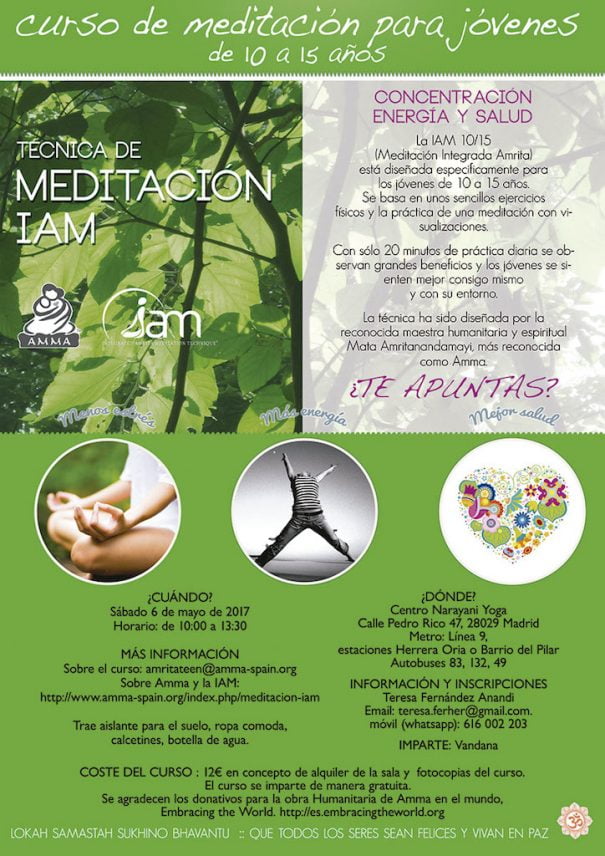 Con sólo 20 minutos de práctica diaria se observan grandes beneficios y los jóvenes se sienten mejor consigo mismo y con su entorno.
La técnica ha sido diseñada por la reconocida maestra humanitaria y espiritual Mata Amritanandamayi, better known as Amma. ¿Te apuntas?
If so, when? Sábado 6 de mayo de 2017. Horario: De 10:00 a 13:30
Where? Centro Narayani Yoga. Calle Pedro Rico 47. 28029 Madrid. Metro Línea 9, estaciones Herrera Oria o Barrio del Pilar. Autobuses 83, 132 y 49
Trae aislante para el suelo, ropa cómoda, calcetines, botella de agua.
It teaches: Vandana, amritateen@amma-spain.org
Contact: Teresa Fernández Anandi: e-mail: teresa.ferher@gmail.com | T (whatsapp) 616002203
Price: €12 en concepto de alquiler de la sala y fotocopias. El curso se imparte de manera gratuita.
Donations for Amma's humanitarian work in the world, are grateful Embracing the World.http://es.embracingtheworld.org

Did you like this article?
Subscribe to our RSS so you don't miss anything