Open lecture of Swami Rameshwarananda Giri
Its title, "The sense of meditation in our days". Saturday, May 23, 11 to 13 hours in the BAC (Barcelona contemporary culture Centre).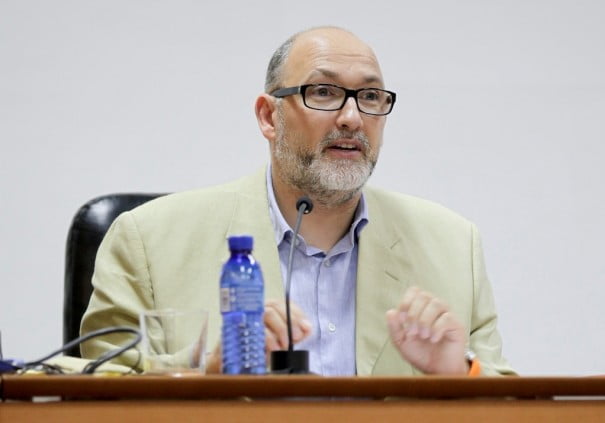 It is thus presented in the press release that sent your organization:
Swami Rameshwarananda Giri He was born in Bilbao in 1968. At the age of five, Swamiji used to accompany his mother while she was their spiritual practices. At age seven, Swamiji entered a school of Hatha Yoga where he received training in different disciplines yogic, both physical and mental (Asthanga Yoga and Raja Yoga). At the age of thirteen he met his first spiritual preceptor, the Jesuit priest Father Ochoa, who soon realized the sensitivity, depth and intelligence of his young disciple and began to personally take care of your inner development.
It was only nineteen when he will meet his teacher, Swami Ritajananda Maharaj, President of the Ramakrishna Mission in Europe, who will start it and will be on the spiritual path. From this moment on, you will experience a transformation dedicating himself completely to carry out a relentless introspective process knowledge, through contemplation and a walking resolved towards the State of awakening.
Upon the death of his teacher, Swami Rameshwarananda continued his education with Swami Brahmananda Girione of the direct heirs of the lineage of Kriya Yoga, he formally received the monastic vows to the 25 years of age, being sent to Spain to spread the teachings of their masters. Thus, in 1994, founded the Escuela de Yoga Vedanta and meditation and a Vedantic Centre that currently runs and attended regularly, to carry their practices, people of all nationalities that share his teachings on Yoga, Vedanta and meditation vocational and altruistic way.
Swamiji belongs to the monastic order Advaita Vedanta Sannyasin, that has been venerated in the India since time immemorial. The order was reorganized centuries ago by Shankaracharya, who gave it its current form and, since then, has been continuously directed by a line of Saints teachers.
Swamiji is founder and President since 2009 of Phi Foundation dedicated to promote and strengthen the development of human potential and mind-body balance - spirit-environment. This Foundation promotes solidarity and cooperation between cultures and societies, to promote the comprehensive growth of the person and to contribute to the process of harmonization of the human being with himself and those around him. Other objectives of the Foundation are the preservation of natural areas and protection of the environment, and to promote the use of clean and renewable energy and environmentally friendly architecture with the environment. The ultimate purpose of these initiatives and projects is to achieve equality, peace and fraternity among all human beings and the research and development of new paradigms for the development of a full and harmonious life.
Swami Rameshwarananda Giri is currently the President of the Inter-religious meeting of Valencia (EEIV) and member of the Elijah Board of World Religious Leaders, Interfaith institution of world order that carries out periodic meetings with the most important spiritual leaders of the planet.
In this context of disinterested delivery and transmission of core values that make up the spiritual life, currently works tirelessly in the creation of the Campus Phi Foundation. The Campus is dedicated to the implementation of technological r & d projects in the field of sustainable development, taking special presence in such projects the environmental and social issues from a global perspective. In addition, the Campus has the support of national universities and is integrated into a Campus of excellence.
The Project University of consciousnessthat Swamiji leads, is integrated into the Campus Phi Foundation and is an authentic international forum which are called scientists, philosophers, humanists in general, personalities from the field of spirituality and world leaders to, through a sincere reflection, a multidisciplinary dialogue and a critical spirit, discover new paradigms for humanity.
We are talking about a human being of an extraordinarily intense and fruitful spiritual life surprises for his dedication, his integrity, his particular way of seeing life and the depth of its message based on "unselfishness", understood as the absence of ego. A simple monk who lavishes love, inclined to share his extensive training in philosophy Vedanta, as well as their extensive and deep experience in the practice of meditation and yogic disciplines and representing the living experience of the teachings transmitted by their teachers.
We mean to be done that has made its existence an act of love and altruism.
Says Swami Rameshwarananda Giri:
"Meditation is a way of being, living, to live. It is a State of beyond freedom of conditioning. It is the ability to identify the profound neglect the mind projected onto reality and to break through her discovering the awake state".
For more information: Inés Sagué / issicom@gmail.com / T 637 370 917
Says Swami Rameshwarananda Giri: "the stress produced by the hectic modern life justifies the need to raise our level of awareness of the material to the truly spiritual.
In a world immersed in materialism must know who we really are and remind what is our essential responsibility. The personal decision of knowing one's own changes our perception of reality and leads us to a new way of thinking and living.
Who knows himself knows the reality and, therefore, is able to manifest the Not bad in all dimensions of his life.
"Meditation is the ability of every human being to identify the profound confusion that his mind projected onto reality, to break through the confusion and discover the awake state."
Place: CCCB, Centre de Cultura Contemporània de Barcelona. C / Montalegre, num 5. Barcelona

Opening hours: 11 am to 12 pm

Registration and reservation: sr2305@hotmail.com (send email indicating full name, e-mail address and phone number.)

Contact: SIS Espai Salut. c / Pau Claris, Barcelona 163 T 93.2151205 / 653675178 info@sisespaidesalut.com

More information: www.sisespaidesalut.com
Did you like this article?
Subscribe to our RSS so you don't miss anything