The Yoga of sound, a course-sadhana
Si bien el Yoga del Sonido sigue siendo un gran desconocido en nuestro país, cada vez son más las personas que se acercan a él debido a su gran potencia y versatilidad. No precisa más que una cosa: la entrega total del practicante. Un curso-sadhana que comienza el 28 de marzo y termina el 6 de junio en Aushadhi, Madrid.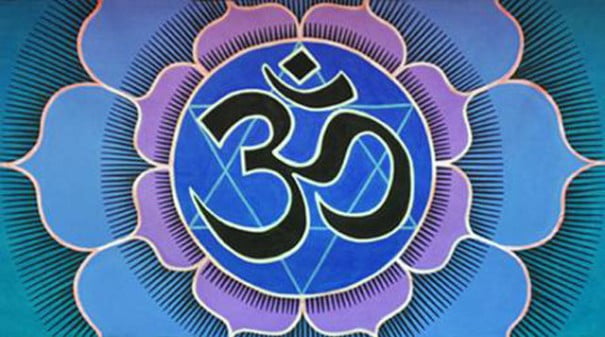 Eva Espeita (Swamini Radhananda Saraswati) and Victor G. Cruz llevan años investigando esta vía desde sus múltiples manifestaciones en las diversas tradiciones de la India atravesadas por el sonido (Dhrupad, Tantra, Vedanta, Nada Yoga, Bhakti…) y otras derivaciones afines (canto de armónicos, deep listening…). Basándose en los frutos de sus estudios y sus experiencias realizan este curso-sadhana.
Si existe en las tradiciones místicas de la India un ámbito sensorial privilegiado a la hora de aproximarnos a la comprensión de lo inefable, ese ámbito es sin duda el del sound. Análogamente, si existe un soporte especialmente efectivo e inmediato para acallar la mente y acceder a estados de equilibrio, concentración profunda y meditación, ese soporte es sin duda la experiencia meditativa con el sonido. El Nada Yoga o Yoga of sound es la senda del Yoga (una senda a menudo transversal, pues el trabajo con sonido está muy presente en todas las demás sendas) cuya vía radica, de un modo u otro, en la attention to the sound vibration.
Recogiendo el relevo de diversas tradiciones de yoga y misticismo sonoro (Nada Yoga, Tantra, Vedanta, Bhakti, Dhrupad), sirviéndonos de algunas propuestas más contemporáneas (Deep Listening, técnicas modernas de canto de armónicos) y ante todo, de nuestra dedicada experiencia e investigación entorno a estas prácticas, su sentido y sus efectos, proponemos una sadhana Yoga of the sound en la que hemos sintetizado y unificado diversas prácticas en una serie completa unificada y progresiva, de estructura espiral. El objetivo de este curso, además de constituir una introducción al sentido y teoría del Nada Yoga es, ante todo, introducir, acompañar y guiar al alumnado en la práctica de esta serie-sadhana.
A lo largo del camino en pos del despertar de la consciencia que nos es propuesto por los antiguos yoguis, la práctica del Nada Yoga nos asiste y acompaña en el proceso de silenciar y pacificar nuestra mente (abandonando así patrones de estrés y dispersión), armonizar nuestro cuerpo y sentimientos, focalizar la atención y desarrollar la concentración, liberar de forma directa y efectiva bloqueos que nos obstaculizan vitalmente, despertando así nuestro potencial en términos de salud, comunicación, creatividad… Ante todo, el Yoga del Sonido opera en el cultivo de nuestra presencia, de nuestra atención plena a la vivencia del momento presente, única llave posible hacia la plenitud.
El universo, afirman los antiguos místicos, es en esencia vibración. Nuestros cuerpos (microuniversos) son en esencia vibración. El pasado, presente y futuro de la existencia manifiesta son, en su estadío último y más sutil, vibración… por tanto sonido, música. En la escucha de nothing, as in the articulation of sadja, as in the repetition of a mantra, as in the free flow by the waves of the Raga, conectamos con la fuente primordial, con nuestra naturaleza última, vibracional. Nos perdemos para encontrarnos. Perdemos a nuestro ego para encontrar a nuestro ser esencial. Nos trascendemos.
Program
En una sadhana, práctica personal unificada construida en seis fases acumulativas, se iniciará al alumnado en la teoría y práctica de las siguientes técnicas meditativas de Yoga del Sonido:
Outer meditation through comprehensive development practices of the

escucha profunda.
Inner meditation practice on the refined listening to the inner primordial sound(nothing anusandana).
Meditation practices active in opening the voice and breath through exercises selected from pranayama, as well as an adaptation of specific methodologies coming from the Canto Dhrupad:

karaj, akar

.

Prácticas de meditación y armonización sutil a través de un trabajo de

visualización del ascenso y descenso de la energía por el canal central y el canto simultáneo de ragas

(escalas modales indias nacidas de la tradición del nada yoga), cuyos diversos grados se corresponden con la vibración de los principales centros energéticos del cuerpo (chakras).
Prácticas de meditación a través de la

recitación de mantras

(extraídos de diversas tradiciones): sentido y articulación del mantra OM (

oṃkara

), mantras tántricos para equilibrar y despertar los centros energéticos del cuerpo (

chakra bija mantras

), mantras védicos de

Shabda Yoga

, mantras-visualización para conectar con nuestro ser superior corporeizando el simbolismo de los arquetipos.
Schedule Of 10:00 a 14:00
A quiénes va dirigido el Curso
Practitioners of Yoga that you wish to further study of this tradition, as well as teachers or instructors

que quieran desarrollar una práctica genuina y completa.

Músicos o artistas escénicos

that you wish to

ahondar en el potencial meditativo y sanador de su medio (el sonido, la voz).
Si bien se recomienda una cierta experiencia y una disposición clara, sincera y comprometida hacia la práctica meditativa, no se requieren sin embargo, para poder seguir satisfactoriamente este curso, conocimientos previos avanzados sobre yoga o música.
We propose a Sadhanawhich means to develop a daily personal practicefollowing the indications during the sessions, which are given all the necessary explanations and clarification of doubts, next to the own guided sessions that serve as reference.
An extensive orientation will be held una mañana de sábado cada dos semanas, pero el resto del tiempo el o la practicante habrá de practicar siendo su propia guía, lo cual expresa el espíritu del Yoga de "Learn to recognize our inner master".
Dates: Sábados 28 de marzo 2015 / 11 de abril / 25 de abril /9 de mayo / 23 de mayo / 6 de junio
Total duration: 24 horas
Contribution: 225 € (para alumnos de Aushadhi que estén asistiendo a la escuela en la actualidad o que hayan asistido hace menos de un año. 240 € para alumnos externos.
The teaching staff
Eva Espeita (Swamini Radhananda Saraswati) is dedicated to the teaching of the Integral Yoga from the year 2003 in kinds regular, seminars and retreats inside and outside Spain. Founder of Aushadhi Yoga school in Madrid and co-organizing together with Marta Espeita and Víctor G. Cruz. Forms with masters of the tradition of the Integral Yoga (direct disciples of Swami Satyananda Saraswati) as Danilo Hernández (SW. Digambarananda), SW. Nishchalananda (which began it as a Sannyasin) and SW. Gyandharma in numerous seminars, experiences and withdrawals (in several of them also attends as speaker). For the exploration of the body work also investigates other schools of Yoga and relevant systems (Iyengar, Pattabhi Jois, John Friend, Gustavo Ponce, Feldenkrais). It was also formed in breathing and movement prenatal (Omma Prenatal with Montse Cob). Likewise, it is dedicated to the learning of the classical music of India (styleDhrupad) through the voice with Amelia Cuni, Ramakant Gundecha Pandit and Pandit Umakant Gundecha, and is a co-founder and member of Sunyata, a project of ecstatic music, trance and mantras Víctor G. Cruz and Jorge Lozano Cabrero. Scholar of the literary tradition of the Yoga, Tantra and the philosophies of the Shaivism and the Vedanta, as well as other systems of meditation that have arisen throughout the history of both in the East as in the West, it also participated in several courses of doctorate of Sciences of religions at the University Institute of Sciences of the religions of the Complutense University of Madrid.
Victor G. Cruz (Mrtiunjaya) se inicia en el Yoga en el año 2009 tras una licenciatura y un master en Filosofía (España y Francia). Cursa estudios en la Universidad Popular de Permacultura en Francia. Es co-organizador de Aushadhi Escuela de Yoga desde 2012 y dirige clases regulares, seminarios y retiros. Comienza su formación de Yoga Integral con Eva Espeita (Swni. Radhananda Saraswati) y posteriormente con otros maestros del linaje directo de Swami Satyananda Saraswati como Danilo Hernández (Sw. Digambarananda), Sw. Nishchalananda y Sw. Gyandharma. Explora también otras visiones y escuelas relevantes, especialmente en el trabajo con el cuerpo (Iyengar, Pattabhi Jois, John Friend, Gustavo Ponce, Feldenkrais). Como músico, es cofundador y uno de los miembros del proyecto Sunyata. He has also composed, performed and produced under the pseudonym The Aporia the music for the meditations-reiki "All love" of the Willow Foundation. It currently devotes most of his time to the study of singing Dhrupad (the oldest singing tradition in classical music hindustanica) with their teachers Amelia Cuni, Ramakant Gundecha Pandit and Pandit Umakant Gundecha)The Gundecha Brothers).
More information: http://www.aushadhiyoga.com/
Did you like this article?
Subscribe to our RSS so you don't miss anything