Libro: De las células a las civilizaciones
¿Sería posible que existiese una teoría unificadora que abarcara toda la vida en el planeta? ¿Sería posible que los genes tuvieran algo en común con las civilizaciones más modernas? Posible o no, es lo que el biólogo Enrico Coen ha tratado de demostrar en su último libro,
De las células a las civilizaciones
(Crítica)
,
por el que ha ganado el Premio Winton de la Royal Society editado por Princeton University. Por Koncha Pinos-Pey para Espacio MIMIND.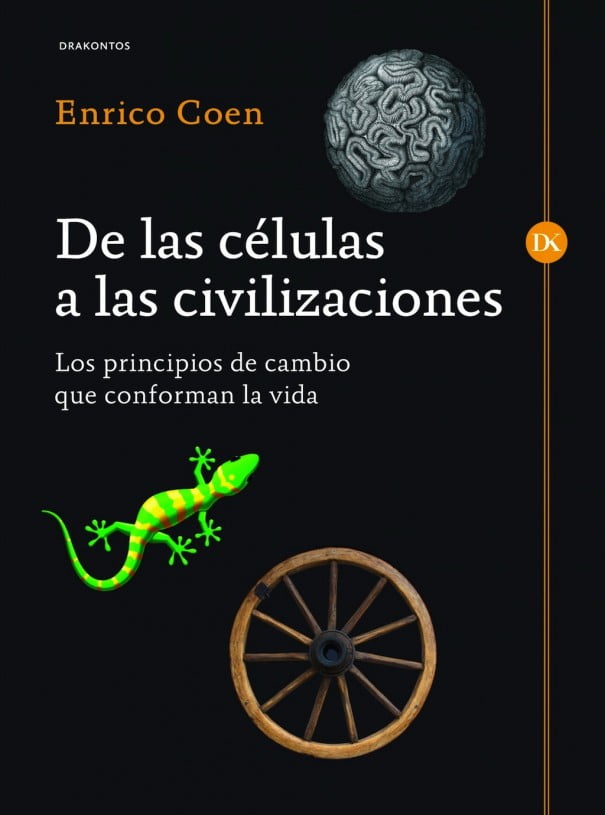 Coen ha tratado de revelar las relaciones que existen entre la genética, el desarrollo de la mente y la evolución de la cultura. Al presentar una teoría unificada que explica la interacción funcional y a la vez mecanicista, se ha propuesto quizás el desafío biológico más grande que jamás hayamos pensado; profundizar en la comprensión del cerebro y a la vez de la biología.
Quizás genes, desarrollo, evolución y mente no son más que un proceso subyacente de las mismas manifestaciones en diferentes planos de la vida. Esta perspectiva tan radical e innovadora nos daría una comprensión increíble de las verdades profundas y de qué pasa con las culturas, las percepciones y los procesos de transición entre la mente y el mundo que genera.
El escritor Enrico Coen, que es también un artista, se ha inspirado en la pintura para identificar seis rasgos o elementos clave a observar: vitalidad, pincelada, forma natural, color, composición y copia. Así ha podido establecer un paralelismo entre los siete principios fundamentales que él considera esenciales en la "fórmula de la vida": variación de la población, persistencia, refuerzo, competencia, cooperación, riqueza combinatoria, combinaciones de proteínas disponibles y recurrencia.
A través de estos siete principios Coen ha desarrollado un argumento a favor de la forma en que se llevan las transformaciones en el marco mecanicista y biológico de la vida. Entre los siete principios destaca dos como fundamentales: el refuerzo y la competencia -a la que atribuye unas consideraciones especiales-.
El uso de las artes visuales en el libro lo hace especialmente atractivo, como una herramienta neuroplástica, con obras de Claude Monet, Pierre- Auguste Renoir and Paul Cezanne, entre otros. Creo que la motivación de Coen es acercar las ciencias biológicas, filosofía y arte, y hacer que estos campos se entrelacen en la neurociencia para un lector neófito. Lo consigue, nos explica por qué y para qué, pone a prueba esa teoría unificadora subyacente y cómo esos cambios de base biológica -como la meditación- llegan a producir cultura.
Coen cree que nuestro potencial genético, evolutivo, cultural y de desarrollo es como las nubes que se mueven en el cielo: regidos por los principios de la complejidad y la hibridación del entorno. Tal vez me hubiera gustado que dijese más cosas de la economía. Pero tengo que decir que leerlo es imprescindible si queremos aprender desde biología a cultura. Es bueno, tanto como Richard Dawkins o Steve Jones, y la manera que usa el lenguaje, hace que la lectura sea creativa y fascinante.
Me encanta el libro, y lo pongo en la lista de los imprescindibles de mis estudiantes. Sospecho que los yoguis encontrarán muchas resonancias…. Ahora por si acaso, volvamos a meditar.
The author

Enrico Coen está especializado en genética molecular de plantas y desarrolla su labor en el John Innes Centre de Norwich, Reino Unido. Autor de The Art of Genes, es miembro de la Royal Society y asociado de la Academia Nacional de Ciencias de Estados Unidos. Entre sus premios se incluyen la Medalla de Oro del Linnean y la Royal Society Darwin Medal.

Did you like this article?
Subscribe to our RSS so you don't miss anything