The bones and the souls
Hay un momento en la vida de cada practicante de Yoga en que se pregunta: ¿pero qué tienen que ver los isquiones con el alma? O dicho de otro modo: ¿qué relación hay entre las esforzadas asanas y el desarrollo mental o espiritual? Escribe Joaquín G. Weil. Foto: Pepo Alcalá.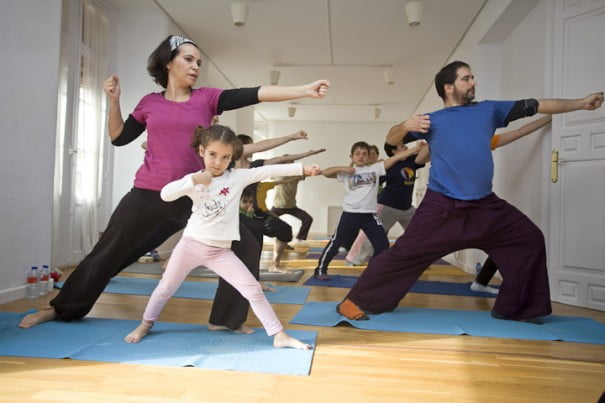 Decía Yogananda que el propósito de las asanas es sentarnos en meditación con la columna erguida.
Por mi parte, quiero pensar que la realización de asanas es por sí misma un tipo de meditación, sobre todo para quienes de momento no dispongamos de tanto tiempo para la meditación sentada.
Cualquier yogui experimentado acaba conociendo la relación que existe entre la posición física, la respiración y la mente.
Cuando comenzamos una buena práctica de yoga con las Salutaciones al sol, puede que tengamos al principio la mente agitada o abatida. Al cabo de unas cuantas salutaciones la mente se ha serenado o tonificado. Y esto es algo que hemos experimentados numerosas veces. ¿Cómo es posible esta maravilla?
Uno de los beneficios que tiene precisamente el Saludo al sol es mover la respiración, de manera que gane un ritmo amplio, natural y libre. Cuando una persona está mental o emocionalmente agitada, su respiración suele estar jadeante y corta en la parte alta del pecho. Cuando, en el otro sentido, una persona está abatida, su respiración está débil y apenas genera movimiento en el tronco, que se encuentra encorvado o hundido.
Bienestar a través de la respiración
Para enfocar hacia lo positivo, cuando una persona está alegre, serena y pacífica, su respiración es amplia, enérgica y libre. Y su tronco está cómodamente erguido. La práctica del Yoga busca alcanzar de modo natural ese estado. Y no sólo alcanzarlo por motivos de bienestar físico sino también de claridad mental. Pues sucede que en esos momentos de plenitud física y respiratoria, nuestra mente está más inspirada y lúcida.
Los antiguos de diversos lugares conocían la relación que existe entre respiración y espíritu. "Aliento o "respiración" es lo que significa en griego la palabra psique. También en latín spiritus contiene ese mismo significado. Y la palabra sánscrita Atman está, a través del indoeuropeo, en relación con el verbo alemán atmen, que significa respirar.
Lograr un tronco relajadamente erguido es el mejor pranayama (ejercicio de respiración). Quien, a través de las asanas, ha conseguido que su tronco esté relajado y amplio, dejando espacio para el buen funcionamiento del corazón y los pulmones, es más probable que respire mejor, se sienta bien y su mente funcione de un modo más sosegado y fluido.
Who is

Joaquín García Weil graduated in philosophy, yoga teacher and Yoga room Málaga director. Practice Yoga for 20 years and teaches it since makes eleven. He is a student of Swami Rudradev (leading disciple of Iyengar), with whom he has learned in Yoga Study Center, Rishikesh, India. He has also studied with Dr. Vagish Sastri de Benarés, among other masters.
Did you like this article?
Subscribe to our RSS so you don't miss anything