Retirement 'Yoga of sound', with Ravi Ramoneda and Eva Espeita
This retreat that I call, for me is really special and secure that for all those who love music celebrating the last full moon of this purifying winter 2017. From 10 to 12 March in the sierra de Gredos. Writes Eva Espeita (Swami Radhananda Saraswati).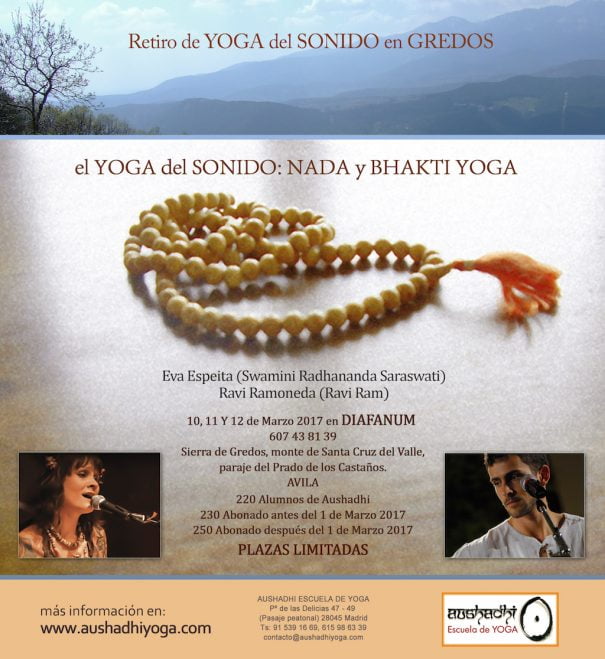 After my travels to India by the complexity of its classical music, kirtan returned to my by the hand of a beautiful and warm soul: Ravi Ramoneda. When we meet, we are brothers, in a deep partnership, complementing our powers in wonderful shape. Do not know almost anyone who, like him, be able to raise more hearts in the kirtan: raises real passions in his homeland, Catalonia, and is for my pleasure to bring you to all of you.
Of course, we will have our great Jorge Lozano Cabrero, great and dedicated multi-intrumentista (here, in India and Turkey) making rumble forest with his incredible percussion...
We invite you to the celebration, reflection, peace, joy. In love with the sound of mantras, kirtan, can book these two days: is chosen outside the family holidays, weekend so can dedicate those days to return to the tribe, to recharge you all thing what is worthwhile in this world, that we can rediscover us!
The price is affordable and includes all accommodation, teaching and concerts throughout the weekend. And transport organised it from here (please do you can tell us if you conducís or if you are a passenger?).
And nothing more than an hour and a half of Madrid, in the midst of the most pure forest in a place created in honor of the sound... I hope with all the enthusiasm and love.
To learn more about Eva Espeita, you look at these interviews:
http://www.yogaenred.com/2016/12/15/entrevista-con-eva-espeita-swamini-radhananda-saraswati-la-musica-puede-armonizar-la-vida-humana/
http://www.yogaenred.com/2013/02/07/entrevista-con-swami-radhananda-podemos-salir-de-la-crisis-cambiando-la-mente/
To learn more about Ravi Ramoneda, watch this interview:
http://www.yogaenred.com/2013/02/14/entrevista-con-ravi-ramoneda-dios-es-estar-vivo-plenamente-siendo-lo-que-uno-es/

Removal

When: 10-12 March

Where: Diafanum. Sierra de Gredos, Ávila

Contact: contacto@aushadhiyoga.com

Biographies and more information:

http://www.aushadhiyoga.com/index.php/formacion/cursos-de-profundizacion/retiros/retiro-de-yoga-del-sonido
Did you like this article?
Subscribe to our RSS so you don't miss anything