Diálogo entre Meditación y Ciencia
1er Foro Meditación & Ciencia, para tender puentes y abrir caminos de diálogo entre la Meditación y la Ciencia. El 12 de diciembre en Madrid.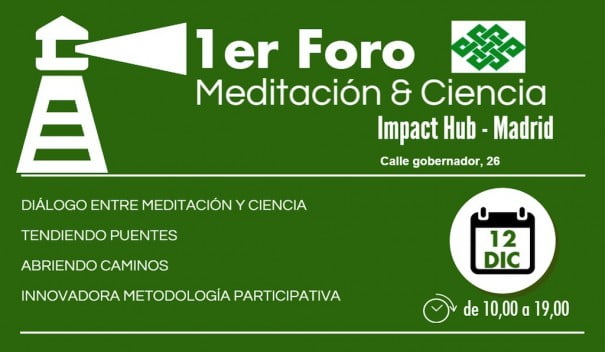 Este proyecto parte de la idea de que la Meditación y la Ciencia, como dos formas de acceso a la comprensión de la realidad, necesitan de diálogo y entendimiento mutuo. "Queremos tender puentes, explorar sinergias, abrir y facilitar espacios de diálogo y encuentro entre estos dos caminos que confluyen", dicen los convocantes de este encuentro organizado por la Universidad de Zaragoza, Nirakara (Madrid), Baraka (País Vasco) y Breathworks (Valencia)
The Foro Meditación & Ciencia nace como asociación sin ánimo de lucro cuyo objeto será organizar encuentros para que todos los participantes de conozcan en este ambiente de igual a igual y puedan crear diálogos que importan, apreciativos e inclusivos. El diálogo como herramienta de transformación. Cuando uno deja de defender posturas y dialoga, aparece el acto filosófico.
Este punto de encuentro, que tendrá lugar el 12 de diciembre in HubMadrid of 10.00 a 19.00, se centrará en el diálogo sobre tres temas:
Ética: ¿Cómo influye la práctica de la meditación en el sistema de valores? ¿Puede el Mindfulness despertar una visión más crítica y ecuánime en la investigación? ¿Podemos identificar principios éticos clave para llevar Mindfulness a la sociedad?
Sabiduría: ¿Qué es sabiduría según la tradición y según mindfulness? ¿Qué puede aportar mindfulness a la tradición en el tema de la sabiduría y viceversa? ¿Cómo podemos medir la sabiduría?
Attention: ¿Es el cuerpo importante en el desarrollo de la atención? ¿Es dhyāna necesario? ¿Qué papel juega la concentración en la epistemología?
El método
Los organizadores proponen una novedosa metodología de participación activa en la que la voz y la presencia de los interesados será importante. Se contará con la inspiración y el estímulo para el diálogo de voces destacadas en el ámbito de la meditación y la ciencia. Se trabajará en subgrupos y finalmente el foro al completo de forma abierta compartirá, ampliará y recogerá la voz de todas y todos.
Estarán: Ausiás Cebolla, Javier García Campayo, Gustavo G. Diex, Fernando Rodríguez, Dharmakirti Zuazquita, Miguel Ibañez, Ana Arrabé, Silamani Guirao, Nazareth Castellanos, Beatriz Rodríguez
Se pretende que este sea un Foro para compartir de tú a tú, presencias, experiencias, ideas, cuestiones… Durante la jornada se compartirán momentos de silencio y meditación. Será un día para convivir, encontrarnos, dar y recibir.
Contribution: Para sufragar los gastos de organización y el local establecemos una aportación de 50€
Para ampliar información o contribuir con el proyecto visítanos en www.meditacionyciencia.org

Did you like this article?
Subscribe to our RSS so you don't miss anything