Clase de yoga OnLine 37: Mantra Om
¿Qué significa este mantra llamado "del silencio"? ¿Cómo hay que recitarlo para que cobre todo su sentido? Swami Krishnananda nos lo enseña en este vídeo. Es una completa clase producida por la Escuela Internacional de Yoga y obsequiada a los lectores de YogaenRed.
The Mundaka Upanishad dice que la sílaba OM es el arco, atman (alma) la flecha y Brahman (Dios) el blanco. Hay que alcanzarlo sin distraerse, hay que unirse a él como la flecha al blanco.
Swami Vivekananda afirmó que el Universo se forma de dos materiales: akasha (espacio) y prana (energía). El sonido y la respiración vital son sus manifestaciones, el infinito y la fuerza. El yoga es la combinación de respiración y sonido OM. Cuando el OM se une con la respiración y se mueve en el cuerpo se le llama pranava (el que nos da la vida). Prana también quiere decir aliento de vida. Este aliento y la mente están interconectados como se puede ver al cambiar la respiración cuando cambia el estado de la mente.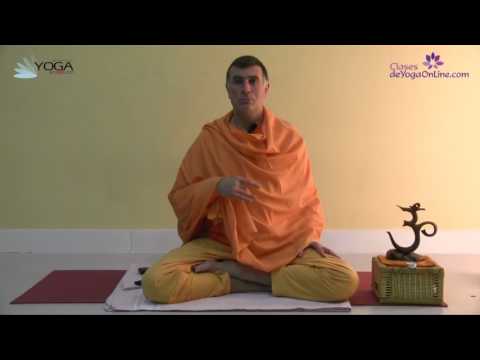 Swami Krishnananda ES fundador y director del Intituto Yoga Retiro de Madrid, Swami Krishnananda fue estudiante de Psicología, y durante ese tiempo su interés en el yoga creció hasta renunciar a la vida habitual de trabajo y familia, integrándose en la organización Internacional de Centros de Yoga Sivananda Vedanta por muchos años.
Fue iniciado en la Orden de Sannyasa por Swami Visnu-Devananda en 1991. Su dedicación le ha otorgado la posibilidad de convivir y entrenarse con grandes maestros. Ha compartido su experiencia en varios países impartiendo cursos para principiantes y avanzados en los diferentes aspectos del yoga milenario: posturas, respiración, meditación, pensamiento positivo, alimentación, kriyas, mantras…
This kinds of Yoga platform has been created by the international school of Yoga to get the learning and practice of the Yoga wherever you are.

Each week it incorporates classes of different styles with different objectives, so that you can move into your practice.

You can choose practices short of 30 minutes and complete more than one hour classes, as well as several levels that adapt to your practice. Also you can practice meditation and Mantras.

Sign up for free to get access to complete various kinds of welcome. Click on: Free registration
Did you like this article?
Subscribe to our RSS so you don't miss anything