Advanced course of classic Hatha Yoga and Yoga Sutras of Patanjali
This course is a commitment to reach, in the most genuine and most open way possible, the essence of authentic classical Hatha Yoga Yoga Sutras, adapted to the mental characteristics of women and men today. Writes violet Arribas.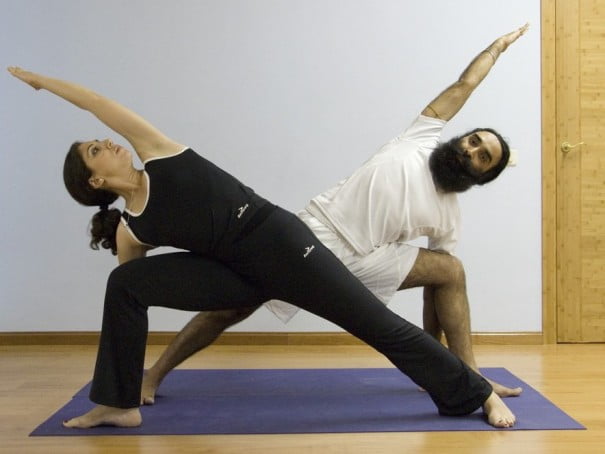 The course is, above all, a deepening of Hatha yoga and Radja Yoga. We could have it called a "training course", because it is, as it is also studied pedagogy and course trains to teach Hatha yoga with rigor and security in the future. But for us the important thing is to be one deep dive and advanced and practical in the science of classical Yoga.
This course is aimed at people who take more than two or three years of practice and regular study of yoga. It will be during the second half of the course when you first start to addressing pedagogy to be able to respond to that momentum of the shadaka that, after having integrated the teachings and yogic methods, you want to share the benefits of these with other people.
Go first thing learn and integrate, practise and deepen. And then learn how to teach others. But the latter is always a correlative something that arrives after; If one runs not through own road, It is impossible that you can pass anything on to others.
Contents
This is the summarized curriculum of the course:
1. What is Yoga. History, philosophy and paths of yoga
1.1 aim of Yoga, defining Yoga
1.2 origins of Yoga, Yoga chronology
1.3 paths of Yoga. Karma, Bhakti, Gnana, Radja, Tantra, Mantra, Kundalini, Hatha
1.4. the India, Darshanas philosophy. Samkhya and Vedanta
1.5 important texts. Bhagavad Gita and other
2 yoga Sutras of Patanjali
2.1 Introduction, structure and objectives of the work
2.2 Abhyasa and Vairagya. Avidya and Viveka
2.3 Yamas and Niyamas
2.4 Pranayama and asanas
2.4 Pratyahara, dharana, Dhyana and Samadhi
3 Hatha Yoga
3.1 Introduction and classical texts
3.2 physiology of Hatha Yoga pancha kosha and shariras
3.3 Shatkarmas
3.4 Asanas and their anatomical adjustments
3.5 Pranayama (subtle Physiology: prana, nadis, chakras: Vrittis, kumbhaka, minor and major, pranayama techniques over 40)
3.6 power yoga
3.6 Mudras and bandhas
4 mind and meditation
4.1. the mind and its dimensions (Physiology, samskaras and vasanas)
4.2 Radja Yoga and meditation. Practice daily meditation from different schools radio, including Vippasana and Zen.
4.3 Nidra Yoga
5 pedagogy in Hatha Yoga
5.1. the teacher
5.2. the classroom. Environment, space, accessories and requirements
5.3 preparation of a class, programming
5.4 parts of a standard class, variations and duration thereof
5.5 heating and beginning of a class
5.6 phase of Asanas
. 5.7 phase of Pranayama
5.8 phase of guided relaxation, Yoga Nidra pedagogy
5.9 Anatomy in Hatha Yoga, osseous system and Muscular system
5.10 practices; Teaching the rest of teammates with some cases of pathologies.
Appendix 1: Ayurveda, in postulates leading, ayurveda and yoga, Yoga for each dosha
Appendix 2: psychology and Yoga
Appendix 3: great teachers and other mystical way
Appendix 4: wandering meditation
Appendix 5: Yoga and pathologies
Data and requirements
Training begins the day 6 and 7 of February 2016 (see all the dates on the website of Padmasana). Is structured in one weekend per month: Saturday from 9.30 to 19.00 h with 70 minutes to eat. Sunday from 10 to 15 hours. In the month of June the meeting will be in the shape of residential retreat at the Finca Las Praderas, of pit Poyales (Ávila).
Important: plates which formed before December 31 receive a discount.
Admission: All the persons interested, of legal age, with completed secondary studies and with a State of health allowing the completion of the course, you must make a interview in the Centre calling the same previously. It will be also invited to a yoga class so you can learn more about our teaching method and we his yogic skills.
More later if it is accepted for the course once evaluated his profile. To enroll students must have paid the amounts of course, read all the conditions of the same and filled in the registration form that would deliver you the Secretariat of the Centre.
Contact: 91 382 27 33 t - 620 32 50 71 / info@padmasanacenter.com
http://padmasanacenter.com/docs/profesores.pdf
School: Padmasana Center
Padmasana Center It opened its doors nearly a decade ago, to devote himself entirely to the dissemination of yoga and ayurveda, without distortions or dogmatism, in order to help all humans wishing to do so, any that are their motivations, to improve physically, mentally and spiritually through his legacy of techniques and knowledge.
About me, Violet Arribas, I can say that I was formed as a Professor of psycho-physical (Hatha Yoga) yoga and mental yoga (Radja Yoga) by Ramiro Calle, something that has only done in 50 years with less than a dozen people. Then I followed a year in India receiving courses with different masters, ashrams and Yoga schools, although never stops learning, that I returned on 15 occasions, and which remain...
Padmasana also has the recognition of one of the institutions of traditional Indian yoga, located in Rsihikesh (the world capital of yoga), the International Vishwaguru Yoga and Meditation Institute Ved Niketam Dham Ashram.
The Ved Niketan Dham, through their spiritual leader Swami Dharmananda, My teacher and friend, unconditionally supports training in Padmasana and along with Center signature the final diploma.
Did you like this article?
Subscribe to our RSS so you don't miss anything