The Virtual Yoga Summit is launched, an exceptional event
In difficult times, a unique and transformative encounter. We present to you the first Spanish-speaking Virtual Yoga Summit, which will take place from October 1 to 8, 2020, online and free of charge. A unique opportunity to receive teachings, experiences and tools from 40 leading experts and teachers. At YogaenRed we are honored to divulge it!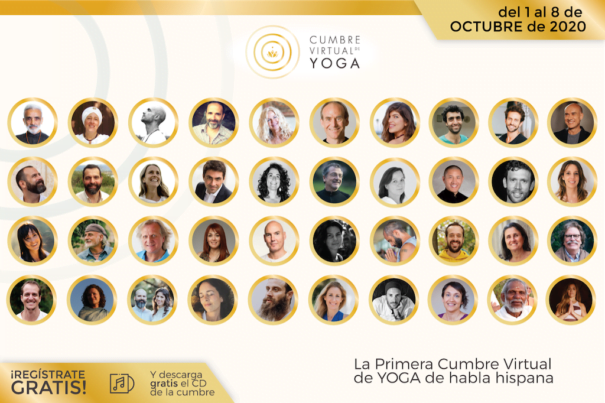 Among the October 1st and 8th Barcelona will become the yoga capital of the world by hosting the Virtual Yoga Summit, the first in virtual format in Spanish. Organized by a multidisciplinary and entrepreneurial team, it will have the participation of 40 expertos y maestros internacionales, como Dharma Mittra, José Luis Cabezas, Gustavo Plaza, Nuria Roura, Gurudass Kaur, Jose Carballal, Astiko, Carla Zaplana, David Swenson, Andrei Ram, Tomás Zorzo, Cayetana Rodenas o Javier Melloni, entre ¡muchos otros!
The Virtual Yoga Summit it has been created to share teachings, visions, tools, secrets, life experiences and a lot of knowledge; and is focused on anyone who wants to learn and be inspired by not only Yoga, but also consciousness and spirituality, conscious sexuality, nutrition, therapy and Ayurveda.
The objective of this Summit is to unite: lineages, disciplines, different paths that culminate in self-realization, the development of well-being and the expansion of consciousness.
The Summit will be held virtually and will take place October 1-8 of the
2020. Those who register for free will have access to interviews scheduled for the same day for 24 hours at no cost. For eight days you will learn teachings and secrets with experts in each field, including:
Andrea Aguilar ? Anna Pujol Andrei Ram Astiko ? Carla Zaplana ? Catalina Rojas ? Cayetana Todenas ? Daniel Lumera David Swenson Dharma Mittra ? Diego Arnold ? Gurudass Kaur ? Idan Hojman ? Imma Campos ? Javier Melloni ? Jose Carballal ? José Luis Cabezas Ketan Sammasati ? Mireia Darder ? Miyo Fiel Naren Herrero ? Nuria Roura ? Essential Nutrition ? Oberom Ravi Ramoneda ? Dew Ramos ? Swami Joythi Mayananda ? Tomás Zorzo Tulku Lobsang ? Xochitl Strap...
You can now register...
Sign up now and get this great gift: a 12-mantra CD summit official to unload you!
Open this link you'll find Here
And if you want to keep up to date with all the news follow @cumbrevirtualdeyoga, There are some surprises, direct and lots of content waiting for you to inspire you!
More about the Summit
This project wants to make it easier for people to approach the essence of yoga, as a path of self-realization, beyond the dominant physical appearance of these times.
Anna Pujol E Idan Hojman, organizers of the Virtual Yoga Summit, present it as "a platform where you can share without plugging and very closely a pedagogical vision, fresh, deep and useful for anyone who wants to start or deepen in their body, mind and spirit".
For Andrei Ram, Summit participant, this is a great opportunity: "The Ibero-American community has the possibility to recognize that we are just a family and that we are a nation. And ultimately, to invite others to realize that the only real nation, not an ideological nation, is the human nation. That the only country, the only real territory, is the land of the Earth."
Registration for the Virtual Yoga Summit is free to access presentations by experts and teachers; once the registration has been made, the interviews scheduled for that day can be viewed.
To access the training material and work at its own pace with no time limit, the Virtual Yoga Summit also launches a Premium Pass, which also offers additional training that the speakers have carried out exclusively for the event.
Learn more about the summit's registration and programme on the website:
https://cumbrevirtualdeyoga.com/?ref=61
Will we soon continue to provide you with information on this very special Summit!
#cumbrevirtualdeyoga #cumbrevirtualygratuita #unidosporlacumbre #40grandesmaestros #yoga #sexualidadconsciente #ayurveda #terapia #nutricionconsciente #marketing #yogaenespanol #yogaespaña #yogaencasa