"Only positive vibrations" is toxic: the danger of New Age spirituality
For your interest, we share this article that we have read in the magazine Elephant Journal, which we have translated for YogaenRed readers. It is written by Justice Bartlett and the link to the original is below.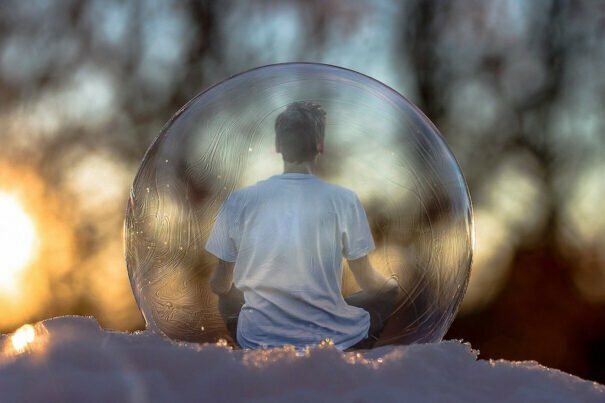 "Integrity is choosing courage for comfort, right for fun, fast or easy. Choosing to practice our values rather than just professing them" (Brené Brown)
An attitude of "Only positive vibrations" it's dangerous.
What we don't see and don't feel, in ourselves or in the world, we can't address it.
When we mix each other's emotional reactivity with our own confusion and pain, pain and confusion increase. Compassion arises when we combine confusion and pain with rational thinking and skillful resources. It's not disconnecting on our yoga mat, filling our houses with crystals and burning incense while the world really burns.
This is a spiritual bypass, y resulta peligroso. La idea de que simplemente podemos concentrarnos en un cambio positivo y en efecto sucederá, es como tratar de limpiar el cuarto de baño con los ojos cerrados convencidos de que no está sucio.
Too many notions of New Age they are based on the idea that what we focus on expands, and while this is true to a point, what we do not attend to or ignore is also not reduced.
I recently saw a meme of "light workers" that basically said that "2020 is brightly vibrating". Don't share news on political issues; Don't share news about natural disasters: just put on your goggles and keep your head buried in the proverbial sand steeped in positivity. (Okay, the last part is my comment on that general attitude).
If we are to practice true compassion, we must become aware of the pain, fear and instability of this world, and not to use spirituality to avoid our human responsibility for life, one with us and with the planet.
One of the things that tears me apart the most is the infiltration of sexual predation into many of our spiritual organizations. And one of the things that infuriates me the most is the way this just hides under the carpet and gas light is made to the victims: their pain and their stories disappear.
This is the case of one of these incidents with allegations of sexual misconduct in relation to a Buddhist teacher, Sakyong Mipham. He had been removed from his duties by appearing an open letter written by six of his former assistants detailing 20 years of sexual misconduct and psychological abuse.
Upon learning that Mipham was to be reinstated to his post in Shambhala, the Buddhist school, the renowned teacher and author Pema Chodren has opted that she herself will relinquish her position as a senior teacher.
Pema expresses its disappointment with the end of the story "as usual" in this quote from the magazine Lion's Roar, in which Ch'ddr'n states:
"It sounds cruel, undeerable and reckless for the Sakyong to move forward as if nothing had happened without sympathetically relating to all those who have been wounded and without doing deep internal work on himself".
Pema doesn't seem to want to bypass the onboard pain and confusion. This is Integrity and integrity, not comfort, is at the core of compassion.
Compassion is not a convenience, it is not an issue to handle "as usual".
When we feel hurt, confused and frustrated, it is helpful to look at people who, like Pema, choose integrity over comfort and who stand up for what is right. It is in the informed practice of human compassion that we find our way.
When we deny the existence of low vibrations, we are cutting with the vital aspects of our humanity.
I attend to people who have had traumatic experiences. They do not come to me pretending that their pain does not exist; come to me to deal with it with compassion and skillful resources. I have to stay open without getting caught up in it.
Some of these people told me that, deep in a loss, some supposedly spiritual and well-meaning individuals (even healers!) had told them that their anguish was not spiritual, that they were sinking themselves into the dark energy, and that they should focus on the good times and be grateful.
While there is nothing contraindicated in cultivating a consciously optimistic attitude, we must be careful that this does not become a bypass of blind positivism. To do this we must constantly encourage ourselves to remain open to hard, human and sacred, which means voluntarily accepting pain, anger, and anguish just like joy.
New Age spirituality often makes us think that by simply focusing on the positive, we can heal our wounds and the wounds of the world in some way. This is immature and ineffective. To grow, heal and change we need to face our discomfort.
As a hypnotherapist, I've learned that the nature of trance is twofold. When we experience trauma, we divide our psyche. Thus, we will highlight (positive trance) or minimize or dissolve (negative trance) information, emotions and even memories that do not fit our story about ourselves.
Parts deemed less valued or less acceptable are relegated to the background of our psyche, where they become what is often referred to as the Shadow, to use the term Carl Jung. It is these parts that tend to drive drama; it is these parts that tend to engage in rituals, compulsive searches for comfort; it is these parts that entangle us in codependency dynamics. It is these parts, in short, that need our compassion.
In the Buddha Dharma, friendship between these parts of ourselves is known as Maitri. This is the practice of facing our discomfort, shame and guilt, the parts of ourselves that we do not like, with compassion.
Life is beautiful and painful. If we close our hearts to the hard and the human, we will not be truly open to the sacred either. We need to remain rooted and grow in this world; let's stop trying to escape someone else. Fleeing is what our traumatized inner child has done for years. But the whole is not in any form of dissociation.
We need to be here with the earth, among us, with our pain, with the problems that may occur. Being here with the political riots, with the world on fire. Let's be the presence-soaked balm we all desperately crave.
Even if we try to leave now, dissociate ourselves from this world, from our raw humanity, from our tender hearts, to evade brilliant worlds and spiritual philosophies that exempt us from suffering and from having to deal with the consequences of our actions so that everything continues in the "here nothing happens" mode, none of us will succeed.
We have a responsibility to life, to one another and to this beautiful world with a broken heart. Please stay. It's okay if it hurts and you're afraid and you don't know what to do. Me too.
We'll work it out together. We will walk through the hard, the human and the sacred.
Original article: https://www.elephantjournal.com/2020/01/compassion-is-not-convenient-it-is-not-business-as-usual/
The author of this article:
Justice Bartlett he is a lover of love and lover of words, life, nature and communication. As a healer and hypnotherapist, it doesn't put people in a trance, it takes them out! And he does so with presence, deep kindness, wisdom gained with effort, and what can be described as nothing short of shared: grace. Helping people rediscover their inherent innocence, courage and creativity, as they recover from pain and trauma, is their service in this tired and hungry world. And with his words, he hopes to tell stories and touch those deep threads of the human being that allow us to feel and heal together.
She maintains a global practice from her small mountain village, Bozeman, MT. For more information, visit Justice's website. https://www.illuminationwithjustice.com/