Yoga en casa: compartir Yoga en la Red
En estos momentos difíciles por la pandemia Covid-19, la solidaridad y la cohesión social se demuestran fundamentales. Las redes sociales están jugando un papel decisivo en #YoMeQuedoEnCasa, al hacer posible que todas las personas estemos conectadas. YogaenRed quiere hace honor a su nombre y se pone, más que nunca, al servicio de la comunicación entre la comunidad del yoga.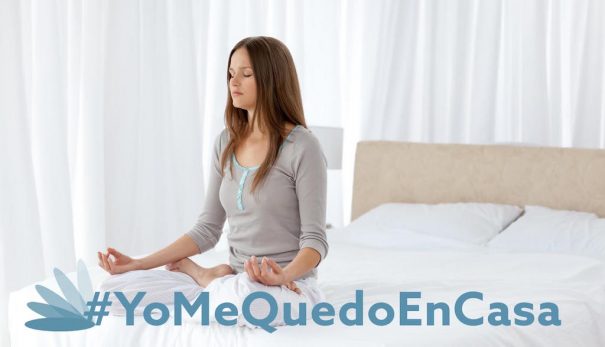 Las redes sociales están llenándose de iniciativas solidarias para paliar el aislamiento forzoso al que estamos obligados por el coronavirus. Entre la comunidad del yoga, muchas escuelas y profesoras y profesores se han apresurado a ofrecer prácticas, consejos y aportaciones en sus cuentas de facebook, instagram o en vídeo y streaming desde sus webs. En definitiva, se trata de seguir compartiendo yoga, ahora desde casa pero muy conscientes del espíritu de unidad que inspira nuestra práctica.
Esta revista, YogaenRed, se suma con toda su energía a estas iniciativas para ir informando de ellas a la comunidad del yoga y seguir compartiendo. ¡Ahora más conectados que nunca!
Call to share yoga at home from YogaenRed
A todos los que leáis estas líneas, sabed que aquí, en YogaenRed, tenéis un canal de divulgación poderoso, y que lo ponemos –como siempre, pero más que siempre– al servicio de todas aquellas personas que quieran hacer llegar sus mensajes y aportaciones solidarias a los miles de usuarios que cada día se conectan con esta plataforma.
You are invited to send us so much contents escritos como en vídeo, originales o ya compartidos, en su extensión o mediante a Links a otros medios, así como Calls de vuestros vídeoseminarios o webinars y todas las posibilidades que ofrece el entorno digital.
Cada semana publicaremos un compendio de estas nuevas aportaciones a compartir, mientras dure esta crisis y no podamos asistir a clases y actividades presenciales.
Yoga solidario en las redes sociales: Oferta
—Free online meditation course Silencio Interior, Escuela de Silencio, taught by the teacher Emilio J. Gomez. Apúntate en este whatsapp: 616 66 09 29. ¡Ya está en marcha el primer grupo!
—El profesor Victor Miguel Ig @victor_viajes_india_virat_tour Offer classes of respiratory techniques and Pranayamas en Instagram (vídeo en directo) desde las 21.00 h. https://www.facebook.com/victordemiguelt
—La profesora Silvia Jaén Ig @silviajaenyoga Share classes on Instagram los lunes a las 11.00 y los viernes a las 11:15
—The School of Yoga of tables Offers online classes en directo de lunes a jueves de 19.30 a 21.00 y Encuentros Especiales de Meditación los lunes (horario por confirmar, según demanda) y miércoles (10:00) . Lo harán a través de la Aplicación Zoom. Preguntar en el T 606 56 87 72.
—Mysore House Madrid. Ig @mysorehousemadrid está ofreciendo en Instagram actividades online desde hace días. Hoy lunes 16, conferencia en directo a las 18:00 para hablar sobre cómo utilizar y cómo nos puede ayudar la práctica en esta situación, y para dar algunos consejos sobre cómo gestionarla sin sala ni profesor. Además, si nos mandáis preguntas de cualquier tipo por privado las contestarán.
—The International School of Yoga she's a pioneer in online yoga classes y ofrece decenas de sesiones de diferentes estilos y profesores. Inscríbete para probar algunas de estas clases en abierto: https://www.escueladeyoga.com/clases-yoga-online/
—Explora todas las clases y contenidos que hay disponibles en YouTube. Mira el YogaenRed YouTube channel: https://www.youtube.com/user/yogaenredtube
—Taller de Introducción a la Meditación. Vía internet (Zoom app), con Juanma Serrano e Elizabeth Ward. Martes 17 de marzo de 19:00 a 20:30. Gratuito. ¡Os enseñan a usar Zoom a las 18.30!. Contacto Isabel Ward: 647 51 22 78.
—Meditation directed by Calle Ramiro: https://www.youtube.com/watch?v=eb9iNxpy3I4&feature=youtu.be
—Andoga Art (Eva Klimberg). Open classes en YouTube: https://www.youtube.com/user/yogaartstudio
Martes 17 de marzo 19.30 – 21h clase con David

Jueves 10 de marzo – 11.30h clase con Eva + kirtan

Sábado 21 de marzo – 10.30 – 12h
—Clase de Yin Yoga online, ofrecida por YogaNet, with Ximena Escobar, en YouTube: Here
— Yin Yoga Sequence. https://m.facebook.com/story.php?story_fbid=114292470189521&id=104051524546949
Escríbenos, haznos llegar lo que quieras compartir… Hagamos comunidad, trabajemos juntos, practiquemos, y, mientras, #YoMeQuedoEnCasa.

info@yogaenred.com
@yogaenred
https://www.facebook.com/RevistaYogaenRed/