Sub
A few days ago a student passed me a shocking video with images of animals recycling: swans collecting plastics and an elephant that throws papers into a trash can. They were seen as responsible and sensitive that they seemed more human than many who define themselves as such today. Write loyal Zaira.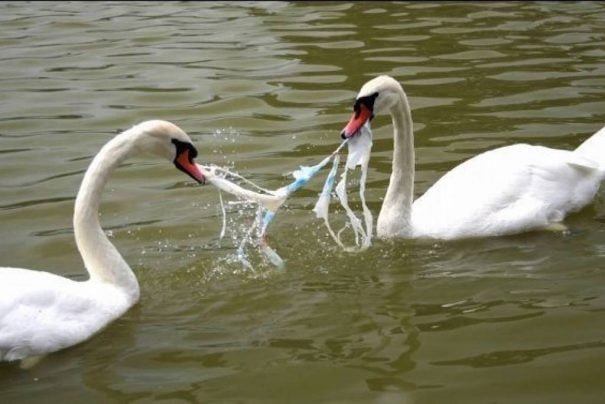 The truth is that it made me reflect on the state of our species and on yoga as a way to evolve into the awakening of Consciousness.
Complex factors related to karma and our collective trajectory have brought us to a state close to the present annihilation, not only of our civilization but also of the rest of living beings on the surface of the planet.
I am very sadly inclined to value how many people today should be rated as Sub more than anything else. This term usually applies to external circumstances related to people's vital conditions. For example, someone is said to live in inhumane conditions when their situation is below what is considered proper or acceptable to our species. However, here I refer to the personal development status where many meet.
Years ago it was said "you are an animal" to refer to those who exhibited brutal behavior, but I think today's animals are more aware than most of us. Not only do they recycle, but they live in harmony with nature, their presence does not harm; on the contrary, it enthralls the environment in which they live and care for their fellowmen as we do not.
It is curious because we are witnessing a global awakening in many respects and, at the same time, of a great dormantness in which the most vile traits and stress manage the behavior of many. For yoga this is nothing new; there are numerous ancient legends in which there is talk of the confrontation between Asuras demonic beings, and Devas the virtuous. The former are often depicted with frightening appearance: fangs, blood-injected eyes, deformed bodies and that sort of thing.
Some signs of today's underhumanity
Developed societies live in complete disharmony with the natural environment and are based on a consumption system that is made possible by the exploitation of Earth's resources and the destruction of numerous ecosystems. We have annihilated species, we care more about going on holiday to a city on the other side of the planet in order to take selfies in front of a monument than to take care of the quality of the air we breathe. As a child, E.G.B.'s social science scan showed the importance of caring for rivers and the countryside because industrialization had damaged them. Forty years later we are where we are.
That disharmony also happens inside. A large majority is dominated by the denser instincts of the minds of the first Linga de los tres primeros chakras: la obsesión por el dinero y la materia inconsciente, la distorsión grotesca de la sexualidad y el deseo de poder con el objetivo de manipular el entorno para así satisfacer los apetitos más bajos de los primeros centros energéticos. Hemos aceptado como normales comportamientos que son anti-naturales. Cuando nos paramos a observar nuestro modo de vida no podemos más que ladear la cabeza de lado a lado y decir: "¡Es de locos!". Con toda la tranquilidad del mundo vemos imágenes en la tele de gente muriendo en mitad del mar, bosques enteros siendo talados innecesariamente; comemos cosas que ningún animal se metería en la boca porque están hechas con sustancias artificiales que el cuerpo no reconoce como alimento. No sigo porque estoy segura de que te haces una idea.
Ampararnos en la sadhana yóguica
Sin embargo, los humanos tenemos habilidades maravillosas que hemos perdido o que hemos enterrado bajo la gruesa capa de los condicionamientos sociales. Cada día son más los casos de remisiones espontáneas de personas cuyos cuerpos estaban atravesando procesos de enfermedades graves y como por arte de magia se curan poniendo de manifiesto nuestra capacidad innata de reparar y sanar todos los tejidos. De manera natural hay quienes pueden orientarse en el espacio y encontrar el camino de vuelta a casa a pesar de haber iniciado ruta en un lugar desconocido a cientos de kilómetros de distancia. También tenemos la capacidad de comunicarnos con los animales, las plantas y las rocas, de sentir cuándo y cómo van a suceder los fenómenos atmosféricos o de hablarnos telepáticamente unos con otros. En todos nosotros está instaurada la conexión con la red de vida universal y nada de esto es sobrenatural, es nuestra esencia.
Como yogins, tenemos la responsabilidad de practicar haciéndolo con la intención más elevada. Nuestra propia vida es el taller de alquimia donde día a día podemos alejarnos de las características infrahumanas de nuestra sociedad y acercarnos al estado que nos corresponde, el de humanos que viven conscientemente. Para ello, debemos ampararnos en los principios básicos de la sadhana yóguica:
–Tengamos siempre muy presente el código ético de los yamas y los niyamas. Gracias a él podemos contener los impulsos dañinos y sembrar la bondad.
–Centrémonos en cultivar pensamientos, emociones y sentimientos nobles. La confianza, la alegría o la compasión nos dan alas para ser quienes realmente somos.
–Creemos espacios de silencio y de simplicidad donde relajarnos y meditar. Al pararnos podemos empezar a escuchar la canción del Ser interior.
–Establezcamos ideales lo más elevados posibles y nutrámoslos a diario. Imaginémonos un mundo ideal, lleno de color, visualicémonos a nosotros mismos en el estado más refinado de Consciencia posible, llenos de Luz, pletóricos y rebosando Sabiduría y Amor.
–Cada mañana, despertémonos preguntándonos: ¿cómo va a vivir mi yo ideal este precioso día? Y acojámonos a la frecuencia elevada del corazón.
Hay mucho trabajo que hacer, pero tengo el convencimiento de que la transmutación es posible y de que está más cerca de lo que pensamos. Las numerosas historias de despertares increíbles nos recuerdan nuestra esencia luminosa, amorosa y plenamente consciente. Quienes nos dedicamos a este camino tenemos la maravillosa oportunidad de ser un ejemplo vivo de lo que significa vivir un camino de evolución hacia estados más plenos de ser, de humanos a humanos divinos supernaturales, llenos de humildad, compasión y dicha.
Loyal Zaira She is the author of A feast for the soul and Yoga in the kitchen, Ed. Uranus. He is considered yoguini from the cradle and began teaching yoga in 2000. zaira@zairalealyoga.com / T +34 636814338

More information:
zairalealyoga.com / www.facebook.com/zaira.leal.5 | © zairaleal