IV Science and Meditation Congress in Gran Canaria
El IV Congreso de Ciencia y Meditación quiere compartir los beneficios que el encuentro entre ambos campos reportan a la sociedad. En la Universidad Fernando Pessoa de Santa María de Guía de Gran Canaria, del 28 de noviembre a 1 de diciembre de 2019.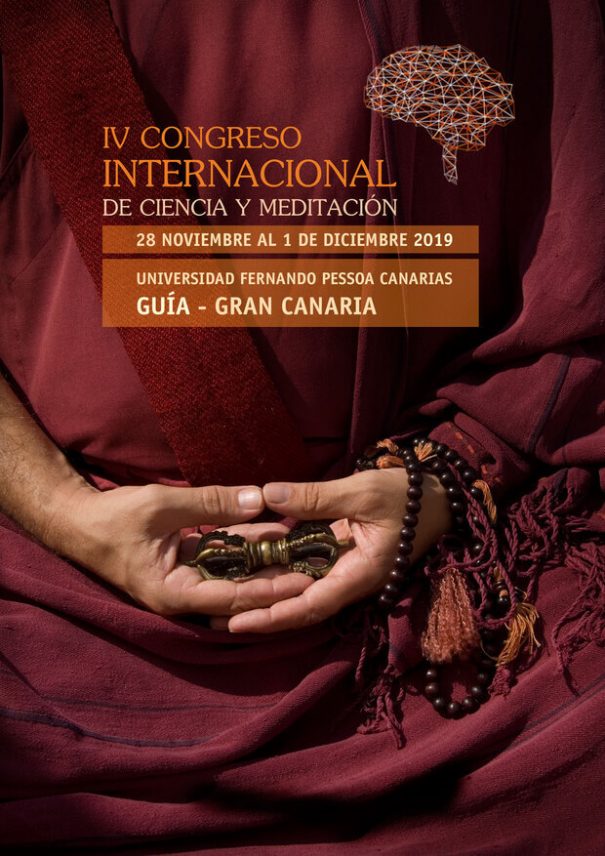 "Nuestra visión -dicen los organizadores-, tal y como hemos compartido en los congresos anteriores de 2009, 2011 y 2015, es profundizar en los distintos campos donde el encuentro entre la ciencia y la meditación han demostrado tener claros beneficios para el conjunto de nuestra sociedad.
La ciencia y la meditación, occidente y oriente, se han acercado poniéndose una al servicio de la otra. Desde esta unión sin retorno, van surgiendo nuevos paradigmas para la mejora de la salud y la educación del siglo XXI en una sociedad cada vez más abierta.
This Congress that since the Milarepa Center organizamos, en coordinación con el Canary Institute for Cancer Research and the invaluable collaboration of the Canary Society of Integrative Medicine and the Fernando Pessoa University Of Cans, quiere ser testigo de los nuevos modelos para el cambio que, tanto en la educación como en la salud, la práctica de la meditación nos trae así de cómo la ciencia se hace eco de ello con la tecnología disponible.
Continuaremos profundizando en las áreas que centran nuestra atención: Educar para la Vida, Educar para la Salud, Educar para la Paz y Educar para la Muerte.
Daremos especial énfasis a propuestas específicas en los campos de la de la actividad física y el deporte, la salud, educación, ciencias sociales y jurídicas. Para ello contamos con leading national and international speakers.
Talleres a lo largo del Congreso:
–Taller de meditación.

Alejandro Torrealba and

José María Márquez.

–Sesión de Tsa Lug, sonidos y Meditación. Orientado a conocer los beneficios de la práctica en el tratamiento del cáncer y otras enfermedades.

Alejandro Torrealba.

–Yoga: practicando en la oscuridad. Una práctica dirigida a personas ciegas.

Pedro López Pereda

(Fundación Yoga-Madrid)

–Yoga y meditación: "una experiencia con personas discapacitadas.

Pedro López.

–Yoga "una experiencia adaptada a personas con leucemia, cáncer y familiares", en los Hospitales Materno e Insular de LPGC, a través de la Fundación Alejandro da Silva contra la Leucemia.

Monica de Gregorio

(profesora de Yoga-Centro Milarepa).

–La expresión artística y la meditación.

Octavio O'Sanahan.
All information and the Full Program here: www.congresodecienciaymeditacion.com

Contacto: 658 836 248 / info@congresodecienciaymeditacion.com