Vegetarian recipes/ Cream of bell peppers and cane
Esta crema, que puede servir como un acompañamiento, está inspirada en una receta siria
, muhammara
. La hemos modificado un poco porque hemos utilizado los ingredientes que teníamos a mano.
Write, share, and kitchen Gauri, Professor of vegetarian cuisine of the Sivananda Centre of Madrid and the affiliated Centre Sivananda Vedanta of Granada.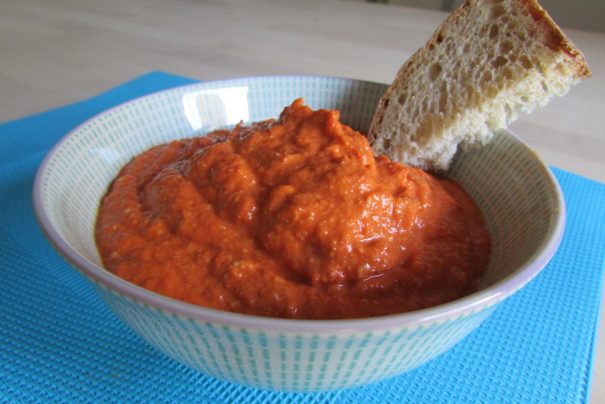 Las cremas o patés son perfectos para picar entre horas o como entrantes de una comida principal. muhammara es un paté vegetal de pimiento y nueces de origen sirio. En nuestra receta hemos cambiado las nueces por anacardos y piñones. Resulta delicioso.
Ingredients:
– 1 pimiento morrón grande asado

– 1 tomate seco previamente remojado y sin pepitas

– 50 g de anacardos

– 25 g de piñones

– 1 cucharada de aceite

– 1 cucharada de jugo de limón

– ½ cucharadita de comino molido

– ½ cucharadita de pimentón de la Vera

– ¼ cucharadita de chile (opcional)

– 1 cucharadita de sal
Preparation:
Asar el pimiento, durante unos 20 minutos en una asadora sobre el fuego. Darle vueltas para que se ase por igual por todos lados. Esperar que se enfríe para retirar la piel y las pepitas.

Poner todos los ingredientes en el vaso de la batidora y batir a velocidad media hasta formar una crema uniforme.

Servir acompañado de bastoncitos de verdura cruda: apio, zanahoria, pepino o de pan de calidad. También puede servir como base para tostadas y ponerle encima hojas verdes o verdura asada.
Yoga Sivananda Vedanta Granada-afiliado

Calle Marqués de la Ensenada, 2 Esc.A, 2ºB 18004 Granada / T 660288571

www.sivanandagranada.es/
http://comemosparavivir.blogspot.com/