¡Últimas plazas para viajar al Norte de la India!
Con este gran viaje por el Norte de la India del 1 al 15 de octubre, te invitamos a sumergirte en la historia, la cultura, la espiritualidad, las tradiciones milenarias y la vida cotidiana y al mismo tiempo a contagiarte de la alegría, la hospitalidad, cercanía y amabilidad

de sus gentes.

Escribe Sita Ruiz.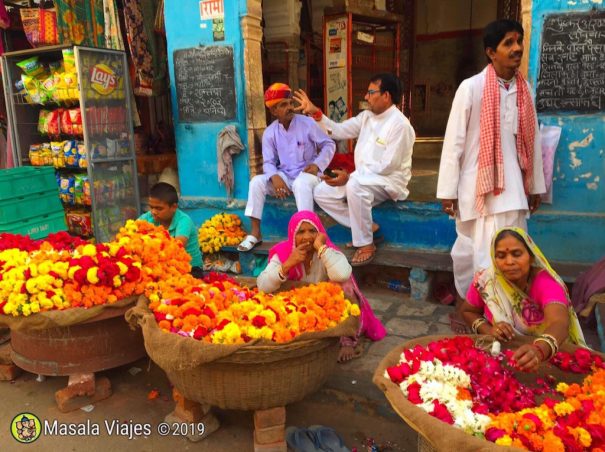 A combination of turismo cultural, espiritual y responsable, ideal para quien viaja a India por primera vez, donde además de guided visits y diferentes actividades en grupo, habrá clases de Yoga and meditation, siempre que el ritmo del viaje lo permita, y free time para que cada persona lo disfrute a su manera.
During 15 days viviremos los grandes contrastes y la intensidad de la enorme, fascinante y multicultural ciudad de Delhi que será nuestra primera parada.
Viajaremos al colorido y étnico estado de Rajasthan, una tierra legendaria de valientes guerreros Rajput, Maharajás, Maharanis y Tribus Nómadas. Donde nos enamoraremos de la romántica Udaipur con sus bellos palacios, sus lagos y sus pintorescas casas.
Nos dejaremos atrapar por el encanto y la magia de Pushkar. Esta pequeña ciudad santa es visitada por centenares de peregrinos por su lago sagrado y por tener el único templo del mundo dedicado al dios Brahma. Descubriremos algunos tesoros escondidos como los Sahastra Bahu Temples consagrados al dios Vishnú o el Chand Baori de Abhaneri, and in Agra, antigua capital del Imperio Mogol, nos encontraremos con una de las grandes joyas y maravillas de la India, el hermoso Taj Mahal.
Viviremos la experiencia de viajar en un tren nocturno que nos llevará hasta la mítica y mágica Varanasi "la ciudad del dios Shiva", también conocida como Benarés, indispensable para adentrarse en el hinduismo, in the traditional culture of the India or understand the vital importance of the RIor Ganges. Así mismo tendremos la oportunidad de recibir una cooking class, compartir una dinner con una familia india y de realizar una visit solidarity a una ONG que desarrolla varios proyectos educativos, de salud y de empoderamiento de la mujer en varios slums y barrios humildes de Varanasi y con el que colaboramos.
In Rishikesh, bautizada en occidente como "La capital del Yoga", podremos descansar con el aire de las montañas, recargar energía en los ashrams disfrutando de este privilegiado enclave natural. También asistiremos a uno de los "Ganga Aarti" (ceremonia diaria de agradecimiento al Ganges) más emotivos, devocionales y concurridos de la India, en la sagrada Haridwar.
¡¡Únete a esta gran aventura y vive una experiencia inolvidable!!
¡Bienvenida y bienvenido a la India! Namasté
Organiza: Masala Viajes (Jose Ferrer y Sita Ruiz)

Fechas: 1-15 de octubre 2019

Grupo máximo: 10 personas

Más información, precio y reservas: T 910 840 652 / +34 620 916 039 / info@masalaviajes.com