Los beneficios de "retirarte"
Para disfrutar de un buen descanso es sano retirarse, no solo de nuestras actividades cotidianas laborales, sociales y familiares sino también de nuestros propios hábitos y rutinas personales, incluso cuando suponen prácticas y disciplinas que frecuentemente realizamos solos, como el hatha yoga o la meditación.

Escribe Ravi Ramoneda.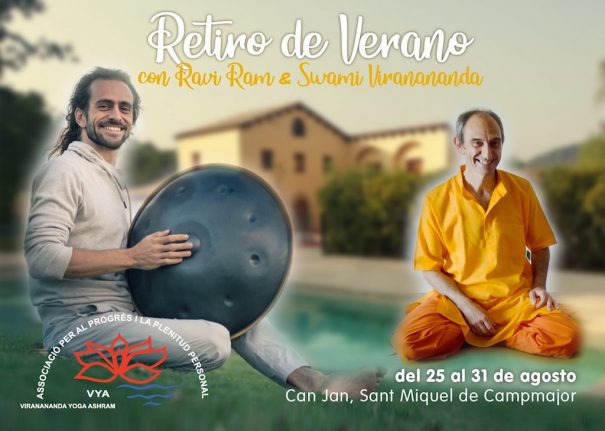 En tiempos como estos en los que la práctica del Yoga está tan expandida e integrada en el mundo moderno, y aunque es una gran suerte que sea tan accesible, a veces es necesario hacer small dives for a few days for focus únicamente en eso sin tener que regresar a tu trabajo o vida personal.
We propose a removal very special in which will follow a schedule and pace of a Ashram, donde tanto la práctica dirigida como las experiencias compartidas y las enseñanzas impartidas te llevarán a un authentic "reset" en tu propia práctica.
La naturaleza, las confortables instalaciones de una casa recién reformada, los buenos momentos de descanso, piscina y relax serán también los ingredientes necesarios para este retiro, en el que estarás acompañado tanto de Swami Viranananda como de mí mismo, Ravi Ram, para lograr hacer un encuentro muy completo tanto a nivel de descanso como de nutrimiento personal a todos niveles.
Practicaremos Hatha Yoga, Pranayama, Meditación, Kirtan Yoga, Bhakti Yoga, Silencio y Alegría.
Both Veer as I myself wish to direct retreats on a basis of alegría, espontaneidad y autenticidad.
Transformation es una de las palabras más usadas para expresar el resultado de un retiro en la compañía de ambos.
About us
Swami Viranananda lleva 45 años practicando Kriya Yoga, habiendo integrado el yoga, la espiritualidad y la humanidad en su propia existencia. Transmite los conocimientos desde la cercanía, la sencillez y el respeto por la antigua tradición del Yoga.
En cuanto a mí, nací en una comunidad yogui y crecí en plena naturaleza acompañado de los cantos de mantras y los Sat-Sangs con Swami Gushananda. Tengo una trayectoria impactante de conciertos ante cientos de personas y de varias giras a América Latina, pero lo que en realidad siento es que mi corazón es devocional desde pequeño, y lo vivo con especial naturalidad, lo que quizás es la clave de que esta experiencia sea accesible a todo tipo de personas.
On the removal of summer
Del 25 al 31 de agosto, en Casa de Retirs Ca Jan. Sant Miquel de Campmajor (Girona)
Contacto: info@virananandayogaashram.org / T 633 719 334
Toda la info: http://www.virananandayogaashram.org/esdeveniment/retir-destiu/
Ravi Ramoneda es músico y terapeuta enfocado en especial en el canto de mantras y el Kirtan Yoga. En la actualidad su trabajo entrelaza los aspectos musicales de la voz con la capacidad evolutiva y autocurativa del ser humano a través del canto y el silencio interior. Ha ofrecido conciertos ante cientos de personas y ha hecho varias giras en América Latina.

Interview with YogaenRed HERE