Books/ In Timeless Verses, by Cristina Iglesias
Is there a word "dream"? According to Mr. Google, no. But in my vocabulary there is a dream: it is that which goes beyond a dream, that which you would never have imagined or dreamed would happen. And that's this book, In verses without time, a selection of poetry written by me from 1987 to 2019. Edit Mandala. RPV: 10o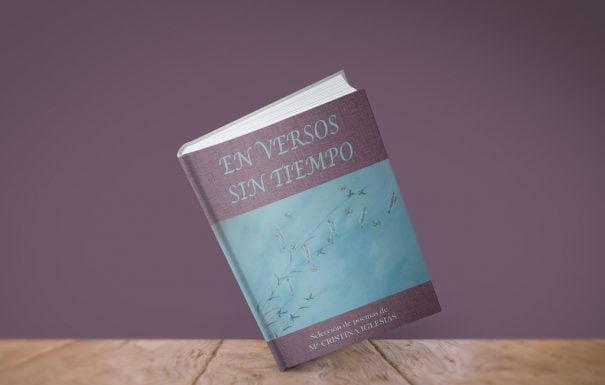 Eighty poems that speak of love, of being, of life, of death, of the soul. Eighty poems without time that I wrote without any spirit of publishing, but which, by designs of destiny and with the help of Mandala Ediciones, have seen the light and want to reach the world to make it feel, to make it vibrate. Because poetry is vibration, it's feeling, it's passion.
I never thought I'd write a book of poetry; I never thought that my words could reach the hearts of other people, so here I present to you, happy, my "dream".
Are you coming to feel with me?
The author, in her own words
I started writing poetry when I was 13. Back then, for me, it was a game, a way of expressing my feelings in verse, a relief from my emotions. I continued to write during my adolescence and youth, but when my daughter Ananda was born I spent all my time with her, so for years I forgot about poetry. When my partner and father of my daughter, Paris, passed away, I returned to the writing, but not for long.
It has been from 2017, and especially in this year 2019, that poetry has taken more strength in me. It is now that I have really realized how important it has been over the last 32 years, and when I have decided to bring to light this facet that few people knew. This selection of poems encompasses many different stages of my life, many experiences, many places and many people who have crossed my path and have been important to me. To show them to the world is to open my heart, without fuss, and show me as I am, as I feel. Because for me poetry is a way of seeing life, and with it I like to transmit everything with which I am blessed, that inspires me, that reaches my soul. And I do not consider it mine: I like that my poetry is of those who receive them, who read them. I like to think that they make them their own, that they feel them their own, and that their hearts, like mine, beat to the sound of my words.
Para comprar el libro: https://www.mandalaediciones.com/literatura/poesia/en-versos-sin-tiempo.asp