The "hunt" for holy men: by the conquest of the sound, to the of the Shakti
Here monkeys are eternal companions. Occasionally a snake or a dog sniffing. It was always said that everything was sacred in the India less widows and dogs. First time I interviewed with Swami Nadabrahmananda. Calle Ramiro writes.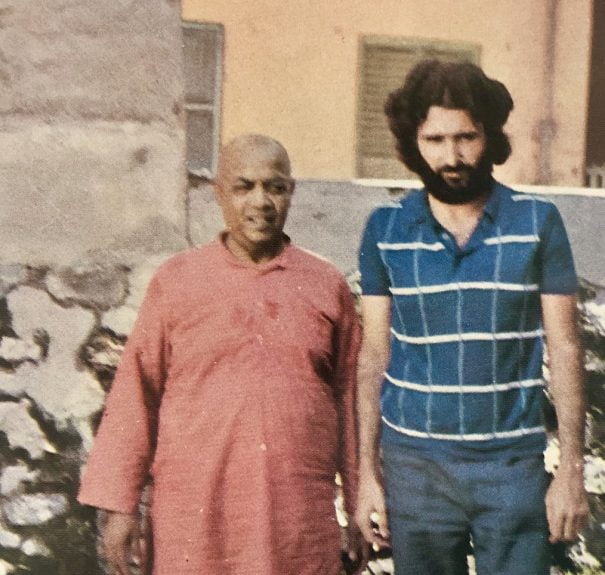 Calle Ramiro with Swami Nadabrahmananda
Es un gran experto en la enseñanza del Yoga or yoga of the sound, able to control the so-called swimming - shakti or muzzle the Shakti, possible town sound direct vibrations to places more recondite body to update internal potential.
Dominates the thann science and can make you feel the vibrations of energy at the top of the head, cleft jugular and the solar plexus, which requires greater control of the vocal cords and producing sounds very special and of great purity. Nadabrahmananda plays several musical instruments, but in a very skillful way the table. I met with him in the room of music of the ashram. For several minutes he played for Almudena and me a curious instrument invented by him and that was a wonderful sound. It was once the court musician, to later become swami and specialize in the Yoga. Sometimes the touch enter samadhi or very close to the same States of consciousness. I ask that you elaborate about the Yoga and explains to me:
"Nothing is sound in its more subtle, more elevated and cosmic conception, the primordial sound, the first vibration that everything permeates it;" It is the manifestation of the higher principle, the basic energy and creator. The Yoga is the method to connect with that energy and bring the mind to be.
El nada-yogui es mucho más que un músico. Sirviéndose del control sobre las vibraciones, sobre la energía Shakti, trata de escalar a las más elevadas cimas del yoga; domina su energía espiritual y se sirve de la música, en lo exterior, para concentrarse y actualizar potencias larvadas. La música es un instrumento para lograr la alquimia de sus energía internas".
Asked if control over the energy internal can balance the body and mind, even heal them.
Answer:
"Asi es. La actualización de las energías internas puede combatir determinadas enfermedades. La energía pránica puede ser enviada a la zona del cuerpo afectada por la enfermedad y contraatacar su acción. No es facil. Llevo treinta años practicando nada-yoga. La música la convierto en un medio para concentrarme, obtener estados de absorción mental y conseguir que los pensamientos se disuelvan y se manifieste el sonido místico e interior que me conecta con el Ser. Mientras se interpreta, la mente del nada-yogui debe estar conectada con la Mente Cósmica. La mente no puede desconectarse ni un segundo".
You get thoughts cease to be?, I ask.
"Yes, yes".
¿Es un modo o medio de acceder a la no-mente, unmani, para que uno se absorba en el Sí-mismo?
That's right.
Do you have a nada-yogui to control the kundalini energy?, I wonder now.
"Undoubtedly -He says-. That's needed".
After swami nothing Brahmamanda played the sitar and the table. At the end of their fantastic interpretation, he said:
"All the time in my interpretation I was one with the Cosmos. The divine respect me because I respect you."
As some handles. I have a fan this tasty and fragrant fruit. There are about 300 kinds of mango. Then, already slightly cooled, I turn to the kutir of Swami Krishnananda, deep knowledge of yoga and owner of an extraordinary brain. We will discuss thoroughly the liberado-vivientes, hidden trends of mind and why you are born first.
Our interview will be the first of others in successive years. I has excited to interview to Swami Nadabrahmananda and now ardo in desires to address my questions to this man who takes many years of swami and has delved deep into the human mind.
Many days I've been taking notes to order my ideas and the interviews that we are doing. I realized up to what point yoga is experiential and all teachings have to be put into practice. Es el suyo un terreno inabordable e insondable, pues hablamos de una sabiduría con más de cinco milenios de antiguedad, que es independiente de cualquier culto religioso, aunque por su carácter eminentemente práctico y eficientemente transformativo ha sido incorporado el hinduísmo el jainismo, el tatrismo, el budismo y otros sistemas de autorrealización. Mucho tengo que hablar con Krishnananda… y lo haré.
Calle Ramiro

More than 50 years has been Calle Ramiro teaching yoga. He began teaching at home and created an Academy of yoga correspondence for all Spain and Latin America. In January of l971 opened its Yoga Center Shadak, that have already passed more than half a million people. His 250 published works include more than fifty devoted to yoga and related disciplines. He has made Yoga the purpose and sense of his life, having traveled a hundred times to India, the homeland of yoga.

See the page of Calle Ramiro Facebook:
https://www.facebook.com/pages/Ramiro-ACalle/118531418198874