De la cura del estreñimiento al alma liberada: ¡que viva el Yoga!
Pues sí, este es un pequeño homenaje al yoga, días después de la celebración del DIY. ¿No suena muy excelso lo del estreñimiento? Pues lo es: el yoga nos ayuda a reconocer y cuidar nuestro cuerpo como el templo del alma que es, porque con los intestinos atascados ya me contaréis quién se sienta a liberar al ser…
Escribe YogaenRed.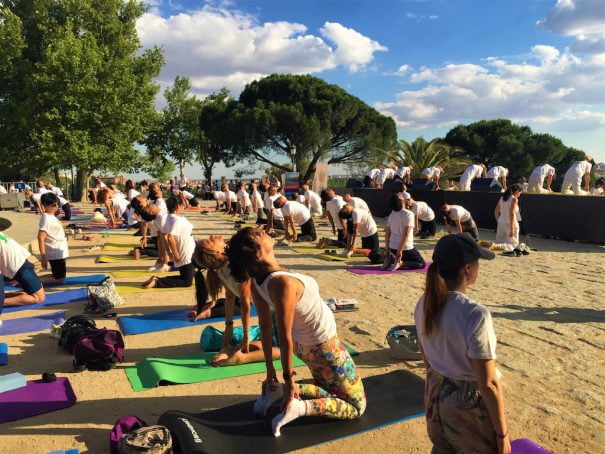 Permitidnos el tono de broma, pues solo quiere indicar que sí, que el Yoga vale para casi todo. Y que así se reconoce en cada ser humano que se expresa a través del yoga y en cada profesor que lo enseña.
Somewhat surprising was to many so-called video Common Yoga Protocol - Exercises that was issued in the official act of celebration of the DIY organized by the the India Embassy y varias escuelas. Arrancaba y acababa la práctica con un sentido marcadamente espiritual, pero en el grueso del recorrido se presentaban todos los ásanas, pranayamas y dhyana con sus beneficios a modo de indicaciones de prospecto médico. O sea, el yoga cual botica que lo cura todo, desde los sabañones hasta la halopecia. No sé si este es el más adecuado acercamiento al yoga; un poco raro debía de sonar al no iniciado; tal vez ingenuo. Pero en conjunto resultó un acto bonito y organizado, y ver a la gente de toda índole de Madrid siguiendo los ejercicios propuestos no deja de ser emocionante.
In the background is that yoga - returning to the beginning - is a wonderful system that really influye positivamente en todo lo que toca, incluso aunque toque superficialmente. Revitaliza, limpia, ensancha, sana, libera, ilumina todos los rincones del ser humano, desde sus tripas a su espíritu, desde lo prosaico a lo más elevado, desde lo monocromático a lo multicolor. De ahí la inagotable variedad de enfoques, acercamientos, métodos y escuelas.
Es lo que queremos ensalzar hoy: esa riqueza y variedad que permite la experiencia del yoga. This is un pequeño homenaje, sí, a cada practicante y a cada profesor, al valor de su práctica, sea de la naturaleza que sea.
Y especialmente a aquellos que han desarrollado una visión personal a partir de su experiencia, combatiendo la rutina, el dogmatismo y el cansancio para seguir esforzandose en recorrer su propio camino honestamente, con entusiasmo y humildad de principiantes.