Interview with Leslie Kaminoff: "yoga teachers are not therapists, educators"
Leslie Kaminoff returns to Madrid. This yoga educator (to which don't like calling him master) arrives with the idea of removing, analyze, re-estudiar the way in which the teaching of yoga is transmitted. Author of the book Anatomy of yoga along with Amy Mathews, Leslie is one of the most reputable of the yogic international panorama. It is an interview with Pablo Alonso for Yoga network.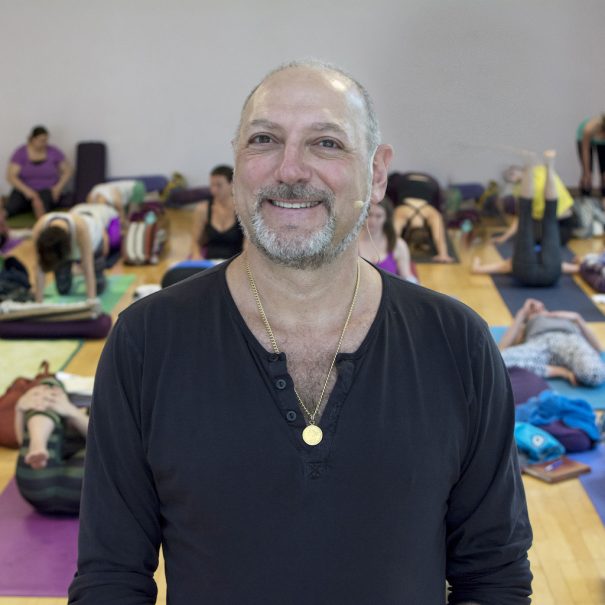 Evidenced by their seminars to the length and breadth of the planet. Always near, always alive, its workshops and courses are a constant invitation to the self-questioning, to unlearn. Almost four decades of teaching make Leslie a specialist in the fields of Yoga, Anatomy of breathing and the movement. His approach to teaching combines intellectual rigour, spontaneity and a huge sense of humor. His teaching is continually evolving. He is so loyal to the tradition as innovator in exploration What is and is not yoga. Inspiring, challenging and affordable, studying with Leslie It is a motivating and inspiring experience.
At end of September we will have the opportunity to enjoy a three-day course organized by Dhara.
Question: Once again in Madrid, for me is always gratifying to visit us, what is new in your workshops this time, about what want to influence?
Answer: It is always interesting to go back to a city on a regular basis. There will be a combination of students who have already attended a course with me with others attending a course mine for the first time. So the challenge is to give good coverage to the fundamental ideas that rotates my teaching without being repetitive to students of other workshops.
I will review the basics as I do in all the workshops. Some of the new things that I have not yet taught in Madrid are related to new ideas I've developed on teaching methods. Specifically envelope How to balance the relationship between the teaching technique and encourage the same questions. I'll show this clearly in each practice to direct.
Q: we live in a time in which yoga is a phenomenon around the world, what do think business that revolves around this practice? Do you think that the commercial is gaining ground on the spiritual?
A: I do not think that there is no conflict between spiritual values and materials, just as there can be no separation between body and soul. I am very happy to be able to teach yoga as a full time job and that happens precisely because yoga is a worldwide phenomenon. I do not worry with what other people are selling in the spiritual market. Mi foco principal es ser el mejor profesor que pueda y dar a los alumnos que han invertido su dinero, ganado con gran esfuerzo, en mis talleres lo mas valioso que les pueda ofrecer.
Q: you have been a disciple of T. K.V. Desikachar. Recently you rendías him tribute in the United States along with other students his legendary. Do you think that the teachings of this lineage are banalizando?
R: Por encima de todo Desikachar honraba la naturaleza única de todos los estudiantes con los que interactuaba. Cada uno de nosotros recibió algo diferente y es nuestra responsabilidad pasar ese conocimiento con nuestras mejores habilidades.
When I listen to some colleagues suggest that "such asana fix such problem", find me it strange, that I believe that Desikachar would have a problem with the prescriptive that this "yogaterapia" has become. He never reduced the process of using yoga as a tool of healing to a simplistic formula, and I see that this is happening more and more. For it healing is usually produced by the quality of the relationship, not by the choice of technique.
Q: If yoga is therapeutic, for what influence this aspect? do not suffice practice to heal?
A: I am famous for having a problem with this idea of teachers of yoga called "therapists". We are first and foremost educators. If we educate effectively students, his innate ability to heal will mobilize to reduce the obstacles.
P: La popularización del yoga ha extendido la idea de que yoga es un ejercicio físico, casí un fitness, que además nos libera del estrés. Muchos médicos están enviando a sus pacientes a hacer yoga sin haber pisado una esterilla, pensando que yoga es pasarte una hora y media cantando el mantra OM. Vivimos la dualidad de quienes piensan que todo empieza y acaba en asana y quienes creen que yoga es un acto casi religioso. ¿Cómo ve usted el panorama yóguico a nivel general?
A: If doctors recommend yoga as an exercise or to relax, I don't see anything wrong with it. It would be great if these doctors practiced yoga as well, so they could talk from their own experience. I also think that nor there is "only asana"; you take your mind and your breath wherever you go. So, even if a class is taught only at the physical level, if yoga is present, and a certain number of people will be curious to research beyond themselves. It is not always up to the teacher to present the whole system; the student also has a responsibility towards their own education.
P: En el mercado del yoga todo el mundo se vende igual: mi verdad es la única verdad, mi maestro es el mejor maestro y tuve los mejores maestros. ¿Existe una única verdad para todos los prácticantes de yoga? ¿Existen estándares aplicables a cualquier practicante?
A: no I agree that everyone is doing that; It is only that which makes it, make more noise.
There is a universal truth for all practitioners of yoga, it would be something that everyone needs to find their own way and not to dump the responsibility for their own education in different... especially on a teacher who tell them that they should do so.
Q: do you think of the review of the standards of quality in the Yoga Alliance teacher training?
A: it is too early to say something. They have still not reached the final review. I'm waiting to see which will be before making any public comment. I have played a small role in the review process, so I'm curious to see if any of my recommendations are followed.
Q: after allegations of sexual abuse known lately against important masters of the tradition of yoga, do you think that a clear code of ethics, especially in what concerns the relationship with students is necessary, adjustments... etc?
A: I think every programming and every teacher should be able to communicate to potential students the code of ethics (if they have it) that they follow. And if they don't follow any code of ethics, they should be prepared to explain why not.
The role of an organization like Yoga Alliance should be to educate teachers, trainers and the general public on issues related to teaching ethics, but in my opinion they cannot force its members to take a specific code of ethics. Even if people want the Yoga Alliance to become "the yoga police," taking that path would be a disaster for everyone.
Q: in what are now investigating? What is your focus today? Still in your courses inviting to unlearn?
A: as I said at the beginning, my main focus is to find a good balance between teaching well and safe techniques which at the same time allow students connect with their own internal experience.
And Yes, I'm firmly established in the field of it not mystical. I hope that that never change, but I know that not everyone is in agreement, which is fine for my.
Course of three days with Leslie Kaminoff
When: 20, 21 and 22 September.
It organizes: www.dharayoga.es