Listado de centros de 'Yoga para el Cambio': ¡corre a apuntarte!
¡Gracias de corazón en nombre de Semilla para el Cambio y de YogaenRed a las más de 33 escuelas, centros y profesores participantes en la acción solidaria 'Yoga para el Cambio' para celebrar el Día Internacional del Yoga del 21 de junio! Sin duda sois los mejores, pues estáis enseñando al mundo que el yoga no es exhibición, postura y gesto, sino integridad y coherencia fuera de la esterilla.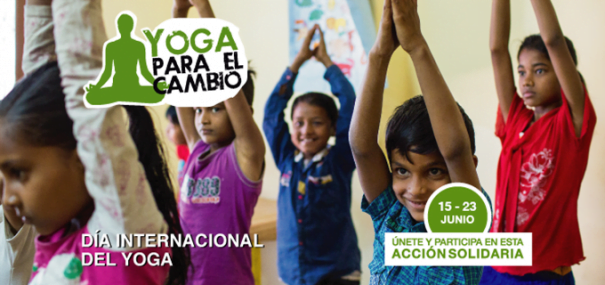 Este listado integra a los centros o instructores de yoga que han organizado una actividad solidaria en la semana del 15 al 23 de junio to raise funds for the projects of the NGO Semilla para el Cambio.
Now we have practitioners and public in general point us to these activities, ya sean clases, talleres, seminarios meditaciones! Sí, lectora o lector de YogaenRed que estás leyendo esto, ¡reserva tu plaza en el centro que mejor te venga! No solo cerelebrarás el International Yoga day de una manera muy bonita, sino que además estarás aportando tu granito de arena para una buena causa.
Se ha fijado una aportación por participante de 12 €, a donation which will be used entirely to fund NGO work sobre el terreno.Y a cambio de tu participación solidaria recibiréis una bolsa de tela o una mala de semillas de rudraksha traída de Varanasi.
Tienes toda la información en This information pack.
LISTADOS DE CENTROS APUNTADOS A 'YOGA PARA EL CAMBIO'
(Rogamos a que los que ya estáis apuntados que enviéis los datos completos sobre la actividad a realizar al correo de arriba, a fin de poder difundirlos y que las personas interesadas puedan hacer sus reservas)
Andalusia
–Málaga
Actividad:

yoga Masterclass
When

: viernes 21 de junio

Opening hours:

19:00 h

Place:

Playa de la Malagueña. Málaga
–Fuengirola
Actividad: sin especificar

Cúando: sin especificar

Horario: sin especificarç

Lugar: c/ Clemente Díaz Ruíz, 4. Fuengirola. Málaga
–Sevilla
Actividad:

Hatha yoga, Kundalini Yoga

Cuándo: 1

7, 18 y 19 de junio

Opening hours:

lunes 17 a las 20:15 h (Hatha Yoga) / Martes 18 a las 18:30 h (Hatha Yoga) / Miércoles 19 a las 9:30 h y a las 18:30 h (Kundalini Yoga)

Place:

c/ Artesanía 28, 2ª Planta. Oficinas 8 y 9. Polígono PISA. Sevilla
Actividad:

meditación para el cambio, yoga para la paz y el cambio

When:

20 y 21 de junio

Opening hours:

Jueves 20 a las 20:30 h, Meditación para el cambio / Viernes 21 de junio a las 9:30 h, Yoga para la paz y el cambio

Place:

c/ Daoiz nº2, esquina Calle Clarín. Bolullos de la Mitación. Sevilla
Balearic Islands
–Maó (Menorca)
Actividad:

unspecified
When:

21 o 22 de junio

Opening hours: unspecified
Place:

Plaça Miranda, 26, Maó (Menorca)
-Palma de Mallorca
Actividad:

concierto vibracional sonoro con campana alquímica y cuencos de cristal de cuarzo.

When:

miércoles 19 de junio

Opening hours:

20:30 h

Place:

Carrer de la Gerreria, 20, Bajos. Palma de Mallorca
Canary Islands
–Los Cristianos (Tenerife)
Actividad:

yoga, meditación y cuencos

When:

domingo 16 de junio

Opening hours:

11:00 h

Place:

c/Barranquillo, 22. Arona. Los Cristianos. Tenerife
Catalonia
–Barcelona
Actividad:

Yin yoga, Gongs y Billas

When: Saturday, June 22
Opening hours: 19:00 hours
Place:

c/ Canalejas 78

Bajos. Barcelona
Actividad:

Hatha yoga and Vedic chant
When:

Miércoles 19 de junio

Opening hours:

de 14 a 15.30h

Place:

Carrer del Joncar, 19. Poblenou. Barcelona
Actividad:

Yoga y Meditación para el cambio

When:

Jueves 20 de junio

Opening hours:

de 17:00 a 19:00

Place:

c/ Béjar 89 bajos, 2º derecha, Barcelona
Tanit
Actividad:

Yoga
When:

domingo, 30 de junio

Opening hours:

19:00 h

Place:

En Yoganet. Carrer de Sardenya, 202. Barcelona
Eva Marini
Actividad:

unspecified
When: unspecified
Opening hours: unspecified
Place:

/ Edificio TIC. Roc Boronat,117. Barcelona
–Lleida
Esther Coma Castells
Actividad:

yoga, Vinyasa yoga, cantar de mantras, yoga para parejas, yoga Nidra. Posibilidad de comer (hamburguesa, tofo, bebida e infusión por 8 euros)

When:

domingo 16 de junio

Schedules:

10.15 Presentación/10.30 Yoga para los chacras /11.30 Vinyasa Ioga /12.30 Cantar mantras /13.00 Comida /15.00 Yoga para parejas / 16.00 Yoga Nidra meditación / 17.00 Conclusión

Place:

Camping Gaset. Talarn. Lleida
Galicia
–A Coruña
Integral Yoga school Mahashakti
Actividad:

Suryanamaskar, meditación al atardecer y yoga integral

When:

19 y 21 de junio

Opening hours:

miércoles 19, a las 19:15 h, suryanamaskar y a las 21:30 h, meditación / viernes 21, a las 20:00 h, yoga integral

Place:

miércoles 19 en la Rosa de los vientos (Torre de Hércules) y viernes 21 en la playa de Oza (las ubicaciones pueden cambiar en función del clima)
-Vigo
Integral Yoga school Mahashakti
Actividad:

Yoga on the beach and sunset meditation
When:

viernes 21 de junio

Opening hours:

21:00 h

Place:

playa de Samil (la ubicación puede cambiar en función del clima)
Comunidad de Madrid
Biijayoga
Actividad:

Yoga with some philosophy session
When:

domingo 23 de junio

Opening hours:

10:00 h

Place:

La Pedriza. Manzanares el Real (Madrid)
Actividad:

Charity concert of Beat Tandoori
When:

viernes 21 de junio

Opening hours:

20:00 h

Place:

Calle de los Artistas, 43. Madrid
Dahiana
Actividad:

yoga Kundalini, Hatha yoga, yoga para mayores, para niños y yoga en silla

When

: viernes 17 de junio al domingo 19 de junio

Opening hours: unspecified
Place: unspecified
Actividad:

unspecified
When: unspecified
Opening hours: unspecified
Place:

c/Redondilla nº3 bajo. Madrid
Actividad:

Dissemination of the work of seed and Yoga
When:

15 al 23 de junio

Opening hours: unspecified
Place:

Paseo del General Martinez Campos, 24. Madrid
Actividad:

Clase para niños de 6 a 14 años

When:

viernes 21 de junio

Opening hours:

de 18:45 a 20:15

Place:

Camino de la Zarzuela 11, 2º Izqda. Aravaca. Madrid
Actividad:

clase de Hatha Yoga Tradicional/masterclass de 2 horas con meditación añadida

When:

viernes 21 de junio

Opening hours: 18:00 h
Place:

Calle Manuel Aleixandre, 7. Madrid
Actividad:

YAM 4.0 (Yoga Alimenta Medita)/Sesión MindfulBody guiada de la mano de YogaKonArte y Vive Tu Cuerpo/ MindfulEating de la mano de Anmama Catering.

When:

viernes 21 de junio

Schedules:

13.00 – 14:30 (MindfulBody) /14:30 – 15:00 (MindfulEating)

Place:

Impact Hub Piamonte. c/ Piamonte, 23. Madrid
Therapy and more
Actividad:

Hatha Yoga class
When: Friday, June 21
Opening hours:

17:00 h

Place:

Avenida del Dr. García Tapia, 114. Moratalaz. Madrid
–Las Rozas
Actividad:

yoga with some philosophy session
When: Friday, June 21
Opening hours: in the afternoon
Place:

Calle Santolina, s/n. Las Rozas. Madrid
-Navalcarnero
Actividad: unspecified
Date unspecified
Opening hours: unspecified
Lugar: Calle de la Constitución, 10. Navalcarnero (Madrid)
Valencian Community
–Burjassot
Actividad: Yoga class
Cuándo: sábado 22 de junio
Opening hours: 10:00 hours
Lugar: Parque de L' Eixereta. Burjassot (Valencia)
Basque country
–Basauri (Bizkaia)
Actividad:

Yoga Nidra- Yoga del Sueño

When:

viernes 21 de junio

Opening hours: 20:00
Place:

c/ Pedro Bilbao Kalea, 3. Basauri, Bizkaia
–Bilbao (Bizkaia)
Actividad:

Hatha yoga and meditation
When:

viernes 21 de junio

Opening hours:

19:00 (Ha-tha yoga)/20:30 (meditación)

Place:

c/ 22 de Diciembre,5,2º. Ollargan. Bilbao
–Urretxu (Gipuzkoa)
Durga Ma Yoga Eskola 'Sanatana Dharma'
Actividad:

unspecified
When: unspecified
Opening hours: unspecified
Place:

Ipiñarrieta kalea 12-behea. Urretxu
Melilla
Actividad:

unspecified
When: unspecified
Opening hours: unspecified
Place:

Antigua Ctra. Aeropuerto nº 15. Vivero de empresas, Local 7. Melilla
Navarra
–Tudela
Actividad:

Different styles of yoga classes
When:

viernes 21 de junio

Opening hours: unspecified
Place:

Ernestina de Champourcín, 2 (esquina con Paseo Capuchinas, 13). Tudela
–Pamplona
Actividad:

Special yoga classes taught by Tita Hurtado
When: Friday, June 21
Opening hours:

de 18:30 a 20:30 h

Place:

C/Monasterio de Urdax, 17. Pamplona. Iruña