List of centers 'Yoga for change': race to sign up!
¡Gracias de corazón en nombre de Semilla para el Cambio y de YogaenRed a las más de 33 escuelas, centros y profesores participantes en la acción solidaria 'Yoga para el Cambio' para celebrar el Día Internacional del Yoga del 21 de junio! Sin duda sois los mejores, pues estáis enseñando al mundo que el yoga no es exhibición, postura y gesto, sino integridad y coherencia fuera de la esterilla.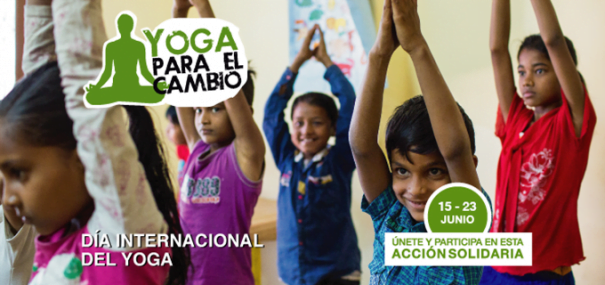 Este listado integra a los centros o instructores de yoga que han organizado una actividad solidaria en la semana del 15 al 23 de junio to raise funds for the projects of the NGO Seed for Change.
Now we have practitioners and public in general point us to these activities, ya sean clases, talleres, seminarios meditaciones! Sí, lectora o lector de YogaenRed that you're reading this, reserve your place at the Center which best! Not only cerelebraras the International Yoga day in a very nice way, but you're also providing your bit for a good cause.
Set one contribution per participant of €12, a donation which will be used entirely to fund NGO work on the ground. And in Exchange for your participation solidarity you will receive a bag of fabric or a bad seed of rudraksha brought from Varanasi.
You have all the information in This information pack.
LISTINGS OF CENTRES AIMED AT 'YOGA FOR CHANGE'
(We ask that those who are already signed up that send the complete data on the activity to perform the email above, in order to be able to spread them and that the persons concerned can make reservations)
Andalusia
-Malaga
Activity: yoga Masterclass
When: Friday, 21 June
Opening hours: 19:00 h
Place: The Malaga beach. Malaga
-Fuengirola
Activity: unspecified
When: not specified
Opening hours: no especificarc
Place: c / Clemente Diaz Ruiz, 4. Fuengirola. Malaga
-Seville
Activity: Hatha yoga, Kundalini Yoga
When: 17, 18 and 19 June
Opening hours:

lunes 17 a las 20:15 h (Hatha Yoga) / Martes 18 a las 18:30 h (Hatha Yoga) / Miércoles 19 a las 9:30 h y a las 18:30 h (Kundalini Yoga)

Place: c / 28 craftsmanship, 2nd floor. 8 and 9 offices. Polígono PISA. Seville
Activity: meditation for change, yoga for peace and change
When: 20 and 21 June
Opening hours: Thursday 20 at 20:30 h, meditation for change / Friday, June 21, at 9:30 o'clock, Yoga for peace and change
Place: c / Daoiz nº 2, corner Street Clarín. Bolullos de la Mitacion. Seville
Balearic Islands
-Maó (Menorca)
Activity: unspecified
When: 21 or 22 June
Opening hours: unspecified
Place: Plate Miranda, 26, Maó (Menorca)
-Palma de Mallorca
Activity: vibrational sound concert with alchemical campaign and quartz crystal bowls.
When: Wednesday, 19 June
Opening hours: 20:30 h
Place: Carrer the Gerreria, 20, Netherlands. Palma de Mallorca
Canary Islands
-Los Cristianos (Tenerife)
Activity: Yoga, meditation and bowls
When: Sunday, June 16
Opening hours: 11:00 h
Place: c/Barranquillo, 22. Arona. The Christians. Tenerife
Catalonia
-Barcelona
Activity: Yin yoga, Gongs and billiards
When: Saturday, June 22
Opening hours: 19:00 hours
Place: c / Canalejas 78

Low. Barcelona
Activity: Hatha yoga and Vedic chant
When: Wednesday, 19 June
Opening hours: 14-15.30 h
Place: Carrer del Joncar, 19. Poblenou. Barcelona
Activity: Yoga and meditation for change
When: Thursday, June 20
Opening hours: from 17:00 to 19:00
Place: c / low 89 Bejar, 2nd right, Barcelona
Tanit
Activity: Yoga
When: Sunday, June 30
Opening hours: 19:00 h
Place: In Yoganet. Carrer de Sardenya, 202. Barcelona
Eva Marini
Activity: unspecified
When: unspecified
Opening hours: unspecified
Place: / Building ICT. ROC Boronat, 117. Barcelona
-Lleida
Esther Coma Castells
Activity: Yoga, Vinyasa yoga, singing mantras, yoga for couples, yoga Nidra. Possibility of a meal (Burger, tofo, beverage and infusion for 8 euros)
When: Sunday, June 16
Schedules: 10.15 presentation/10.30 a.m. Yoga for chakras 11.30 Vinyasa Yoga 12.30 Singing mantras 13.00 lunch 15.00 Yoga for couples / 16.00 Yoga Nidra meditation / 17.00 Conclusion
Place: Campsite Gaset. Talarn. Lleida
Galicia
-A Coruña
Integral Yoga school Mahashakti
Activity: Suryanamaskar, sunset and integral yoga meditation
When: 19-21 June
Opening hours: Wednesday 19 at 19:15 o'clock, suryanamaskar and 21:30 h, meditation / Friday 21 at 20:00 h, integral yoga
Place: Wednesday 19 at the rose of the winds (Tower of Hercules) and Friday 21 at the beach of Oza (locations can be changed depending on the weather)
-Vigo
Integral Yoga school Mahashakti
Activity: Yoga on the beach and sunset meditation
When: Friday, June 21
Opening hours: 21:00 h
Place: Samil beach (location may change depending on the weather)
Aitana Vidal
Activity: Hatha yoga with Raquel Flores
When:

jueves 20 de junio

Opening hours:

de 19 a 20:30

Place:

Fundación Sales. Av. Europa, 52. Vigo
Comunidad de Madrid
Biijayoga
Activity: Yoga with some philosophy session
When: Sunday, June 23
Opening hours: 10:00 h
Place: La Pedriza. Manzanares el Real (Madrid)
Activity: Charity concert of Beat Tandoori
When: Friday, June 21
Opening hours: 20:00 h
Place: Street performers, 43. Madrid
Dahiana
Activity: Yoga Kundalini, Hatha yoga, yoga for seniors, children and Chair yoga
When: Friday, June 17 to Sunday, June 19
Opening hours: unspecified
Place: unspecified
Activity: unspecified
When: unspecified
Opening hours: unspecified
Place: c/Redondilla No. 3 bass. Madrid
Activity: Dissemination of the work of seed and Yoga
When: 15 to June 23
Opening hours: unspecified
Place: Paseo General Martinez Campos, 24. Madrid
Activity: Class for children aged 6 to 14
When: Friday, June 21
Opening hours: from 18:45 to 20:15
Place: Camino de la Zarzuela 11, 2 ° izqda Aravaca. Madrid
Activity: Hatha Yoga traditional/masterclass of 2 hours with added meditation class
When: Friday, June 21
Opening hours: 18:00 h
Place: Calle Manuel Aleixandre, 7. Madrid
Activity: YAM 4.0 (Yoga feeds meditates) / session MindfulBody guided the hand of YogaKonArte and live your body / the hand of Anmama Catering MindfulEating.
When: Friday, June 21
Schedules: 13: 00 14:30 (MindfulBody) 14:30-15:00 (MindfulEating)
Place: Impact Piedmont Hub. c / Piedmont, 23. Madrid
Therapy and more
Activity: Hatha Yoga class
When: Friday, June 21
Opening hours: 17:00 h
Place: Avenida Dr. García Tapia, 114. Moratalaz. Madrid
-Las Rozas
Activity: yoga with some philosophy session
When: Friday, June 21
Opening hours: in the afternoon
Place: Santolina Street, s/n. Las Rozas. Madrid
-Navalcarnero
Activity: unspecified
When: unspecified
Opening hours: unspecified
Place:

Calle de la Constitución, 10. Navalcarnero (Madrid)
–Hoyo de Manzanares
July Gallego
Activity: unspecified
When: unspecified
Place:

c/El Picazo 6, 3º D. Hoyo del Manzanares. Madrid
Valencian Community
-Burjassot
Activity: Yoga class
When: Saturday, June 22
Opening hours: 10:00 hours
Place: Parque de L' Eixereta. Burjassot (Valencia)
Basque country
-Basauri (Bizkaia)
Activity: Yoga Nidra - Yoga of the dream
When: Friday, June 21
Opening hours: 20:00
Place: c / Pedro Bilbao Kalea, 3. Basauri, Bizkaia
-Bilbao (Bizkaia)
Activity: Hatha yoga and meditation
When: Friday, June 21
Opening hours: 19:00 (has-tha yoga) / 20: 30 (meditation)
Place: c / 22 December, 5, 2º. Ollargan. Bilbao
–Galdakao (Bizkaia)
Anima calm psychological development
Activity: not determined
When: not determined
Opening hours: not determined
Place:

Loiolako Inazio 22 3B. Galdakao (Bizkaia)
-Urretxu (Gipuzkoa)
Durga Ma Yoga Eskola 'Sanatana Dharma'
Activity: unspecified
When: unspecified
Opening hours: unspecified
Place: Ipinarrieta kalea 12-behea. Urretxu
Melilla
Activity: unspecified
When: unspecified
Opening hours: unspecified
Place: Antigua CTRA airport No. 15. Incubator, Local 7. Melilla
Navarra
-Tudela
Activity: Different styles of yoga classes
When: Friday, June 21
Opening hours: unspecified
Place: Ernestina de Champourcin, 2 (corner with Paseo nasturtiums, 13). Tudela
-Pamplona
Activity: Special yoga classes taught by Tita Hurtado
When: Friday, June 21
Opening hours: from 18:30 to 20:30 h
Place: C/Monasterio de Urdax, 17. Pamplona. Iruña
–Segovia
Activity: Yoga
When: Friday, June 21
Opening hours:

de 17 h a 18:30 h o de 19 h a 20:30 h

Place:

Parque de la Hontanilla. Segovia