Cellomano recital, music that goes straight to the heart
The magical music of this cellist, Cellomano, induces a meditative state that deepens the Yoga practice creating the ideal atmosphere to it. On 29 and 30 June he arrived in Madrid from Bali to offer us a beautiful recital-concierto and join a yoga workshop for Satkara Yoga Studio. Writes Rachel Sanz.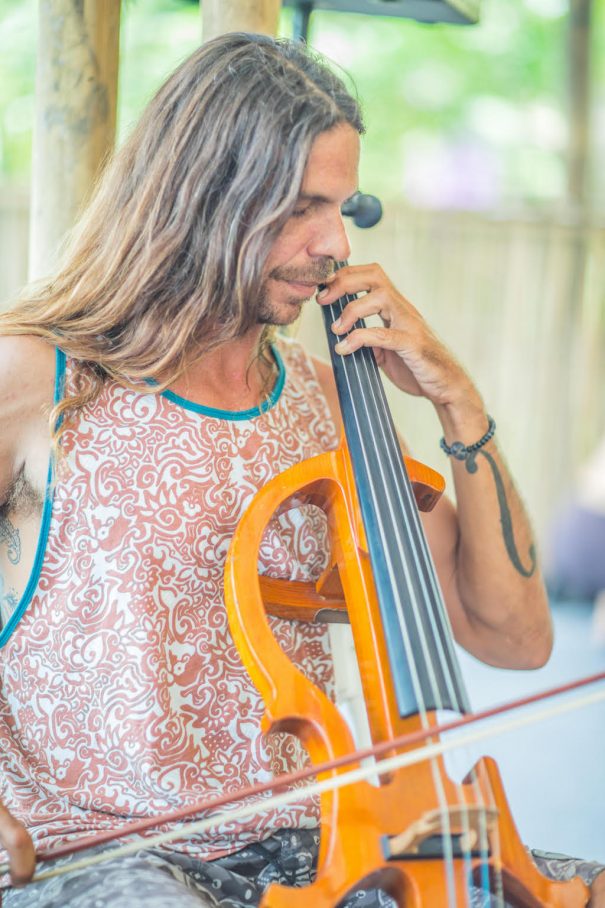 The first time I listened to this amazing cellist, Cellomano, was a kind of Yin Yoga in the beautiful island of Bali. Sensitivity and beauty of his melodies shook my soul in a way that I knew my life would not be the same after that experience.
I love music, but never before a musician or an instrument had touched my soul in that way. If close my eyes still is me goose bumps to remember it. After hearing him more times in recitals, concerts and yoga classes, I can attest that with personal and unmistakable style leaves no one indifferent. Their hands touch not only with soft strings of the cello but also the heart of who is listening.
Who is Cellomano
Behind Cellomano is Algimiro Cesarino, He began his musical studies at age 7 in the Conservatorio Juan Manuel Olivares in Caracas (Venezuela). He continued his education at the Conservatorio Simón Bolívar and was a founding member of the Orquesta Sinfónica de Nueva Esparta. He has performed widely at the international level, studying at the Musikschule der Stadt Linz in Austria and by participating in concert with the Camerata Salzburg in Spain, among others.
Algimiro resides for several years on the island of Bali in Ubud, a small town home to artisans, famous for its exuberant nature, rice fields and its monumental temples. In these lands he has studied traditional music of Indonesia (gamelan) and, from here, combines his training of classical music with its own style, using modern tools that allow you to create polyphonic melodies of incomparable beauty.
If something still makes still more particularly it is his lifestyle and his passion for nature and the ocean, which feeds and inspires constantly. Oceanographer of profession, musician for passion and surfer from a child, is not surprising that Bali has become their habitual residence, place that allows him to develop his two passions, music and surfing.
Bali and its community of artists
For those who don't know, Bali has an extraordinary diversity of influences where resides a beautiful community of artists making it a nutritious soil to create. It is not surprising that the lush natural beauty of the island is source of inspiration for every artist.
It is one of those magical places in the world where the vibration is so high that envelops you from the moment you arrive and not you never abandons, and has allowed Algimiro express themselves and collaborate with other amazing musicians. Should be noted that the Indonesians are extremely talented and a constant source of inspiration: dancers, painters, musicians, artists, poets, sculptors who learn on their own to develop your own techniques and innovating all the time.
In recent decades, Yoga has had a major expansion on the island, and thus different activities that combine spirituality with healing mind-body therapies have emerged as Sound Healings o Sound Journeyswhere the music is fundamental to becoming a very powerful tool for deepening the practice part.
Cellomano has collaborated with various teachers of different yoga styles, including Carlos Romero, Meghan Currie, Tina Nance o Nik Robson and Yoga schools as Yogabarn (Bali), Radiantly Alive (Bali), The practice (Bali), DESA Seni (Bali) Satkara yoga (Madrid). Likewise, he has participated in festivals such as Bali Spirit Yoga Fest, Barcelona Conference, Iris (Hong Kong), etc.
The project and stage name "Cellomano" was born and grew up in Bali. All its parts are instrumental, were born from nothing, in special moments of your life and represent nature, emotions, sensations, feelings and disagreements.
A sample of their music
Algimiro has a solo album, Cellomano- That Tree, and numerous collaborations with many musicians, Yogis and healers.
In this link you can hear: https://cellomano.bandcamp.com/album/that-tree
The 29-30 June We will have the luck to have him again in Spain and enjoy your music in the form of Recital-Concierto and as an accompaniment for a Yoga Workshop. Both calls will coincide with the presentation of the next Kamala Bazar showroom Satkara Yoga Studio (Madrid).

More information: Satkara Yoga Studio. (Raquel Sanz) T + 34 620 870 238 / info@satkarayogastudio.com