Centers participating in 'Yoga for change' (provisional)
This is the list of centers and schools that have already signed up for the solidarity action 'Yoga for Change' to celebrate the International Day of Yoga on June 21. Run to join those who wish, who have until the 10th of this month! We will publish the final list later, so that we all fill your rooms.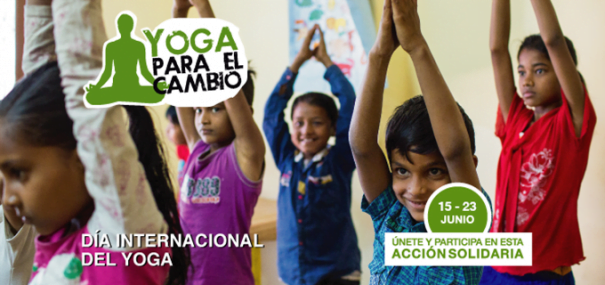 If you have a center or you're instructor yoga, meditation or any other related discipline, organizes a solidarity activity in the week of June 15-23 to raise funds for the projects of the NGO Seed for Change. It can be a masterclass, a chat, a colloquium, or any other type of action.
Set one contribution per participant of €12, a donation which will be used entirely to fund NGO work on the ground. And in exchange for your solidarity and that of your students, each of you you will receive a bag of fabric or a bad seed of rudraksha brought from Varanasi.
To participate i10 June 2019 in the mail yogaparaelcambio@gmail.com and order bags or bad ruraksha by June 12 in This link. Tienes toda la información del procedimiento de inscripción y participación en This information pack.
LISTINGS OF CENTRES AIMED AT 'YOGA FOR CHANGE'
(We ask that those who are already signed up that send the complete data on the activity to perform the email above, in order to be able to spread them and that the persons concerned can make reservations)
Andalusia
-Malaga
Activity: yoga Masterclass
When: Friday, 21 June
Opening hours: 19:00 h
Place: The Malaga beach. Malaga
-Seville
Activity: Hatha yoga, Kundalini Yoga
When: 17, 18 and 19 June
Opening hours:

lunes 17 a las 20:15 h (Hatha Yoga) / Martes 18 a las 18:30 h (Hatha Yoga) / Miércoles 19 a las 9:30 h y a las 18:30 h (Kundalini Yoga)

Place: c / 28 craftsmanship, 2nd floor. 8 and 9 offices. Polígono PISA. Seville
Activity: meditation for change, yoga for peace and change
When: 20 and 21 June
Opening hours: Thursday 20 at 20:30 h, meditation for change / Friday, June 21, at 9:30 o'clock, Yoga for peace and change
Place: c / Daoiz nº 2, corner Street Clarín. Bolullos de la Mitacion. Seville
Balearic Islands
-Maó (Menorca)
Activity: unspecified
When: 21 or 22 June
Opening hours: unspecified
Place: Plate Miranda, 26, Maó (Menorca)
-Palma de Mallorca
Activity: vibrational sound concert with alchemical campaign and quartz crystal bowls.
When: Wednesday, 19 June
Opening hours: 20:30 h
Place: Carrer the Gerreria, 20, Netherlands. Palma de Mallorca
Canary Islands
-Los Cristianos (Tenerife)
Activity: Yoga, meditation and bowls
When: Sunday, June 16
Opening hours: 11:00 h
Place: c/Barranquillo, 22. Arona. The Christians. Tenerife
Catalonia
-Barcelona
Activity: Yin yoga, Gongs and billiards
When: Saturday, June 22
Opening hours: 19:00 hours
Place: c / Canalejas 78

Low. Barcelona
Activity: Hatha yoga and Vedic chant
When: Wednesday, 19 June
Opening hours: 14-15.30 h
Place: Carrer del Joncar, 19. Poblenou. Barcelona
Activity: yoga and meditation for change
Date specified
Hours: To be specified
Location: unspecified
-Lleida
Esther Coma Castells
Activity: Yoga, Vinyasa yoga, singing mantras, yoga for couples, yoga Nidra. Possibility of a meal (Burger, tofo, beverage and infusion for 8 euros)
When: Sunday, June 16
Schedules: 10.15 presentation/10.30 a.m. Yoga for chakras 11.30 Vinyasa Yoga 12.30 Singing mantras 13.00 lunch 15.00 Yoga for couples / 16.00 Yoga Nidra meditation / 17.00 Conclusion
Place: Campsite Gaset. Talarn. Lleida
Comunidad de Madrid
Biijayoga
Activity: Yoga with some philosophy session
When: Sunday, June 23
Opening hours: 10:00 h
Place: La Pedriza. Manzanares el Real (Madrid)
Activity: Charity concert of Beat Tandoori
When: Friday, June 21
Opening hours: 20:00 h
Place: Street performers, 43. Madrid
Dahiana
Activity: Yoga Kundalini, Hatha yoga, yoga for seniors, children and Chair yoga
When: Friday, June 17 to Sunday, June 19
Opening hours: unspecified
Place: unspecified
Activity: unspecified
When: unspecified
Opening hours: unspecified
Place: c/Redondilla No. 3 bass. Madrid
Activity: Dissemination of the work of seed and Yoga
When: 15 to June 23
Opening hours: unspecified
Place: Paseo General Martinez Campos, 24. Madrid
Activity: Class for children aged 6 to 14
When: Friday, June 21
Opening hours: from 18:45 to 20:15
Place: Camino de la Zarzuela 11, 2 ° izqda Aravaca. Madrid
Activity: Hatha Yoga traditional/masterclass of 2 hours with added meditation class
When: Friday, June 21
Opening hours: 18:00 h
Place: Calle Manuel Aleixandre, 7. Madrid
Activity: YAM 4.0 (Yoga feeds meditates) / session MindfulBody guided the hand of YogaKonArte and live your body / the hand of Anmama Catering MindfulEating.
When: Friday, June 21
Schedules: 13: 00 14:30 (MindfulBody) 14:30-15:00 (MindfulEating)
Place: Impact Piedmont Hub. c / Piedmont, 23. Madrid
Valencian Community
-Burjassot
Activity: Yoga class
When: Saturday, June 22
Opening hours: 10:00 hours
Place: Parque de L' Eixereta. Burjassot (Valencia)
Basque country
-Basauri (Bizkaia)
Activity: Yoga Nidra - Yoga of the dream
When: Friday, June 21
Opening hours: 20:00
Place: c / Pedro Bilbao Kalea, 3. Basauri, Bizkaia
-Bilbao (Bizkaia)
Activity: Hatha yoga and meditation
When: Friday, June 21
Opening hours: 19:00 (has-tha yoga) / 20: 30 (meditation)
Place: c/ María Díaz de Haro 10bis 2nd floor Pta. 1. Bilbao
-Urretxu (Gipuzkoa)
Durga Ma Yoga Eskola 'Sanatana Dharma'
Activity: unspecified
When: unspecified
Opening hours: unspecified
Place: Ipinarrieta kalea 12-behea. Urretxu
Melilla
Activity: unspecified
When: unspecified
Opening hours: unspecified
Place: Antigua CTRA airport No. 15. Incubator, Local 7. Melilla
Navarra
-Tudela
Activity: Different styles of yoga classes
When: Friday, June 21
Opening hours: unspecified
Place: Ernestina de Champourcin, 2 (corner with Paseo nasturtiums, 13). Tudela