Books / Devi-Mahatmya
The Devi-Mahatmya o The song of the goddess Supreme
es un texto sumamente importante dentro de la civilización india. Ha formado parte de su diversidad cultural y su tradición filosófica-religiosa durante los últimos 1.500 años. Edita: Kairós. PVP: 15€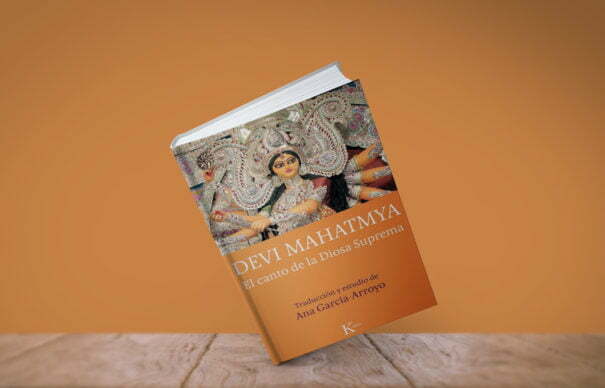 Es el principal (y primer) texto que identifica la realidad última con el principio femenino, en una traducción comentada por una gran experta en la sociedad y las culturas de la India como es Ana García-Arroyo.
History sings the magnanimity and Majesty of Devi, la Diosa Suprema, que constituye la realidad transcendental del cosmos, formada por el principio femenino.
El texto narra la lucha de Devi contra los grandes demonios, que representan las diversas manifestaciones del mal. A través de sus himnos y mitos, el poema plantea cuestiones existenciales que han estado presentes en la historia de la humanidad desde tiempos ancestrales: metáforas relacionadas con nuestro propio mundo físico, emocional y espiritual, derivadas de las situaciones a las que continuamente nos enfrentamos. El enigmático y mágico poder de existir y fluir se entreteje con esta majestuosidad cósmica y sublime, la de Devi y su poder infinito.
The author of the study and the translation
Ana Garcia-arroyo es escritora y profesora de la Universidad de Valencia, doctora en filología inglesa y postgraduada en culturas postcoloniales. Estudiosa de la civilización india con 9 libros publicados, entre los que destacan ensayos como The India Women's history and novels such as Mother India and Devi, la intocable.