The feast of Hanuman in the Secret Yoga Club
Secret Yoga Club y la kombucha KeVita nos invitan a la celebración de "la Fiesta de Hanuman"! El dios mono Hanuman representa cualidades como la erudición, la generosidad, la fortaleza, el compromiso y la determinación. Estos aspectos surgen también en la práctica del Yoga a través de las asanas y la intención con la que pisamos la esterilla.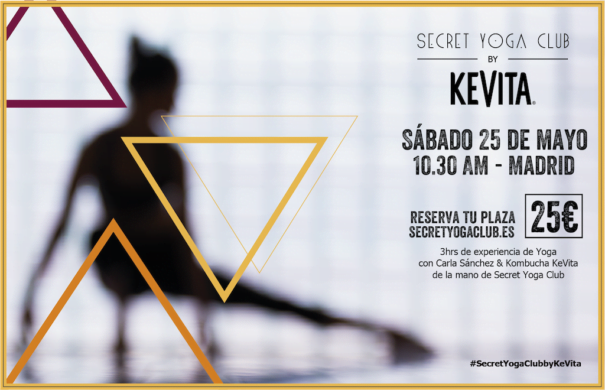 We invite you to join a unique meeting Carla Sanchez, as the Ambassador of KeVita , te guiará a través de una práctica vibrante, dirigida a construir paso a paso la icónica postura Hanumanasana or "the stride of the Hanuman Dios."
Dice Carla: "¡Queremos compartir contigo nuestra pasión por inspirar a las personas para que vivan una vida saludable física y espiritualmente! Será una oportunidad para fortalecer los propósitos, el plexo solar relacionado con la fuerza de voluntad, para purificar el sistema digestivo y afinar el increíble instrumento que conforman el cuerpo y la mente". Todo ello al ritmo de la música de DJ Churro Vinyasa Yoga Studio.
Como broche de oro, podremos disfrutar de deliciosos mocktails de kombucha KeVita para celebrar y reponer fuerzas.¿Hacia dónde quieres ir?, ¿qué metas deseas alcanzar? ¡Empodérate con la osadía de Hanuman y prepárate para dar un gran paso hacia adelante con destino a tu Plenitud!
When: 25 de mayo a las 10:00 am
Where: como refleja el concepto de "Secret Yoga", todavía no se ha desvelado su localización
Contribution: 25€ Reserva tu plaza
Toda la información y reservas: https://secretyogaclub.es/tienda/product/la-fiesta-de-hanuman/
#SecretYogaClubByKeVita